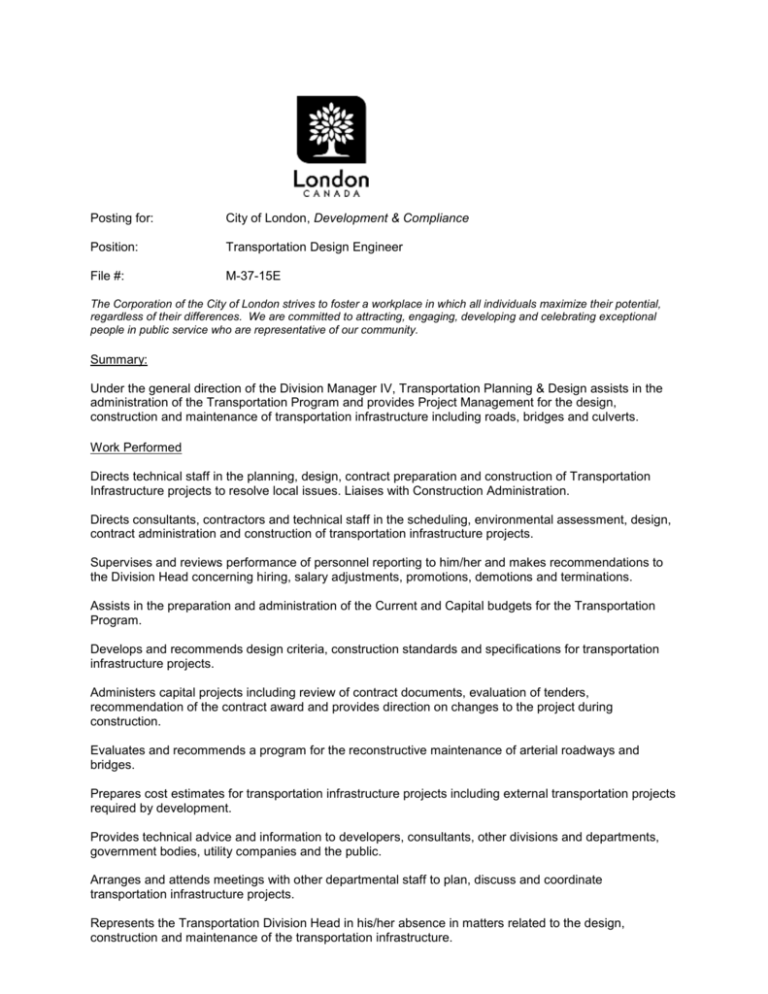 Posting for:
City of London, Development & Compliance
Position:
Transportation Design Engineer
File #:
M-37-15E
The Corporation of the City of London strives to foster a workplace in which all individuals maximize their potential,
regardless of their differences. We are committed to attracting, engaging, developing and celebrating exceptional
people in public service who are representative of our community.
Summary:
Under the general direction of the Division Manager IV, Transportation Planning & Design assists in the
administration of the Transportation Program and provides Project Management for the design,
construction and maintenance of transportation infrastructure including roads, bridges and culverts.
Work Performed
Directs technical staff in the planning, design, contract preparation and construction of Transportation
Infrastructure projects to resolve local issues. Liaises with Construction Administration.
Directs consultants, contractors and technical staff in the scheduling, environmental assessment, design,
contract administration and construction of transportation infrastructure projects.
Supervises and reviews performance of personnel reporting to him/her and makes recommendations to
the Division Head concerning hiring, salary adjustments, promotions, demotions and terminations.
Assists in the preparation and administration of the Current and Capital budgets for the Transportation
Program.
Develops and recommends design criteria, construction standards and specifications for transportation
infrastructure projects.
Administers capital projects including review of contract documents, evaluation of tenders,
recommendation of the contract award and provides direction on changes to the project during
construction.
Evaluates and recommends a program for the reconstructive maintenance of arterial roadways and
bridges.
Prepares cost estimates for transportation infrastructure projects including external transportation projects
required by development.
Provides technical advice and information to developers, consultants, other divisions and departments,
government bodies, utility companies and the public.
Arranges and attends meetings with other departmental staff to plan, discuss and coordinate
transportation infrastructure projects.
Represents the Transportation Division Head in his/her absence in matters related to the design,
construction and maintenance of the transportation infrastructure.
Participates in professional and technical organizations to further transportation planning, design and
technical specifications.
Performs related duties as assigned.
Qualifications:
Bachelor Degree in Civil Engineering
Registered Professional Engineer in the Province of Ontario
Five years related experience
Salary
$75,761 to $102,154
How to Apply:
Please visit the City of London website to apply online (www.london.ca/mycareer) and click on Online Job
Postings.
Please upload your transcripts with your application (Under the Documents Section). Please note
successful candidates will be asked to provide a police vulnerable sector check, dated within the last six
months. This documentation would not be required until further in the recruitment process (following the
interview stage if selected).
Closing Date for Application: Sunday, June 21, 2015
We appreciate all applications, however, only those selected for an interview will be contacted.
The City of London is committed to providing accommodations for people with disabilities. If you require an
accommodation, we will work with you to meet your needs. Accommodation may be provided in all parts of the hiring
process.