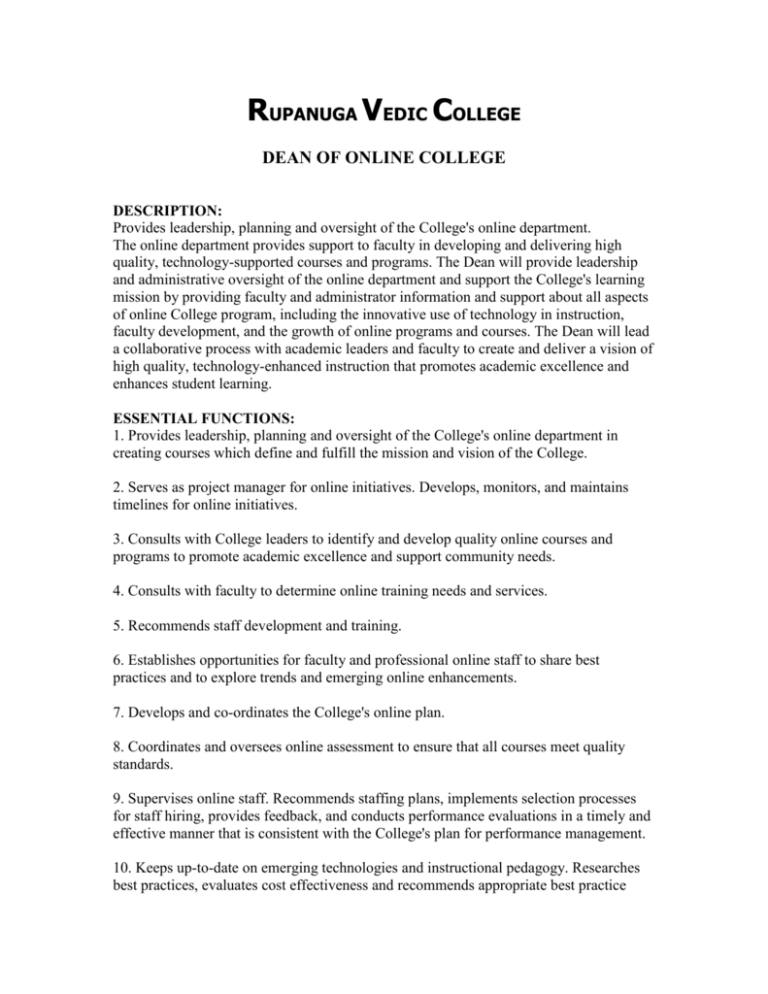 RUPANUGA VEDIC COLLEGE
DEAN OF ONLINE COLLEGE
DESCRIPTION:
Provides leadership, planning and oversight of the College's online department.
The online department provides support to faculty in developing and delivering high
quality, technology-supported courses and programs. The Dean will provide leadership
and administrative oversight of the online department and support the College's learning
mission by providing faculty and administrator information and support about all aspects
of online College program, including the innovative use of technology in instruction,
faculty development, and the growth of online programs and courses. The Dean will lead
a collaborative process with academic leaders and faculty to create and deliver a vision of
high quality, technology-enhanced instruction that promotes academic excellence and
enhances student learning.
ESSENTIAL FUNCTIONS:
1. Provides leadership, planning and oversight of the College's online department in
creating courses which define and fulfill the mission and vision of the College.
2. Serves as project manager for online initiatives. Develops, monitors, and maintains
timelines for online initiatives.
3. Consults with College leaders to identify and develop quality online courses and
programs to promote academic excellence and support community needs.
4. Consults with faculty to determine online training needs and services.
5. Recommends staff development and training.
6. Establishes opportunities for faculty and professional online staff to share best
practices and to explore trends and emerging online enhancements.
7. Develops and co-ordinates the College's online plan.
8. Coordinates and oversees online assessment to ensure that all courses meet quality
standards.
9. Supervises online staff. Recommends staffing plans, implements selection processes
for staff hiring, provides feedback, and conducts performance evaluations in a timely and
effective manner that is consistent with the College's plan for performance management.
10. Keeps up-to-date on emerging technologies and instructional pedagogy. Researches
best practices, evaluates cost effectiveness and recommends appropriate best practice
models to academic leadership. This will involve participation in conferences or
workshops requiring travel to locations other than the College.
11. Manages the departmental budget.
12. Performs other site and position specific responsibilities as assigned.
REPORTS TO:
1. College President
REQUIRED QUALIFICATIONS:
1. Earned Master's degree or higher from an accredited College or university.
2. Minimum of three years teaching experience
3. Demonstrated knowledge and application of adult learning theory, instructional design,
and appropriate use of instructional technology required.
REQUIRED DOCUMENTS TO BE CONSIDERED:
- Cover Letter
- Resume
- Transcripts showing the date the Master's degree was conferred (copies accepted).
INSTRUCTIONS TO APPLICANTS
Submit applicant materials to: humanresources@rvc.edu. Please include the
Position Title in the subject line of your email.