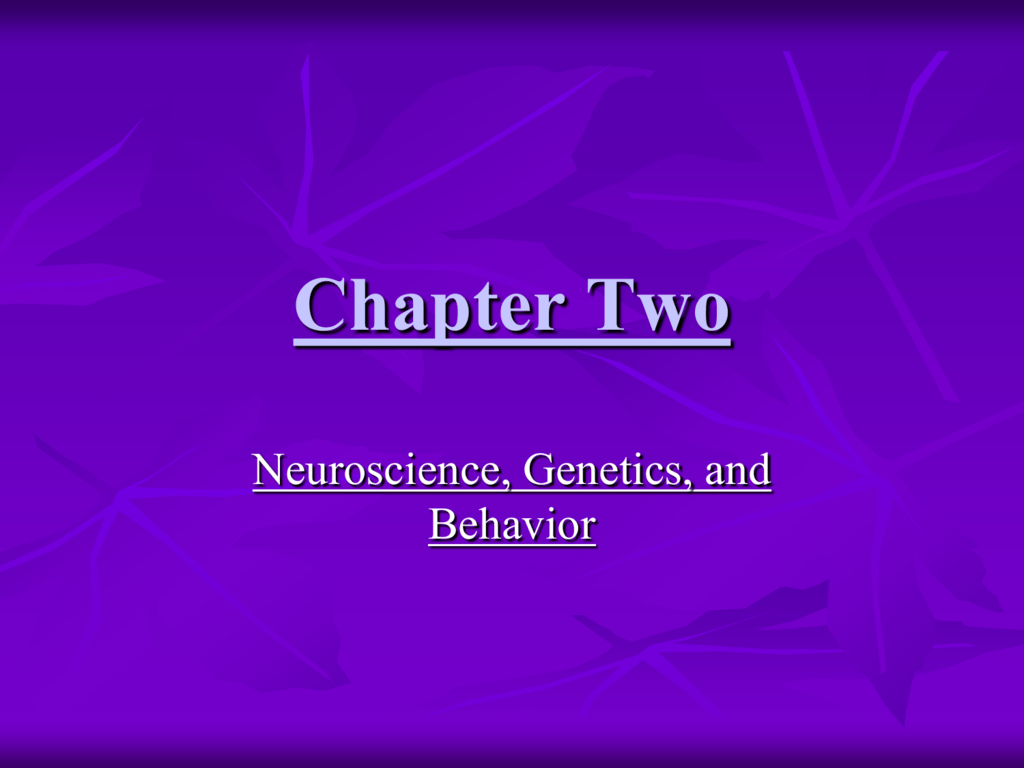 Chapter Two
Neuroscience, Genetics, and
Behavior
I. Neural Transmission







Neurons
1. Definition: basic cell making up nervous system
2. Parts:
a. Dendrites- bushy fibers that receive information
b. Axon- fibers that pass message along to other
neurons, muscles or glands.
c. Myelin Sheath- fatty tissue insulates axon to speed
info.
d. Axon terminals- form junctions with other cells
Figure 2.2 A motor
neuron


3. Speed: 2 mph- 200 or more mph
4. Action Potential: Brief electrical charge that
travels down the axon (the actual firing of a
neuron)
Figure 2.3 Action
potential





Resting potential- when a neuron is not firing
and has a positive outside/negative inside
state(charged and ready to fire)
Refractory period-when a neuron recharges
(can't fire during this time)
5. Excitatory: like pushing the accelerator
6. Inhibitory: like pushing the brakes
7. All or nothing response: either fires or
doesn't



B. How Neurons Communicate
1. Synapse: A gap between an axon terminal
and the next dendrite. (less than a millionth of
an inch wide)
2. Neurotransmitters: Chemical messengers
sent within 1/10,000th of a second.



C. How Neurotransmitters Influence us
1. Acetylcholine (Ach): Enables muscle action,
learning, and memory
2. Endorphins: natural painkillers in our
bodies.

-Released in response to pain & vigorous exercise









I wanna grove but I can't move
Cause that Ach is gone
My memory is lost and I'm paying the cost
I'm surprised I can write this song
I wanna learn, it's just not my turn
With my Ach being gone
But I'll find that neurotransmitter
'Cause its making me bitter
With that Ach being gone.
Table 2.1
Myers: Psychology,



3. Effects of Drugs:
- Agonists excite: may mimic neurotransmitter effects
Antagonists inhibit: inhibits a
neurotransmitter's release


- Antagonists inhibit: inhibits a
neurotransmitter's release
a. Botulin: paralysis by blocking ACh
Figure 2.7 The functional divisions of the
human nervous system




4. Nerves: "cables" containing many axons.
5. Sensory Neurons: send info from the body's tissues
& sensory organs inward to the CNS.
6. Motor neurons: sends outgoing info from CNS to
muscles and glands
7. Interneurons: CNS's internal communication
between sensory inputs and motor outputs.
B. Lower Level Brain Structures




1. Brain Stem
a. Definition: oldest & innermost region,
begins where the spinal cord enters the skull.
b. Medulla: where the brainstem swells,
controls heartbeat & breathing
c. Reticular formation: fingerlike projections
extending from brainstem into brain-keeps us
alert


2. Thalamus
a. Definition and f(x): "sensory switchboard",
receives info from all the senses (except smell)
and routes it where it can be processed.


3. Cerebellum
a. Definition and f(x): "little brain",
coordinates voluntary movement, walking, &
balance.




4. Limbic System
a. Definition and f(x): controls emotion
5. Amygdala
a. Definition and f(x): a part of the limbic
system, influences aggression and fear


6. Hypothalamus
a. Definition and f(x): regulates hunger, thirst,
and sex drive
C. Cerebral Cortex: covers cerebral
hemispheres





1. Structure
a. Frontal lobe: Problem solving, attention, judgment,
reflection, coordination of movement, morality
b. Parietal: Sense of touch.
c. Occipital: Vision
d. Temporal: hearing



2. Functions
a. motor strip: controls movement of toes,
ankle, knees, hip, trunk, arms, wrist, fingers,
thumb, neck, brow, eye, face, lips, jaw, tongue,
swallowing.
b. Sensory strip: controls the sensation of
touch of the things listed above as well as
teeth, gums, & genitals.





c. Association functions: enable us to judge,
plan, and process new memories.
d. Language: involves several coordinated
areas of the brain
- Broca's area: involved in forming words (left
frontal lobe)
- Wernicke's area: helps understand words
(left temporal lobe)
D. Hemispheres







1. Parts
a. Corpus Callosum: fibers that connect the left
and right hemispheres together.
2. Functions of each hemisphere:
left= more logical, verbal
right= more abstract & creative thinks in
pictures
spinning dancer
3. Split Brain Experiments: HE-ART
experiment, Spoon experiment
The Endocrine System

Endocrine System: consists of glands that
secrete hormones.
Pituitary Gland: Pea sized "master
gland"



Growth: regulates the growth of muscles,
bones, and other glands.
Prolactin: stimulates milk production in
women
Oxytocin: stimulates labor in women
Thyroid Gland

Produces thyroxin: affects the body's
metabolism
Adrenal Glands: located above the
kidneys



Cortical steroids: increase resistance to stress
& promote muscle development
Causes liver to release stored sugar, making
energy available for emergencies
Adrenaline & noradrenalin: helps to cope with
stressful situations
Testes & Ovaries: produces testosterone,
estrogen, and progesterone



Testosterone: Male sex hormone, but found in
females in small amounts
A. After 1st 8 weeks of development:
influences the sex of a child
B. Adolescence: aids in muscle & bone
growth, primary & secondary sex
characteristics. (Reproduction/body hair)
Estrogen & Progesterone: female sex
hormone, but found in males in
small amounts



A. Estrogen: primary and secondary sex
characteristic (body hair & breast
development)
B. Progesterone: stimulates growth of female
reproductive organs & helps prepare the body
for pregnancy
C. Estrogen & Progesterone: regulate
menstrual cycle

Higher levels of estrogen seem to be connected
with optimal cognitive functioning & feeling
of well-being among women.
Functional Organization of the
Nervous System




A. Basic Info
1. Nervous system:
2. Central Nervous System (CNS): brain and spinal
cord.
3. Peripheral Nervous System (PNS): all other nerves



Two Divisions:
1) Somatic: voluntary. (activated by touch,
pain, temp changes, etc)
2) Autonomic: Regulates the bodies vital
functions (heartbeat, breathing, digestion, &
blood pressure)
Autonomic divides into two


1) Sympathetic: Activated during action
("fight or flight")
2) Parasympathetic: restores the body's
reserves of energy after an action has occurred.
(heart rate & blood pressure normalized,
breathing is slowed, digestion returns to
normal)
Genetics




A. Terms
1. Chromosomes: normal humans have 46, 23
given from each parent
2. DNA: Chromosomes make up DNA
(deoxyribonucleic acid)
3. Genes: makes up your DNA, "instructions"





B. Evolutionary Psychology
1. Basic Ideas: we are inheritors of prehistoric
genetics
C. Individual Differences and Heredity
1. Twin Studies: Nature vs. Nurture
2. Heredity: What you inherit from your
biological family
Neuroanatomy




A. Physiological Techniques
1. Clinical Observations: observing how
injuries/disease affect the brain and its
functions.
2. Manipulating the Brain: Electrically,
chemically, or magnetically stimulate various
parts of the brain and note the effects.
a. Lesion: destroying specific parts of the brain
to study its effects.


3. Recording the Brain's Electrical Activity
a. electroencephalogram (EEG): shows a
person's brain waves during certain stimuli.




4. Brain Imaging Techniques
a. Computed tomography (CT): takes X-ray
photos to show brain damage.
b. Positron emission tomography (PET): shows
which part of the brain is active by showing
the consumption of sugar glucose.
c. Magnetic resonance imaging (MRI): gives a
detailed picture of the brain's soft tissue.