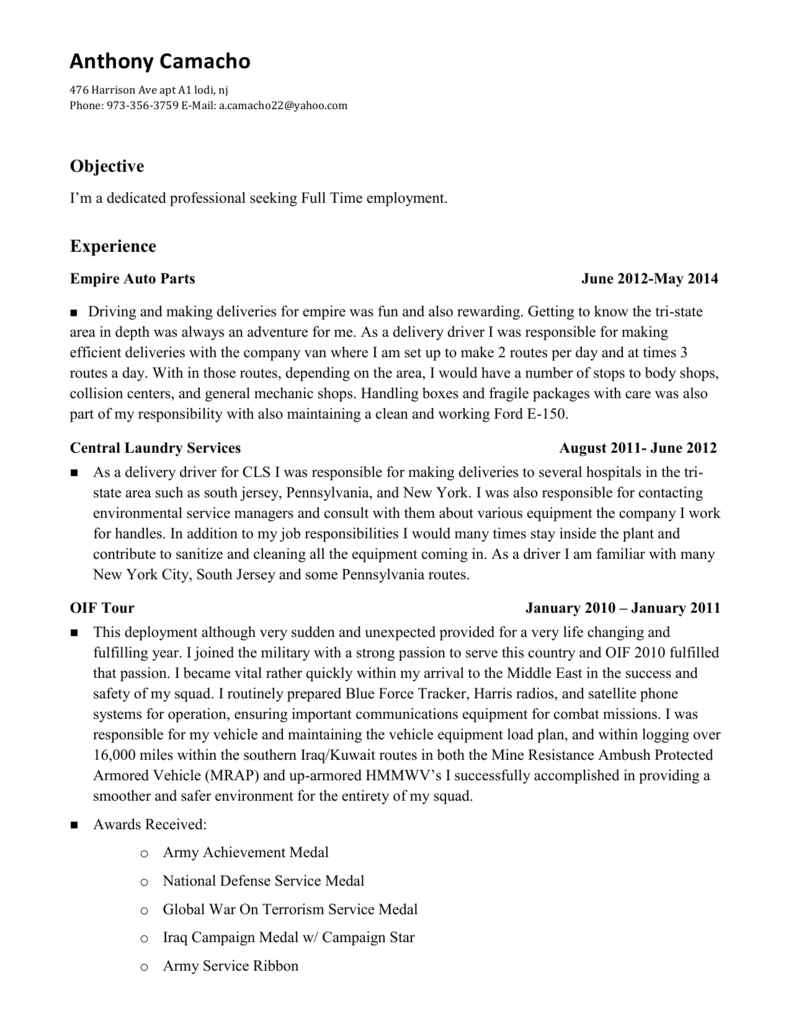 Anthony Camacho
476 Harrison Ave apt A1 lodi, nj
Phone: 973-356-3759 E-Mail: [email protected]
Objective
I'm a dedicated professional seeking Full Time employment.
Experience
Empire Auto Parts
June 2012-May 2014
Driving
and making deliveries for empire was fun and also rewarding. Getting to know the tri-state
area in depth was always an adventure for me. As a delivery driver I was responsible for making
efficient deliveries with the company van where I am set up to make 2 routes per day and at times 3
routes a day. With in those routes, depending on the area, I would have a number of stops to body shops,
collision centers, and general mechanic shops. Handling boxes and fragile packages with care was also
part of my responsibility with also maintaining a clean and working Ford E-150.
Central Laundry Services

August 2011- June 2012
As a delivery driver for CLS I was responsible for making deliveries to several hospitals in the tristate area such as south jersey, Pennsylvania, and New York. I was also responsible for contacting
environmental service managers and consult with them about various equipment the company I work
for handles. In addition to my job responsibilities I would many times stay inside the plant and
contribute to sanitize and cleaning all the equipment coming in. As a driver I am familiar with many
New York City, South Jersey and some Pennsylvania routes.
January 2010 – January 2011
OIF Tour

This deployment although very sudden and unexpected provided for a very life changing and
fulfilling year. I joined the military with a strong passion to serve this country and OIF 2010 fulfilled
that passion. I became vital rather quickly within my arrival to the Middle East in the success and
safety of my squad. I routinely prepared Blue Force Tracker, Harris radios, and satellite phone
systems for operation, ensuring important communications equipment for combat missions. I was
responsible for my vehicle and maintaining the vehicle equipment load plan, and within logging over
16,000 miles within the southern Iraq/Kuwait routes in both the Mine Resistance Ambush Protected
Armored Vehicle (MRAP) and up-armored HMMWV's I successfully accomplished in providing a
smoother and safer environment for the entirety of my squad.

Awards Received:
o Army Achievement Medal
o National Defense Service Medal
o Global War On Terrorism Service Medal
o Iraq Campaign Medal w/ Campaign Star
o Army Service Ribbon
Page 2
o Overseas Service Ribbon
o Armed Forces Reserve Medal w/ M Device
Army Advanced Individual Training; Fort Benning, Georgia

July 2009 – September 2009
My Army Advanced Individual Training was very much similar to my basic training due to my job
of being an infantry soldier in the army. However infantry school allowed me to focus more on
infantry tactics; i.e. modern warfare, anti-terrorism, etc.
March 2009 – July 2009
Quickchek; Garfield, New Jersey

In Quickchek I was primarily a cashier and often worked in the deli department as well.
Army Basic Combat Training; Fort Benning, Georgia

Army Basic Combat Training was the start to my military career where I was pushed to my physical
limits and was instilled the importance of basic values and morals.
Garfield Fire Department; Garfield, New Jersey

March 2008 – March 2009
I volunteered for the Garfield Fire Department for a year, where I obtained the responsibility within
a small group to complete various tasks that would guarantee a clean firehouse along with up
keeping the maintenance of the fire trucks.
Shoprite

June 2008 – August 2008
October 2006 - May 2007
In Shoprite I was primarily a cashier with the responsibility of being key holder on many occasions.
Education
Jersey Tractor Trailer Training
August 2014 – September 2014
Bergen Community College
January 2012-Present
Currently on my second semester holding a 2.8 GPA and majoring in aeronautical science.
Garfield High School; Garfield, New Jersey
September 2004-February 2009
I went to Garfield High School to obtain my High School Diploma.
Skills

I'm very meticulous.

Fluent in two languages (Spanish/English)

Enhanced customer service experience through employment and volunteer work (Five-Six years).

Enhanced driving experience due to extensive use oversees of Up-Armored Military Vehicles.