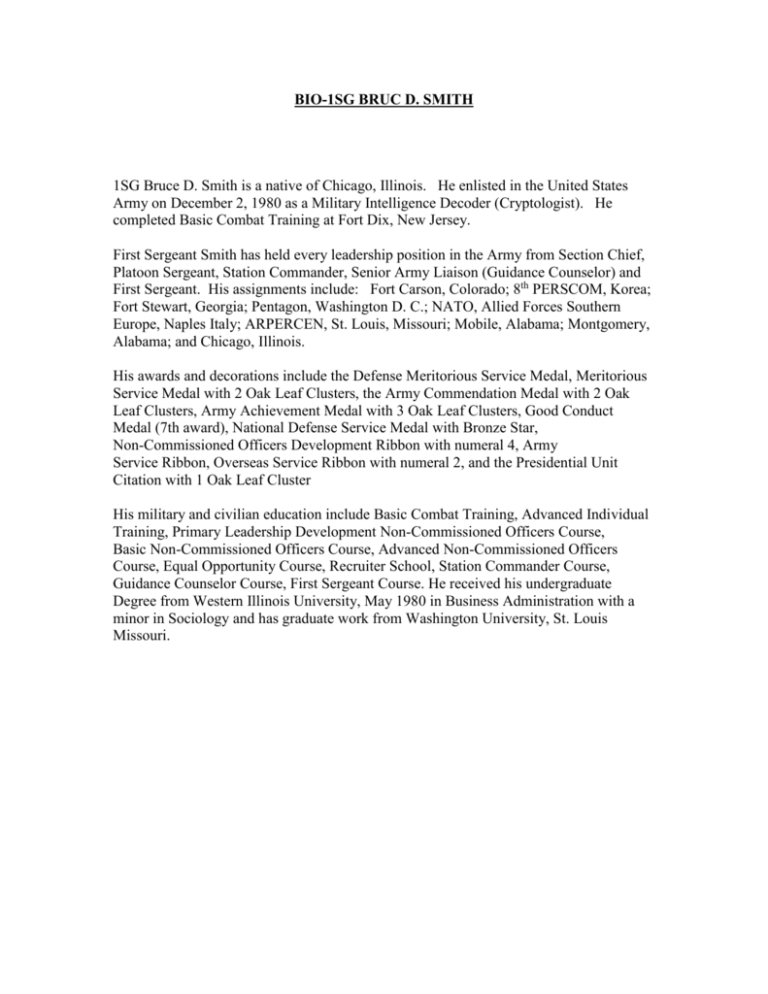 BIO-1SG BRUC D. SMITH
1SG Bruce D. Smith is a native of Chicago, Illinois. He enlisted in the United States
Army on December 2, 1980 as a Military Intelligence Decoder (Cryptologist). He
completed Basic Combat Training at Fort Dix, New Jersey.
First Sergeant Smith has held every leadership position in the Army from Section Chief,
Platoon Sergeant, Station Commander, Senior Army Liaison (Guidance Counselor) and
First Sergeant. His assignments include: Fort Carson, Colorado; 8th PERSCOM, Korea;
Fort Stewart, Georgia; Pentagon, Washington D. C.; NATO, Allied Forces Southern
Europe, Naples Italy; ARPERCEN, St. Louis, Missouri; Mobile, Alabama; Montgomery,
Alabama; and Chicago, Illinois.
His awards and decorations include the Defense Meritorious Service Medal, Meritorious
Service Medal with 2 Oak Leaf Clusters, the Army Commendation Medal with 2 Oak
Leaf Clusters, Army Achievement Medal with 3 Oak Leaf Clusters, Good Conduct
Medal (7th award), National Defense Service Medal with Bronze Star,
Non-Commissioned Officers Development Ribbon with numeral 4, Army
Service Ribbon, Overseas Service Ribbon with numeral 2, and the Presidential Unit
Citation with 1 Oak Leaf Cluster
His military and civilian education include Basic Combat Training, Advanced Individual
Training, Primary Leadership Development Non-Commissioned Officers Course,
Basic Non-Commissioned Officers Course, Advanced Non-Commissioned Officers
Course, Equal Opportunity Course, Recruiter School, Station Commander Course,
Guidance Counselor Course, First Sergeant Course. He received his undergraduate
Degree from Western Illinois University, May 1980 in Business Administration with a
minor in Sociology and has graduate work from Washington University, St. Louis
Missouri.