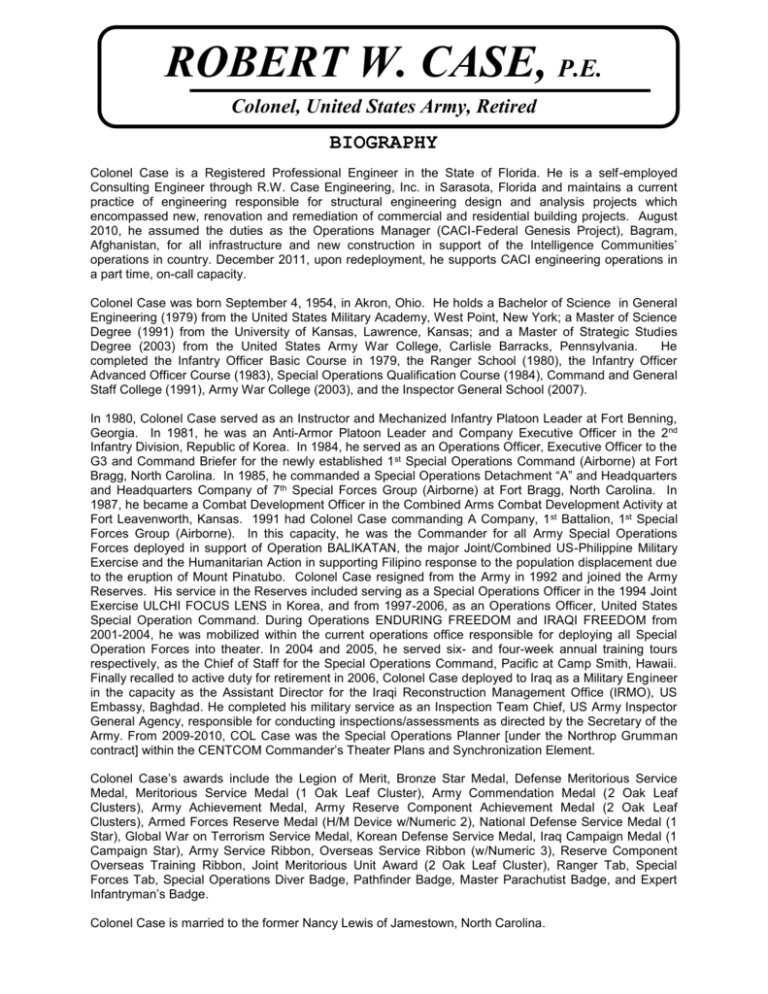 ROBERT W. CASE, P.E.
Colonel, United States Army, Retired
BIOGRAPHY
Colonel Case is a Registered Professional Engineer in the State of Florida. He is a self-employed
Consulting Engineer through R.W. Case Engineering, Inc. in Sarasota, Florida and maintains a current
practice of engineering responsible for structural engineering design and analysis projects which
encompassed new, renovation and remediation of commercial and residential building projects. August
2010, he assumed the duties as the Operations Manager (CACI-Federal Genesis Project), Bagram,
Afghanistan, for all infrastructure and new construction in support of the Intelligence Communities'
operations in country. December 2011, upon redeployment, he supports CACI engineering operations in
a part time, on-call capacity.
Colonel Case was born September 4, 1954, in Akron, Ohio. He holds a Bachelor of Science in General
Engineering (1979) from the United States Military Academy, West Point, New York; a Master of Science
Degree (1991) from the University of Kansas, Lawrence, Kansas; and a Master of Strategic Studies
Degree (2003) from the United States Army War College, Carlisle Barracks, Pennsylvania.
He
completed the Infantry Officer Basic Course in 1979, the Ranger School (1980), the Infantry Officer
Advanced Officer Course (1983), Special Operations Qualification Course (1984), Command and General
Staff College (1991), Army War College (2003), and the Inspector General School (2007).
In 1980, Colonel Case served as an Instructor and Mechanized Infantry Platoon Leader at Fort Benning,
Georgia. In 1981, he was an Anti-Armor Platoon Leader and Company Executive Officer in the 2 nd
Infantry Division, Republic of Korea. In 1984, he served as an Operations Officer, Executive Officer to the
G3 and Command Briefer for the newly established 1 st Special Operations Command (Airborne) at Fort
Bragg, North Carolina. In 1985, he commanded a Special Operations Detachment "A" and Headquarters
and Headquarters Company of 7th Special Forces Group (Airborne) at Fort Bragg, North Carolina. In
1987, he became a Combat Development Officer in the Combined Arms Combat Development Activity at
Fort Leavenworth, Kansas. 1991 had Colonel Case commanding A Company, 1 st Battalion, 1st Special
Forces Group (Airborne). In this capacity, he was the Commander for all Army Special Operations
Forces deployed in support of Operation BALIKATAN, the major Joint/Combined US-Philippine Military
Exercise and the Humanitarian Action in supporting Filipino response to the population displacement due
to the eruption of Mount Pinatubo. Colonel Case resigned from the Army in 1992 and joined the Army
Reserves. His service in the Reserves included serving as a Special Operations Officer in the 1994 Joint
Exercise ULCHI FOCUS LENS in Korea, and from 1997-2006, as an Operations Officer, United States
Special Operation Command. During Operations ENDURING FREEDOM and IRAQI FREEDOM from
2001-2004, he was mobilized within the current operations office responsible for deploying all Special
Operation Forces into theater. In 2004 and 2005, he served six- and four-week annual training tours
respectively, as the Chief of Staff for the Special Operations Command, Pacific at Camp Smith, Hawaii.
Finally recalled to active duty for retirement in 2006, Colonel Case deployed to Iraq as a Military Engineer
in the capacity as the Assistant Director for the Iraqi Reconstruction Management Office (IRMO), US
Embassy, Baghdad. He completed his military service as an Inspection Team Chief, US Army Inspector
General Agency, responsible for conducting inspections/assessments as directed by the Secretary of the
Army. From 2009-2010, COL Case was the Special Operations Planner [under the Northrop Grumman
contract] within the CENTCOM Commander's Theater Plans and Synchronization Element.
Colonel Case's awards include the Legion of Merit, Bronze Star Medal, Defense Meritorious Service
Medal, Meritorious Service Medal (1 Oak Leaf Cluster), Army Commendation Medal (2 Oak Leaf
Clusters), Army Achievement Medal, Army Reserve Component Achievement Medal (2 Oak Leaf
Clusters), Armed Forces Reserve Medal (H/M Device w/Numeric 2), National Defense Service Medal (1
Star), Global War on Terrorism Service Medal, Korean Defense Service Medal, Iraq Campaign Medal (1
Campaign Star), Army Service Ribbon, Overseas Service Ribbon (w/Numeric 3), Reserve Component
Overseas Training Ribbon, Joint Meritorious Unit Award (2 Oak Leaf Cluster), Ranger Tab, Special
Forces Tab, Special Operations Diver Badge, Pathfinder Badge, Master Parachutist Badge, and Expert
Infantryman's Badge.
Colonel Case is married to the former Nancy Lewis of Jamestown, North Carolina.