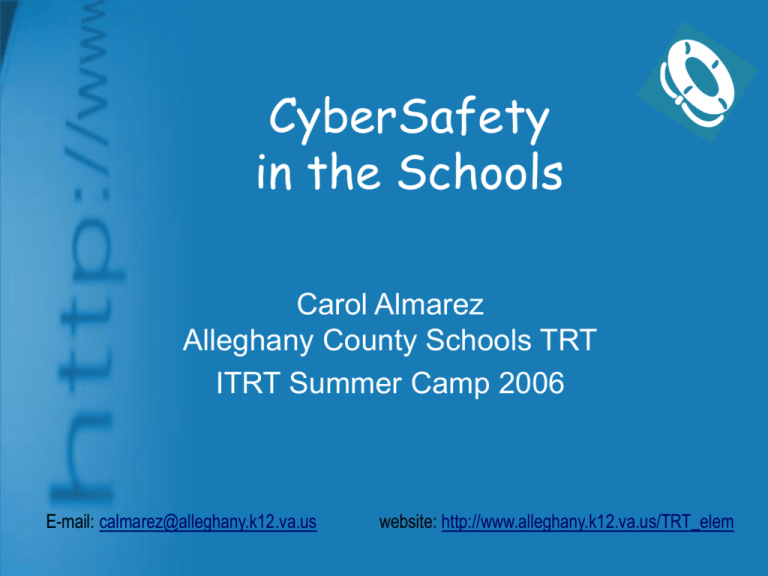 CyberSafety
in the Schools
Carol Almarez
Alleghany County Schools TRT
ITRT Summer Camp 2006
E-mail: [email protected]
website: http://www.alleghany.k12.va.us/TRT_elem
CyberSafety in the Schools
Introduction
 Media Literacy Quiz
http://www.pbs.org/teachersource/media_lit/quiz.shtm
The Dark Side of the Net
The Response: Laws
Role of Educators & ITRT's
Resources
The Dark Side of the Net*
Commercial
Content
Contact
*From ChildNet.org
Commercial
Kids' websites aimed at educational market
 "sticky sites" SI for Kids
Seventeen
 Gathering personal information from minors
Ad banners & Marketing messages
 Blur between content and ads
Lack of privacy/anonymity (trackback)
 Many people/entities aware of each person's
use of the Net (cybersmart.org online curriculum
audio)
Content
Harmful/obscene websites accessible by
minors
 Pornography/copycat sites
(whitehouse.com/.org)
 Through searching errors
Misinformation
 Lack of verification
 Hoaxes & urban myths
Copyright violations
 Plagiarism
 Illegal file-sharing/Peer-to-peer networks
Contact
Social networking & Cyberstalking
Blogs & journals
Chat rooms, IM (Instant Messaging)
Cyberbullies & harrassment
Threats of violence/suicide
Lack of human interaction
MySpace.com
Blogs & Journals
MySpace http://myspace.com/
Facebook http://www.facebook.com/
Xanga http://www.xanga.com/
Bebo (music oriented) http://bebo.com/
Friendster http://www.friendster.com/index.php
Tagged (13-19 only) http://www.tagged.com/
Live Journal http://www.livejournal.com/
The Response: Laws
Federal

CIPA
• Internet Filters
COPPA
• Monitoring (software/people)
Virginia Internet Safety Law
AUP
CIPA: Children's Internet
Protection Act 2000
Applies to schools & libraries receiving federal
technology funds & e-rate discounts
Must implement technology protection measures
& Internet safety policies
 Filters that block access to obscene images
(Cybersitter, i-Gear, NetNanny, etc.)
 Address access by minors to inappropriate content
COPPA: Children's Online
Privacy Protection Act 1998
Websites must
 Explain privacy policies
 Get parental consent before collecting or using a
child's personal information
Regulates online direct marketing to children
Regulates e-mail, instant messaging, chat
Virginia Internet Safety Law
Took effect July 1, 2006
Additions to AUP provisions
Guidelines from VDOE due out in next few
weeks
Who will teach Internet Safety?




Classroom teachers
SRO's
ITRT's
Combination?
Role of Educators/ITRT's:
Develop, Teach and/or Assist?
Internet Safety Curriculum
Internet Safety lessons
Help educators, SRO's, or designated
instructors teach Internet safety
Information/Technology Literacy
Standards
Virginia Computer/Technology SOLs: all grades
 Social and Ethical Issues
 Problem-solving and Decision-making Tools
 Technology Research Tools
NETS for Students: all grades
 #2 Social, Ethical & Human Issues
 #5 Technology Research Tools
 #6 Technology Problem-solving and Decision-making
Tools
CyberSafety Curricula/Training
I-Safe
CyberSmart
WebWiseKids
 http://www.wiredwithwisdom.org/
Staying Smart Online
 http://www.kidsmart.org.uk/stayingsmart/
CyberPilot's License Flight Manual
 http://etec.hawaii.edu/cpl/flightschool_manual.html
Grid Club Internet Proficiency Scheme

http://www.gridclub.com/teachers/t_internet_safety.html
i-SAFE Curriculum
Cyber Citizenship
Personal Safety
Cyber Security
Intellectual Property
Cyber Bullying
Predator Identification
* http://i-safe.com/channels/?ch=ed
CyberSmart Curriculum
Safety:





Private identity information
Cyberpals
Feeling Comfortable
Chat & Message Safety
E-mail safety
Manners:




Cybercitizenship
Netiquette
Respecting law
Computer ethics
Advertising
 Commercial intentions
 Privacy
Research





Search engines/directories
How to search
Website evaluation
Homework help
Using library
Technology
 Past/present/future
http://www.cybersmartcurriculum.org/home/
of Internet
Constructive Use of the Internet
Primary use of the Internet: improving student
learning
Teach with new tools:
 Blog,e-mail & online journal for writing skills
 Chats
Website evaluation help
Search engines/directories for kids
Safe sites (pre-approved for kids)
Internet Safety Resources:
a Sampler
Articles
 Education World (Nancy Willard article)
http://www.education-world.com/a_tech/tech119.shtml
Websites
 KidSmart http://www.kidsmart.org.uk/
Games
 Elementary: Internet Safety Game
 Middle school: Jo Cool/Jo Fool
Video clips
 NetSmartz
http://www.netsmartz.org/resources/reallife.htm#reala
my
THE END
Thank You!