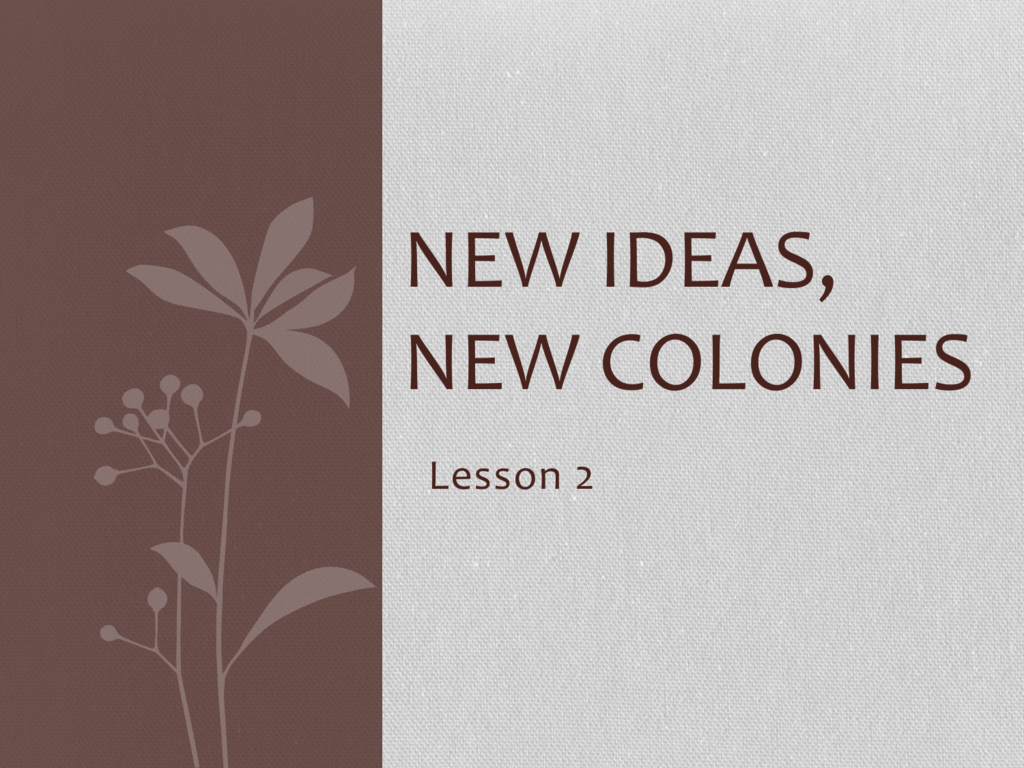 NEW IDEAS,
NEW COLONIES
Lesson 2
Puritans
Puritans did
NOT welcome
people with
other religious
beliefs.
Some colonists
left to start
new colonies.
Roger Williams and Rhode Island
•Roger Williams and his family settled in
Salem, Massachusetts in 1631.
•He became a popular minister because
many people shared his beliefs.
•He believed government and church should
be separate, and people shouldn't be
punished if they didn't believe what
Puritans did.
• In 1635 Puritan leaders voted to expel him
from the colony.
• After fleeing, the Williams
family was fed and protected
by Narragansett Indians.
• He bought land from them
and founded a new
settlement called
Providence.
• Many people left Salem to
live in his new settlement.
• Williams set up a
government that let anyone
follow the religion of their
choice.
Anne Hutchinson on Trial
• Anne Hutchinson and her husband
William settled in Boston in 1634.
• She began to question Puritan
ways, and attracted many
followers.
• Anna began holding religious
meetings at her house.
• In 1637 Puritan leaders put her on
trial.
• She was expelled from the colony
and the Puritan church.
• Hutchinson and her followers
eventually joined Roger Williams in
Rhode Island.
Connecticut
•Some settlers left the Massachusetts Bay
Colony to find better farmland and religious
freedom.
•A man named Thomas Hooker disagreed with
Puritan leaders making all the rules.
•He and his followers founded a settlement
called Hartford in the Connecticut colony.
•Hooker and his colony developed the first
written plan of government in North America
called The Fundamental Orders.
•All Connecticut voters (landowning males)
would elect leaders.
New Hampshire (NH)
•The earliest
permanent settlement
in New Hampshire
was in the 1620s.
•Most people settled in
this colony for the
fertile land and
economic
opportunity.
•Settlers cut down
trees and shipped
them as lumber to
England.
Indian Wars
•It became difficult to keep peace with
the Indians with so many English people
coming over to America.
•Most of the disagreements were about
land.
•Fighting finally broke out with the
Pequot Indians.
•In the 1630s English settlers won a small
conflict called the "Pequot War."
•In 1675 bad feelings led
to an all-out war called
"King Philip's War."
•King Philip was the
English name for the
Indian leader
Metacomet.
•1 in every 16 male
colonists died, and
3,000 Indians died in
this war.
•As a result of the war,
many tribes were
forced off their lands.