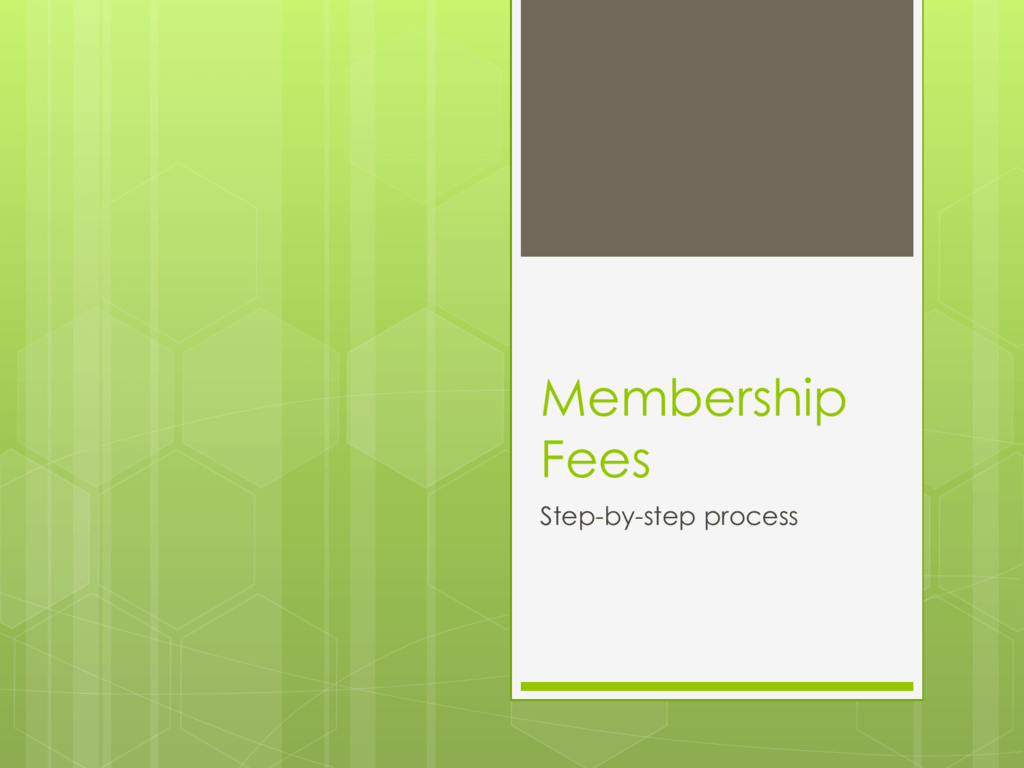 Membership
Fees
Step-by-step process
Membership Fees Research
Name of organisation
Type of
organisation
URL
Type of membership
Fee charged
Whale and Dolphin
Conservation Society
Adoption of sea
animals
http://adoptadolphin.wdcs. Adult or Kid(under 14)
org/
Adoption Pack
WWF
Leading
conservation
body for wildlife
Working towards
keeping wildlife in
the wild
https://support.wwf.org.uk/a The content of the
£4-6+ per month
dopt-a-tiger
adoption pack and
cause varies on cost
http://www.bornfree.org.uk/ Platinum member,
£6.50per month
give/adopt-an-animal/
Gold, Silver, Wildcrew
(Junior Members) which £3.25per month
is Free
£2.50per month
Born Free Foundation
£4 per month
The Aspinall Foundation Conservation of
animals and
returning animals
to the wild
ZSL Living Conservation The conservation
of animals and
their habitats
http://www.aspinallfoundati Bronze, Silver, Gold,
on.org/adopt
Platinum
£3.50, £5, £10, £15 per
month
http://www.zsl.org/shop/ani Fellowship,
malMembership, Patrons
adoptions/category.html
£5, £7, £10
Marwell Wildlife
http://www.marwell.org.uk/
£25, £50, £100
A charity
dedicated to the
conservation of
biodiversity and
other natural
resources.
Go Wild Scheme,
General Scheme,
Premium Scheme
Using this research



Using this research, I was able to formulate an
idea of the sort of membership fees I would
use for the 5 different types of memberships
offered by WildCare.
Throughout the different membership
schemes, the top membership is the most
costly.
Applying this to the ones offered by WildCare
and the idea that two of these new
memberships would be children and teens,
these would be the cheapest and then it
would increase up to Platinum.
Animal Conservation Research


WWF works to conserve life on
Earth by protecting its most
exceptional ecosystems and
habitats. Places which are rich
in biodiversity. Places with
unique animals and plants.
Places like no other.
By working with partners on
global and local levels, WWF
aims to conserve many of the
world's most ecologically
important regions. In Namibia,
we've supported a new
approach to protect wildlife
and habitat—communal
conservancies. To save tigers,
WWF worked with the
governments of the 13 nations
that are home to wild tigers to
commit to doubling
populations in the next 10 years.



For Example:
Namibia
Amid Namibia's ocean shores,
woodland savannas and deserts, there is
an extraordinary array of marine and
terrestrial life, including the largest freeroaming population of black rhino in
Africa and the largest cheetah
population in the world. WWF's work in
Namibia focuses on supporting their
communal conservancy program—a
successful model for balancing the
needs of people and wildlife. WWF
partners with local communities to help
them manage their natural resources
and ensure a future for wildlife
populations and sustainable economic
growth. Today, there is a direct
relationship between the health of
wildlife populations and prosperity of
local communities. Poaching has
declined dramatically and there are
restored populations of numerous
species, such as lions, cheetahs, black
rhinos and zebras
Animal Conservation Research




Conservation in Action
Our mission is to promote and
achieve worldwide conservation
for animals and their habitats.
The only way that we can
achieve this aim in the long term
is through our work with
governments, civil society and the
private sector to create largescale changes and influence
policy making. ZSL also
contributes to building
conservation capacity and skills in
the UK and abroad.
Protecting ecosystem services
and fostering sustainable
relationships between humans,
habitats and species will be vital
to protecting global biodiversity
for good.




Working With Industry
We work with national and
international natural
resource industries and
other businesses to enable
them to limit the negative
impacts of their activities.
We assist in biodiversity
monitoring and advise on
best practices for
certification of industry
products, including the FSC
and the Marine
Stewardship council.
http://www.zsl.org/conserv
ation/about-conservation/
Feedback
 Feedback:
 your
fees are realistic
 they are appropriate to their membership
groups; ie increasing from kids to platinum
 you were able to break even without
overcharging members.