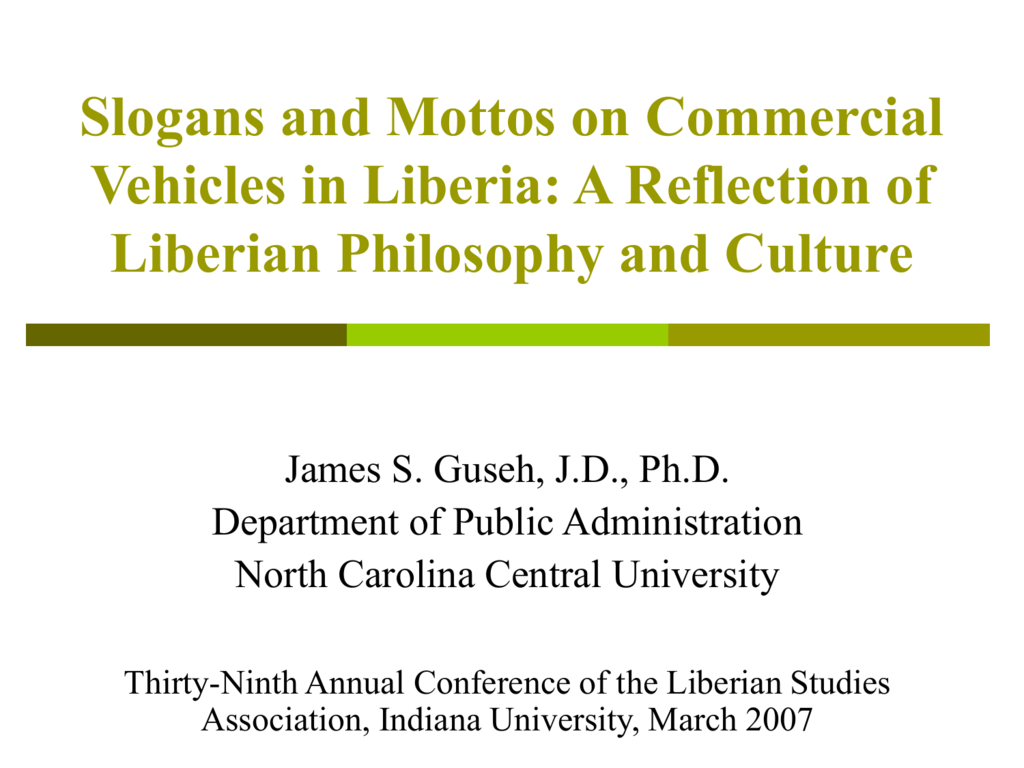 Slogans and Mottos on Commercial
Vehicles in Liberia: A Reflection of
Liberian Philosophy and Culture
James S. Guseh, J.D., Ph.D.
Department of Public Administration
North Carolina Central University
Thirty-Ninth Annual Conference of the Liberian Studies
Association, Indiana University, March 2007
Table 1. Slogans and Mottos by Category,
Frequency, and Percent
Category
Appeals to God or Heaven
Frequency
Percent
112
45
Idiosyncratic & Miscellaneous
34
14
Advice for Everyday Living
25
10
Traditional Slogans
24
10
Morality
19
8
Political Statement
11
4
Joy on Earth
7
3
Pains/Trials of This World
6
2
Relationship with Women
6
2
Importance of Money
4
2
Reward for Hard Work
3
1
250
100
Total
Examples of Slogans by Categories
1. RELIGIOUS APPEALS
1. Allah is great
2. God comes first
3. God is in control
4. God thank you
5. God's power: What for you is for you
6. God's time is the best
7. God's willing I will be back
8. Human Plan is not God plan
9. Hold your heart God will provide
10. If God says, who can say no
11. In God we trust
1. Religious Appeals continued
12. Jesus never fails
13. Just be good God will help you
14. Let God be praised
15. Look up to God
16. The Lord is my Shepard
17. The way to God is the way forward
18. Trust God
19. Wait for God's time
20 What God bless is blessed
21. You are what God say
22. Your mercy O Lord will hold me up
2. MISCELLANEOUS AND
IDOSYNCRATIC
1. African child
2. American
3. Barcelona express
4. Big boss
5. City boy
6. Easy boy back to town
7. Freeport baby
8. Mr. Arsenal
9. Real Madrid
10.Positive Himself
3. TRADITIONAL SLOGAN
1.
2.
3.
4.
5.
6.
7.
8.
9.
10.
Determination
Everything is vanity
Fear not the world but the people
Keep the faith
Nothing last forever
Pacient dog
Poor man son
That the way life goes
To be a man is not easy
Who knows tomorrow
4. ADVICE FOR EVERYDAY LIVING
1.
2.
3.
4.
5.
6.
7.
8.
9.
10.
After the rain the sun will shine
Bear patience
Business before pleasure
Determination + Concentration = Success
Don't give up in life
Don't mind what the people say
Every disappointment is a blessing
Everything has time
Let them say
Travel and see
5. MORALITY
1. A witched pot will never boil
2. Bessa in worry
3. Don't envy pray for me
4. Legal Hustler
5. Jallah do not like 419 game
6. Mine your business
7. People like to talk let them talk
8. Shine your eyes
9. What for you for you
10.You eat I eat
6. POLITICAL STATEMENTS
1.
2.
3.
4.
5.
6.
7.
8.
9.
10.
Divided we stand united we fall
It's time to talk
Justice say respect the police
Law and order
No justice for the poor
One nation one people
Peace and love
Reconciliation time
Respect the police
Where were you
7. JOY ON EARTH
1.
2.
3.
4.
5.
6.
7.
It is well
Don't worry be happy
No cause to worry
Feel free
Nothing spoils
Relax yourself
Success
8. PAIN AND TRIALS OF THIS WORD
1. Better days ahead
2. Doing the impossible with the available
3. The last man standing
4. Life can change
5. Life is full of challenges
6. To live is to struggle
9. RELATIONSHIP WITH WOMEN
1.
2.
3.
4.
5.
6.
Mother blessing
No money no love
One love
Super queen
Sweet mother
True love
10. IMPORTANCE OF MONEY
1.
2.
3.
4.
Money sweet
No money no friend
No money no love
No money no respect
11. REWARD FOR HARD WORK
1.
2.
3.
Hard work pays
No food for lazy man
No job no respect
Some Observations
1. God or religion seems to be important in the lives of
Liberians, indicating that Liberians are very
religious.
2. Liberians like giving advice.
3. Although the Mandingo ethnic group owns many
commercial vehicles, there is only one slogan about
Allah.
4. Although Liberia had 14 years of civil war, there are
very few slogans about peace.
Some Observations continued
5. Slogans and mottos tend to change over time to
reflect current developments, and as such, can serve
as a source of history.
I THANK YOU.
Comparison of Slogans in Liberia and
Ghana (Percent)
Category
Religious Appeals
Liberia
Ghana
(N = 250) (N = 71)
45
11
Advice for Everyday Living
25
16
Pain and Trials of This World
6
18
Political Statement
2
6
Rewards of Hard Work
3
6
Importance of Money
3
6
Relationship with Women
2
7
Examples of Slogans in Other Countries
Kenya
1. Wild One
2. Rock and Roll Mama
3. Comin' for to Carry Me Home
Ghana
1. So is the World
2. Rock of Ages
3. Sea Never Dry
4. Be Sober
5. No Time to Die
6. Busy Bee
7. Fear Beautiful Women
8. Happiness is the Soul of Life
9. No Business, No Wife
10.Fear Woman and Play with Snake
11.Life is War
Ghana continued
12. Men Suffer, Women Don't Know
13. Cemetery is Not for Play
14. Because of Money
15. All Days Are Not Equal
16. Life Has No Spare
17. A Beautiful Women Never Stays with One Man
18. I No Be Like You
18. Whatever You Do People Will Talk of You
19. If You Do Good, You Do for Yourself
Brazil
1. Adeus: Goodbye
2. Death is in love with me, but I am in love with life.
3. A woman is like fresh timber/she weeps but she
catches fire
4. Even the most beautiful flowers wither.
5. The kiss of a married women tastes of lead
6. Blessed be the German who invented beer.
7. Jealously leads to suffering: Work to conquer it.
8. How can I dream if I don't sleep.
9. Divorce is like an engine, always trouble.
10.To the ant's feast you don't invite the ant-eater.
Brazil continued
11. Jesus loves you and so do I.
12. If I feel the urge to work, I wait for it to pass.
13. The best remedy against AIDS is to eat at home.
14. Be patient on the road, not a patient in the hospital.
15. There goes my man.
16. On the curves of your body I crashed my heart.
17. Did you hug your son today?
Peace is sweet.