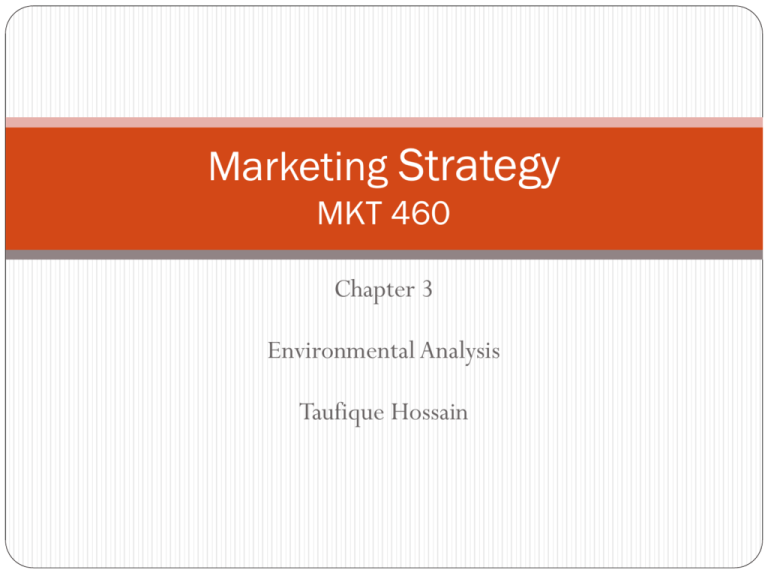 Marketing Strategy
MKT 460
Chapter 3
Environmental Analysis
Taufique Hossain
Learning Objectives
 To define the marketing environment and discuss
the relevant types of market information that are
required for market scanning and analysis.
 To review the analytical models and frameworks
that can be used in the analysis stage.
Environment
 Macro-environment
 Social, political, economic, technological contexts
 Competitive environment
 Company, immediate competitors, customers
 Internal environment
 Resources, capabilities
PEST Analysis of the Macro-Environment
Economic
Social
Political
Technological
Legal
The Economic and Political Environment
Economic growth
rates and the
business cycle
Interest rates,
consumer and
business confidence
Taxation and fiscal
policy
Regional trade and
trading areas
Employment and
unemployment
National and supranational governments
Internationalisation
and globalisation
The Social and Cultural Environment
Demographic
Change
The Grey Market
Multi-ethnic
societies
The Youth Market
Changing life-styles
and living patterns
Technological Environment
 Technological changes impact every industry
 Shortening of commercialization times
 Short product life cycles
 Impact of internet
Legal Environment
 Laws, regulations and codes of practice emanating from
national governments, EU, local governments, statutory
bodies, trade associations etc.
New Strategies for Changing
Environments
 Global positioning
 The master brand
 The integrated enterprise and end user focus
 Best in class processes
 Mass customization
 Breakthrough technology
The Shift in Strategy for Delivering
Shareholder Value
Focus on core
competencies
The new strategic
imperative
Domestic
focus
Global
focus
Portfolio
approaches
Analysis of the Competitive
Environment
 Porter's five forces model
 Strategic groups
 Industry evolution and forecasting
 Environmental stability
Five Forces Driving Competition
Threat of new
entrants
Rivalry among
existing firms in
the industry
Bargaining
power of
buyers
Threat of
substitutes
Source: Adapted from Porter (1986, 1988)
Rivalry Among Existing Firms
 Competitors are roughly evenly balanced
 Low market growth
 Exit barriers are high
 Product differentiation is low
 Fixed costs are relatively high
Threat of Market Entry
 Costs of entry are low
 Existing or new distribution channels are open to use
 Little competitive retaliation is anticipated
 Differentiation is low
 There are gaps in the market
Threat of Substitutes
 Making existing technologies redundant
 Incremental product improvement
Bargaining Power of Suppliers
 Suppliers are more concentrated than buyers
 Costs of switching suppliers are high
 Suppliers' offerings are highly differentiated
Bargaining Power of Buyers
 More concentrated than sellers
 Alternative supply sources are readily available
 Buyer switching costs are low
Strategic Groups
 Firms within an industry following similar strategies aimed at
similar customers or customer groups
 E.g. Coca cola and Pepsi
Map of Strategic Groups in the US
Automobile Market
Broad line
The Faded
Champions
The Big Three
GM, Ford, Chrysler
VW Audi, Rover Group
The Samurai
Toyota, Nissan,
Honda, Mazda
Degree of
Specialisation
Luxury cars
Mercedes, BMW,
Volvo*, Saab*
Jaguar*
Specialists
Narrow line
Rolls-Royce*, Ferrari*,
Aston Martin*,
Lamborghini*, Lotus*,
Morgan, McLaren
High
Low
Local Content
(*brands now owned by large-scale American
or European manufacturers)
Industry Evolution
Reading
 Hooley et al. Chapters 3 and 6.
 Day and Schoemaker (2005), 'Scanning the Periphery', Harvard
Business Review, 83, 11, pp. 135-148.
 Kangis and O'Reilly (2003), 'Strategies in a Dynamic
Marketplace: A Case Study in the Airline Industry', Journal of
Business Research, 56, pp. 105-111.