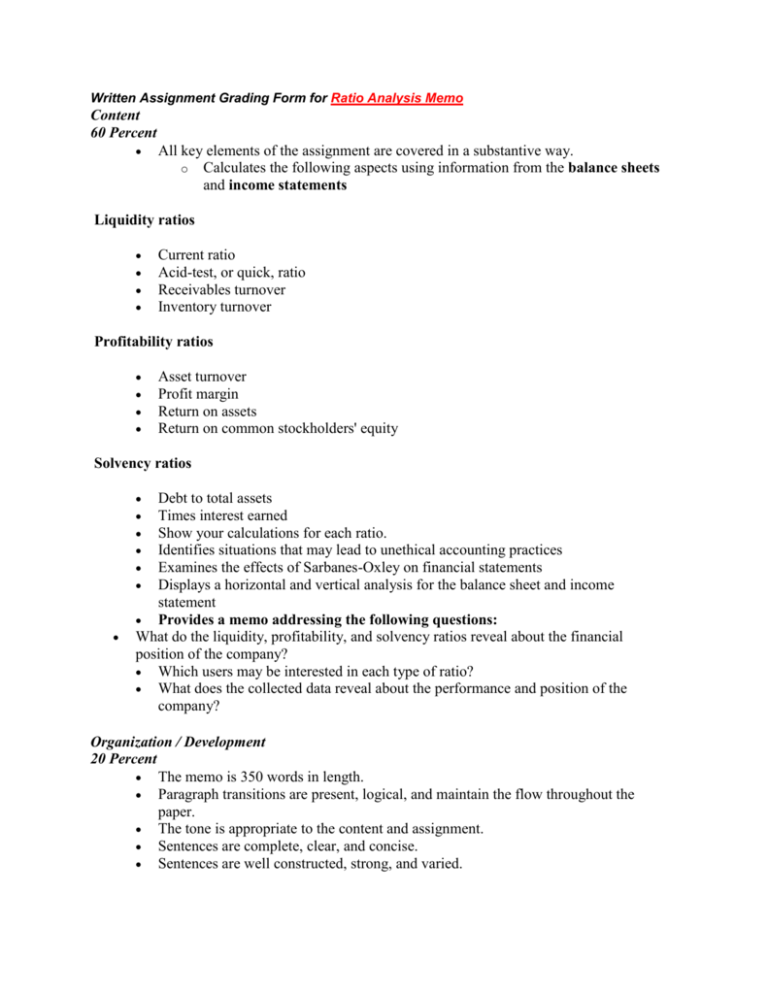 Written Assignment Grading Form for Ratio Analysis Memo
Content
60 Percent

All key elements of the assignment are covered in a substantive way.
o Calculates the following aspects using information from the balance sheets
and income statements
Liquidity ratios




Current ratio
Acid-test, or quick, ratio
Receivables turnover
Inventory turnover
Profitability ratios




Asset turnover
Profit margin
Return on assets
Return on common stockholders' equity
Solvency ratios







Debt to total assets
Times interest earned
Show your calculations for each ratio.
Identifies situations that may lead to unethical accounting practices
Examines the effects of Sarbanes-Oxley on financial statements
Displays a horizontal and vertical analysis for the balance sheet and income
statement
 Provides a memo addressing the following questions:
What do the liquidity, profitability, and solvency ratios reveal about the financial
position of the company?
 Which users may be interested in each type of ratio?
 What does the collected data reveal about the performance and position of the
company?
Organization / Development
20 Percent
 The memo is 350 words in length.
 Paragraph transitions are present, logical, and maintain the flow throughout the
paper.
 The tone is appropriate to the content and assignment.
 Sentences are complete, clear, and concise.
 Sentences are well constructed, strong, and varied.

Sentence transitions are present and maintain the flow of thought.
Mechanics
20 Percent




The paper--including tables and graphs, headings, title page, and reference page--is
consistent with APA formatting guidelines and meets course-level requirements.
Intellectual property is recognized with in-text citations and a reference page.
Rules of grammar, usage, and punctuation are followed.
Spelling is correct.