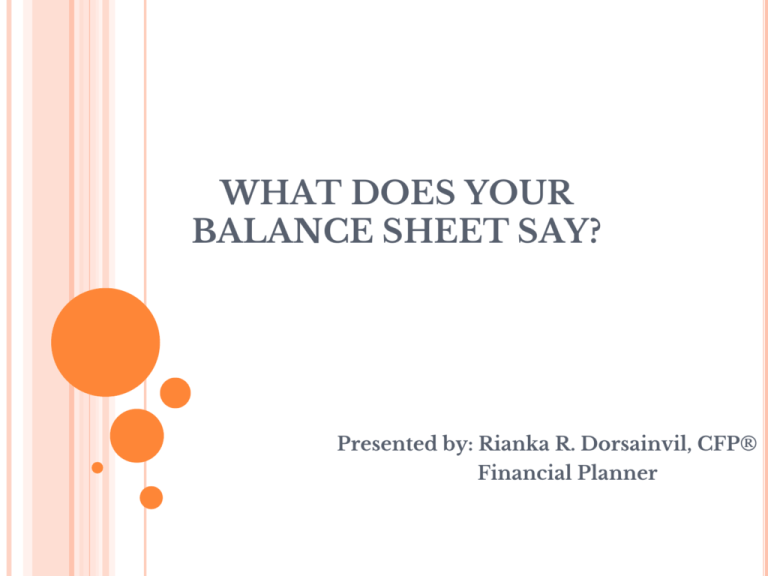 WHAT DOES YOUR
BALANCE SHEET SAY?
Presented by: Rianka R. Dorsainvil, CFP®
Financial Planner
WHAT COMES TO MIND WHEN
YOU HEAR BALANCE SHEET?
TAKEAWAYS:
•
•
•
Purpose
How to create a balance sheet
What does a healthy balance look like
WHAT IS A BALANCE SHEET?
•
•
Financial snapshot of where you are today.
Summary of your assets (what you own) and
your liabilities (what you owe).
COMPONENTS OF THE BALANCE
SHEET
•
Assets:
● Liquid Assets
•
●
Non-Liquid Assets
•
●
Real Estate (market value), Limited Partnership, Retirement Accounts, and
Net Business Ownership Equity, and Other Non-Liquid Assets
Fixed Assets / Personal Use
•
•
CDs, Checking and Savings Accounts, Stocks & Mutual Funds, Bonds, Net
Cash Value Life Insurance, and Other Liquid Assets
Automobiles & Other Vehicles, Personal Property, Collectibles, Residence(s),
Other fixed assets/ personal use
Liabilities:
● Home mortgage
● Student loans
● Consumer debt
● Personal loans
● Other liabilities
HUMAN CAPITAL
•
Net present value of your expected income
over your lifetime.
Image via Nerd's Eye View : Michael E. Kitces
Thank you!