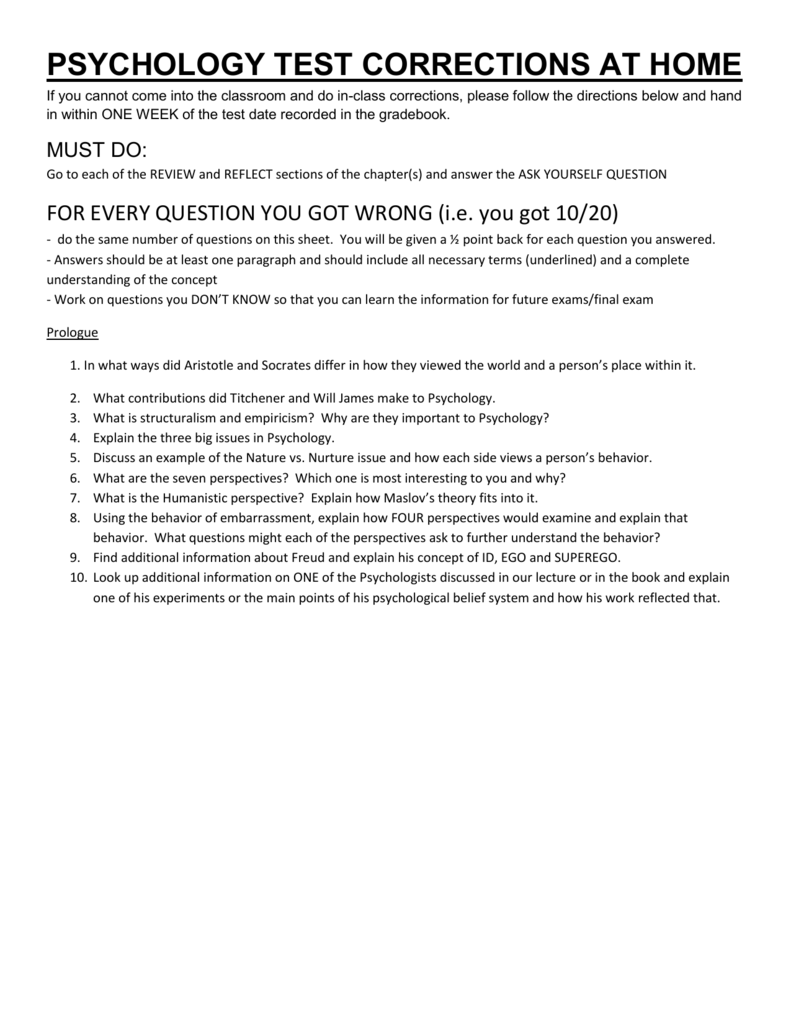 PSYCHOLOGY TEST CORRECTIONS AT HOME
If you cannot come into the classroom and do in-class corrections, please follow the directions below and hand
in within ONE WEEK of the test date recorded in the gradebook.
MUST DO:
Go to each of the REVIEW and REFLECT sections of the chapter(s) and answer the ASK YOURSELF QUESTION
FOR EVERY QUESTION YOU GOT WRONG (i.e. you got 10/20)
- do the same number of questions on this sheet. You will be given a ½ point back for each question you answered.
- Answers should be at least one paragraph and should include all necessary terms (underlined) and a complete
understanding of the concept
- Work on questions you DON'T KNOW so that you can learn the information for future exams/final exam
Prologue
1. In what ways did Aristotle and Socrates differ in how they viewed the world and a person's place within it.
2.
3.
4.
5.
6.
7.
8.
What contributions did Titchener and Will James make to Psychology.
What is structuralism and empiricism? Why are they important to Psychology?
Explain the three big issues in Psychology.
Discuss an example of the Nature vs. Nurture issue and how each side views a person's behavior.
What are the seven perspectives? Which one is most interesting to you and why?
What is the Humanistic perspective? Explain how Maslov's theory fits into it.
Using the behavior of embarrassment, explain how FOUR perspectives would examine and explain that
behavior. What questions might each of the perspectives ask to further understand the behavior?
9. Find additional information about Freud and explain his concept of ID, EGO and SUPEREGO.
10. Look up additional information on ONE of the Psychologists discussed in our lecture or in the book and explain
one of his experiments or the main points of his psychological belief system and how his work reflected that.