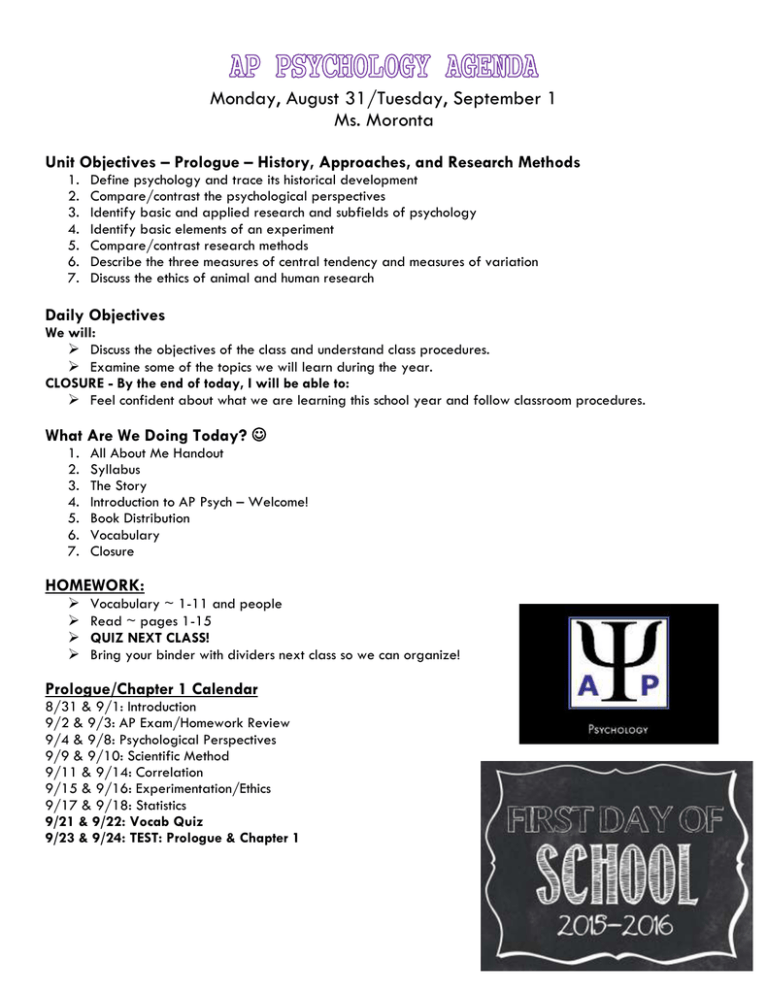 Monday, August 31/Tuesday, September 1
Ms. Moronta
Unit Objectives – Prologue – History, Approaches, and Research Methods
1.
2.
3.
4.
5.
6.
7.
Define psychology and trace its historical development
Compare/contrast the psychological perspectives
Identify basic and applied research and subfields of psychology
Identify basic elements of an experiment
Compare/contrast research methods
Describe the three measures of central tendency and measures of variation
Discuss the ethics of animal and human research
Daily Objectives
We will:
 Discuss the objectives of the class and understand class procedures.
 Examine some of the topics we will learn during the year.
CLOSURE - By the end of today, I will be able to:
 Feel confident about what we are learning this school year and follow classroom procedures.
What Are We Doing Today? 
1.
2.
3.
4.
5.
6.
7.
All About Me Handout
Syllabus
The Story
Introduction to AP Psych – Welcome!
Book Distribution
Vocabulary
Closure
HOMEWORK:




Vocabulary ~ 1-11 and people
Read ~ pages 1-15
QUIZ NEXT CLASS!
Bring your binder with dividers next class so we can organize!
Prologue/Chapter 1 Calendar
8/31 & 9/1: Introduction
9/2 & 9/3: AP Exam/Homework Review
9/4 & 9/8: Psychological Perspectives
9/9 & 9/10: Scientific Method
9/11 & 9/14: Correlation
9/15 & 9/16: Experimentation/Ethics
9/17 & 9/18: Statistics
9/21 & 9/22: Vocab Quiz
9/23 & 9/24: TEST: Prologue & Chapter 1
WARM UP 
 What are your expectations for the year?
 Why did you take this class? (be honest)
 Write down a few words that you think of when you hear the word PSYCHOLOGY.
CLOSURE
 When is it acceptable to use your electronic device?
 After talking with your peers, write down some ways to be successful for this school
year.