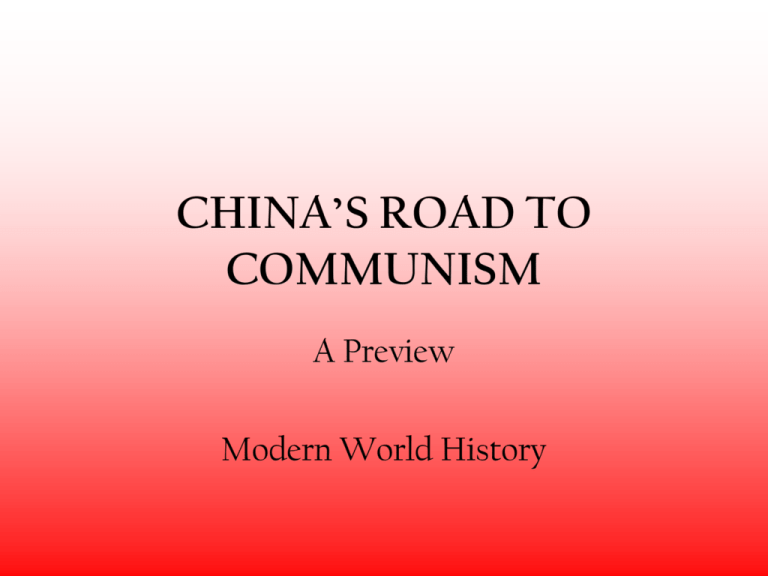 CHINA'S ROAD TO
COMMUNISM
A Preview
Modern World History
1600's - 1912
• Manchus (people of
Manchuria – NE China)
invaded China & seized
power from the Ming
Dynasty
• They took a Chinese
name for their dynasty –
Qing Dynasty
The Qing Dynasty
• Empress Dowager Cixi
presented China with a
weak central authority
• She died in 1908
• Puyi, at age two, was
appointed the successor
• Puyi became the last
emperor of China
• Dynasty will fall 1912
Sun Yixian(Yatsen)
• Sun Yatsen led the
Nationalist Party (also
called Kuomintang)
• The Nationalists
wanted to modernize
and democratize China
Goals of the Nationalists
• Rid China of foreign
influence
• Set up a democracy
• Improve life for all
Chinese
1912-1916
• Sun lacked authority &
military support.
• He turned over the
presidency to Yuan Shikai,
a powerful general.
• Yuan betrayed the
democratic ideals of Sun
and became a dictator.
• Yuan died in 1916; military
generals took control.
Violence and peasant
hardship continued in
China.
AFTER WWI – The Nationalists
• Chiang Kai-shek
(Jiang Jieshi) joins Sun
and the Nationalist
Party.
• Promoted economic
development: built
schools and roads
• Did little to improve
living standards of the
peasants
1925 – Sun Yatsen died
Funeral Procession
Sun Yatsen Tribute
Tiananmen Square
Nationalists Take Control
1925
• Chiang Kai-shek and
the Nationalist army
defeated the warlords
(military generals) and
took control of China.
Communists Organize
• Peasants revolted
(sound familiar?)
• Communist Party
[Mao Zedong –son of
peasants] and Red
Army made first
attempt to take over
Nationalist Party – they
failed.
Nationalists vs. Communists
• Chiang Kai-shek began
a series of military
campaigns to crush the
Communists.
• "Extermination
Campaign" killed 6,000
suspected Communists
in 3 days.
Communists Surrounded
1934
• Chiang Kai-shek and
the Nationalist Army
surround Mao and the
Red Army.
THE LONG MARCH
• Mao and the Red Army
retreated and began the
Long March – one of
greatest escapes in
history.
The Long March
• Retreated to North Central
China to escape the
Nationalists
• 100,000 men, women and
children
• 6,000 mile journey lasting 1
year
• Crossed 18 mountain ranges,
dozens of rivers, and swamps
• Fought hunger and diseases
while fighting off the
Nationalists
• Approximately one-fifth of the
marchers survived
World War II
• WWII – Japan invaded
China.
• Mao and Chiang
became uneasy allies
against the Japanese (a
common enemy).
• "The enemy of my
enemy is my friend."
World War II Ends
• WWII ended (1945)
• "Civil war" between
Chiang (Nationalists)
and Mao (Communists)
resumed.
SHAZAM!
Conditions in China Worsen
• China's poverty worsened
as a result of WWII.
• Many Chinese blamed bad
conditions on Chiang and
the Nationalists.
• Lacking popular support
and weakened by
corruption, the Nationalist
Party collapsed.
• Chiang and the Nationalist
government flee to off-shore
island of Taiwan.
The People's Republic of China
• October 1st, 1949
• Mao Zedong,
Chairman of China's
Communist Party
proclaims the new
People's Republic of
China.