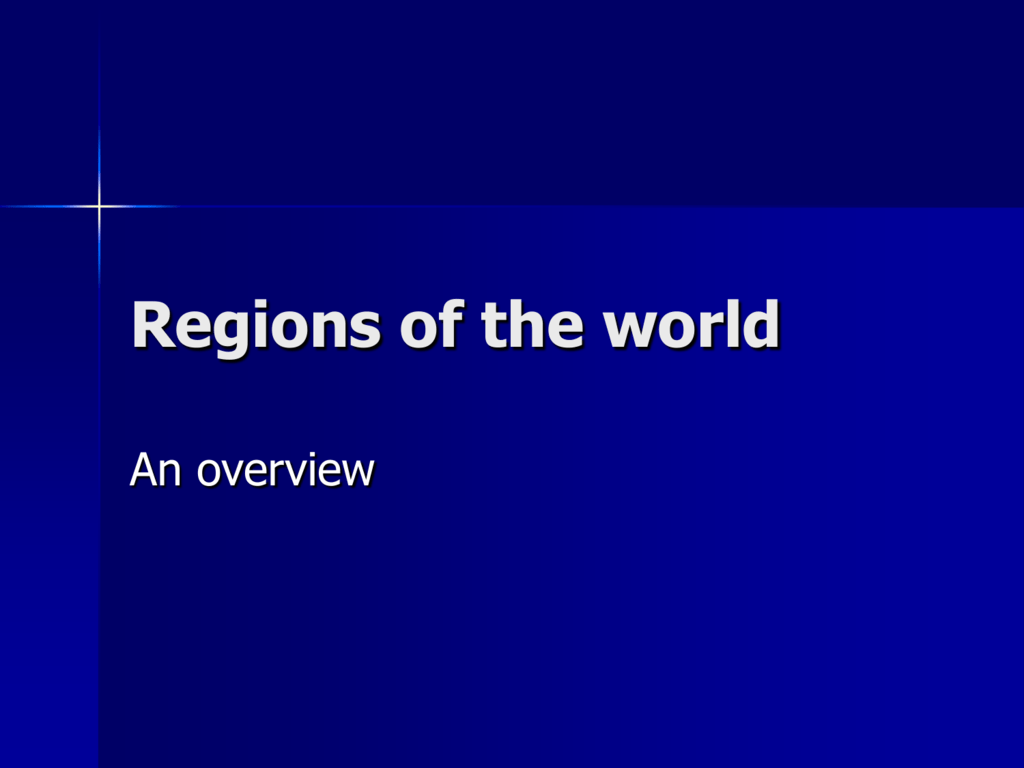 Regions of the world
An overview
What defines a region?
– Regions are areas defined
by specific factors, like
vegetation, river systems,
and climate, which are
physical factors.
– Regions may also be
defined by language,
religion, cultural
traditions, forms of
government, and trade
networks , which are
human factors.
Three types of regions



Formal regionsFunctional regionsPerceptual regions-
Formal Regions (Uniform)

Def. everyone shares in common 1 or more distinctive
characteristics
– Can be identified by both physical and cultural features

Examples:
–
–
–
–
90% French speaking region
Andes Mountain Region
United States
Wheat Belt
Functional
Region
(Nodal)

Def. area organized around
a node or focal point
– Product of interactions, or
movements of various kinds
– Defined as a spatial system


Its boundaries are defined by
the limits of that system
Example:
– San Antonio Metropolitan
Region
– WiFi Region
Perceptual Regions
(Vernacular)

Region primarily in
the minds of the
people
– Mental maps used to
create these regions


Internal
representation of a
portion of the Earth
Examples:
– South
– The NE
– The Middle East
What are the different
regions around the globe?







USA & Canada
Latin America
Europe
Russia
North Africa-Southwest Asia-Central Asia
Africa South of the Sahara
South Asia
Regions continued



East Asia
South East Asia
Australia- Oceania- Antarctica
The USA and Canada





Cover most of North
America
Have the world oldest
unarmed border
Share many
landforms and
vegetation, such as
the Great Plains and
the Rocky Mountains.
Population: over 331
million
Major Languages:
English, French, and
Spanish
Latin America






Is Mexico, Central America, South America,
and the Caribbean Islands.
Population: 525 million.
Covers 85 degrees of Latitude
A collision of cultures, mixing Native
American, European, and African traditions to
influence music, art, food, and religion.
Inca, Aztec, and Maya cultures once
flourished in Latin America.
The longest river in the Western Hemisphere
is the Amazon River.
Latin America

Europe




43 nations create this region.
Most people live within 300 mile of a major body of
water.
Population: 583 million
The exploration of Western European nations in the
late 1400's gave Europe an advantage of colonizing
the Western Hemisphere.
Europe
Today Europe
is working on
uniting the many
nations into the
European Union.

Russia




The worlds largest country.
The Ural Mountains are the natural
boundary between Europe and Russia.
Has vast natural resources, such as oil
and natural gas.
Population: 144.4 million
Russia continued


After the communist government of the
Soviet Union collapsed in 1991, the
Russian people have struggled with
gaining economic strength.
Despite these difficulties Russians today
enjoy many more liberties than in the
past.
North Africa,
Southwest Asia,
and Central Asia




Home to the Nile River—the longest river in
the world.
Also has the largest desert in the World the
Sahara. Which has the highest Temp. ever
recorded in the world—136 degrees F.
Region has seen the rise of Great civilizations,
such as the Egyptians, Sumerians, Persians,
and Phoenicians.
As well as the birth of three major religions–
Christianity, Islam, and Judaism.
North Africa,
Southwest Asia,
and Central Asia

The most important resource in the
area is petroleum. To better control oil
as an economic advantage, eight
countries in this region have formed
OPEC– Organization for Petroleum
Exporting Countries.
Africa South
of the Sahara
Population:673 million
 Rich in mineral
resources– fossil
fuels, ores and gems.
 Fossils found in Eastern Africa point to this
region as the home of our earliest ancestors.
 Area has an abundance in plant and animal
life, which have given rise to poachingillegal hunting.

Africa South
of the Sahara


Africa has struggled
to regain economic
stability for African
citizens.
Many Africans
struggle for basic
healthcare,
employment, and
educational needs.
South Asia



Population: over 1.3
billion people, one-fifth
of the worlds population.
This area has many
different religions–
Hinduism, Buddhism,
Jainism, and Sikhism.
tea, curries, spices, and
the practice of yoga
have become popular
around the world.
South Asia

Feeding the
enormous population
of this area has been
met through scientific
advances of farming
and food production.
East Asia





Population 1.5 billion people– about 25% of world population.
Largest country is China.
Volcanic activity in the Ring of Fire created the islands of Japan
and Taiwan.
Created great civilizations, such as the Shang, Zhou, and the
Ming Dynasties.
Great Wall of China was built in 200's B.C. to keep out foreign
invaders.
East Asia

Areas are suffering
from rapid population
growth, which lead to
air, soil and water
pollution.
South
East Asia




An area full of peninsulas and archipelagos.
Most SE Asian islands are covered in Rain
forests.
This area is also home to the Komodo
dragon –the worlds largest lizard.
About 520 million people live in SE Asia.
South East
Asia


Rice farming is the
most important
agricultural activity.
Economic prosperity of
the region has hurt the
environment. In
Thailand only 25% of
it's original forests still
remain.
Australia,
Oceania, and
Antarctica




Australia is the smallest
continent.
Two of the Seven
Wonders of the World—
Uluru (Ayers Rock), and
The Great Barrier Reef.
Australia receives less
precipitation than any
other continent excluding
Antarctica.
Antarctica has the
highest elevation, of any
continent helping to
make it the coldest.

During World War II Australia,
western nations tested Oceania, and
nuclear weapons on Antarctica
islands in Oceania.