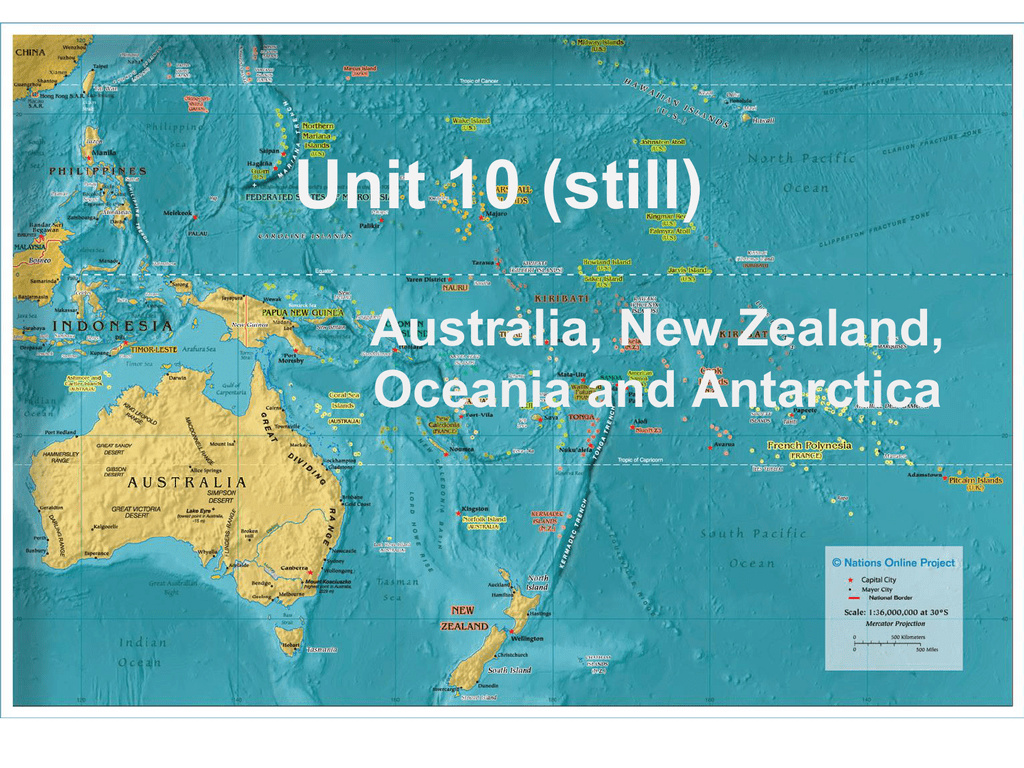 Unit 10 (still)
Australia, New Zealand,
Oceania and Antarctica
AUSTRALIA AND NEW ZEALAND
Physical Geography
Australia is smallest continent, largest island.
• Mountains in east, dry interior, tropical
grasslands in north.
• Great Barrier Reef along northeast coastline.
• Ayers Rock in center of continent.
New Zealand is two main islands, both very
tectonically active.
• Climate is cool and wet, mostly mixed forests.
• Many volcanos and mountains, glaciers at
altitude.
Human Geography
European Settlement
Australia
•
•
•
•
•
Discovered by Dutch in 1606
Colonized by Britain in 1788
Penal Colony – island for prisoners
Gave Britain a Pacific Ocean Naval base
Colonists vs. Aborigines constant
disputes.
New Zealand
• Colonized by Hunters and Whalers
from Europe, America, and Australia
• 1840 Treaty of Waitangi
– Signed by Maori
– Britain controls NZ
– Control vs. Governorship
– Land Wars 1845-1847, 1860-1872
Modern Australia
AUSTRALIA is a wealthy, stable republics with few
major problems compared to other parts of the
world.
• 23 million people (90% European, 8% Asia, 2%
Aborigine)
• Economy based on tourism, ranching, export of
resources and food, import of energy
• Issues with immigration of Asian population,
and aboriginal rights
• Many types of animals found only in Australia,
such as kangaroo, koala, and platypus, dingo,
wombat.
Aborigines
Australia – Settled by the Aborigines about
40,000 years ago. Arrived from Asia, had stone
age technology at time of contact.
• Roughly 500 groups speaking 200
languages, less than a million people total.
• Animist religion, with belief in the
"Dreaming" a complex set of myths and
practices that establish the world and
Aborigine culture.
• Still largely separated from Australian
society, issues with discrimination and loss
of ancestral lands.
Rabbit Invasion
• 1859 Thomas Austin brings 24
rabbits to Australia to hunt for
food
• 1900 Rabbit population = 1
Billion or more!
• Rabbits are heavy grazers, and
strip foilage.
• Australia tried importing
predators, fences, and Tularemia
infections to control rabbits
Modern New Zealand
NEW ZEALAND is a wealthy, stable
republic with few major problems
compared to other parts of the world.
• 4 million people (65% European, 15%
Maori, 20% Asian or Pacific, >1%
Hobbits, Elves and Orcs)
• Economy based on film industry,
tourism, resources, and agriculture.
• Issues with Maori rights, fishing and
resource competition with other
nations
Maori
New Zealand – Settled by the Maori
about 1000 years ago from Polynesia
• Divided into various clans, claimed
territory and warred with each other.
Even after contact, they maintained a
fierce warrior culture.
• Maori traditionally wear extensive
tattoos, called "Moko" to show status.
• Though a minority, Maori are a large
part of NZ culture, such as the "AllBlacks" rugby team.
OCEANIA AND ANTARCTICA
PHYSICAL GEOGRAPHY OF OCEANIA
• Enormous region of the
Pacific ocean, with
thousands of scattered
islands.
• Islands are volcanic, coral
atolls, or both.
• Islands divided into three
groups:
– Melanesia – named for "dark
skin of inhabitants"; includes
New Guinea
– Micronesia – named for "tiny
islands"; includes Guam,
Marshall Islands
– Polynesia – named for "many
islands"; includes Hawaii,
Samoa, Tahiti
Vocabulary
•
•
•
•
Archipelago – chain of islands
low island – made of coral reefs
high island – created by volcanoes
Atoll – coral island that surrounds a lagoon
HUMAN GEOGRAPHY OF
OCEANIA
• Settled thousands of years ago by boat from
Asia. Explored by Europeans in the 1500's,
later settled for agriculture.
• Site of most of the big battles of WW2 in
the Pacific. Gained independence from
Europe and the USA in 1960's and 1970's.
• Modern population is less than 10 million,
depending on how the region is counted.
Most countries are poor and
underdeveloped, relying on resort tourism
for their economies.
Antarctica
PHYSICAL GEOGRAPHY OF ANTARCTICA
• Coldest, driest, and windiest continent.
• The temperature in Antarctica has
reached −89 °C (−129 °F)
• Most is covered by a sheet of ice over a
mile thick, which has 70% of Earth's
fresh water.
• Life is abundant along the coasts, but
the interior is a cold desert.
• Still mostly unexplored and little
known.
HUMAN GEOGRAPHY OF ANTARCTICA
• No permanent human presence in
Antarctica.
• Between 1000 to 5000 people live there
for short periods, living in various
research stations.
• No government, other than 1959
Antarctic Treaty: No mining, no military
bases or weapons, only peaceful
scientific research.
• Various countries claim portions of
Antarctica for their own use, but these
areas overlap and are generally not
recognized as official.