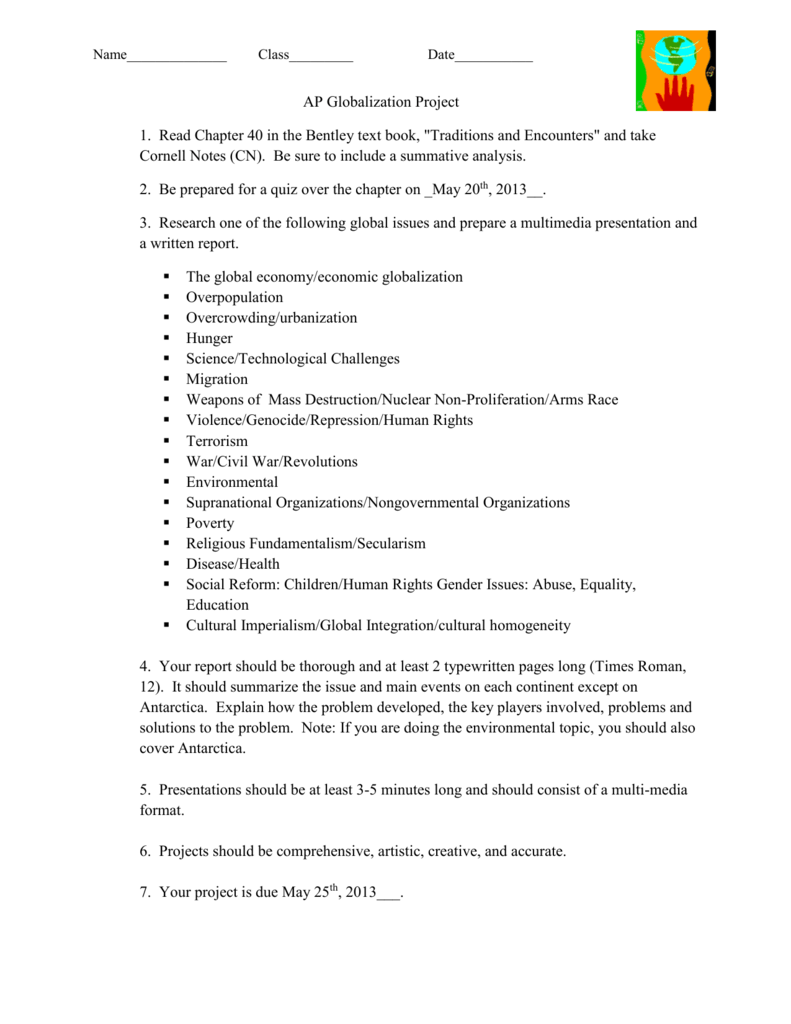 Name______________
Class_________
Date___________
AP Globalization Project
1. Read Chapter 40 in the Bentley text book, "Traditions and Encounters" and take
Cornell Notes (CN). Be sure to include a summative analysis.
2. Be prepared for a quiz over the chapter on _May 20th, 2013__.
3. Research one of the following global issues and prepare a multimedia presentation and
a written report.

















The global economy/economic globalization
Overpopulation
Overcrowding/urbanization
Hunger
Science/Technological Challenges
Migration
Weapons of Mass Destruction/Nuclear Non-Proliferation/Arms Race
Violence/Genocide/Repression/Human Rights
Terrorism
War/Civil War/Revolutions
Environmental
Supranational Organizations/Nongovernmental Organizations
Poverty
Religious Fundamentalism/Secularism
Disease/Health
Social Reform: Children/Human Rights Gender Issues: Abuse, Equality,
Education
Cultural Imperialism/Global Integration/cultural homogeneity
4. Your report should be thorough and at least 2 typewritten pages long (Times Roman,
12). It should summarize the issue and main events on each continent except on
Antarctica. Explain how the problem developed, the key players involved, problems and
solutions to the problem. Note: If you are doing the environmental topic, you should also
cover Antarctica.
5. Presentations should be at least 3-5 minutes long and should consist of a multi-media
format.
6. Projects should be comprehensive, artistic, creative, and accurate.
7. Your project is due May 25th, 2013___.