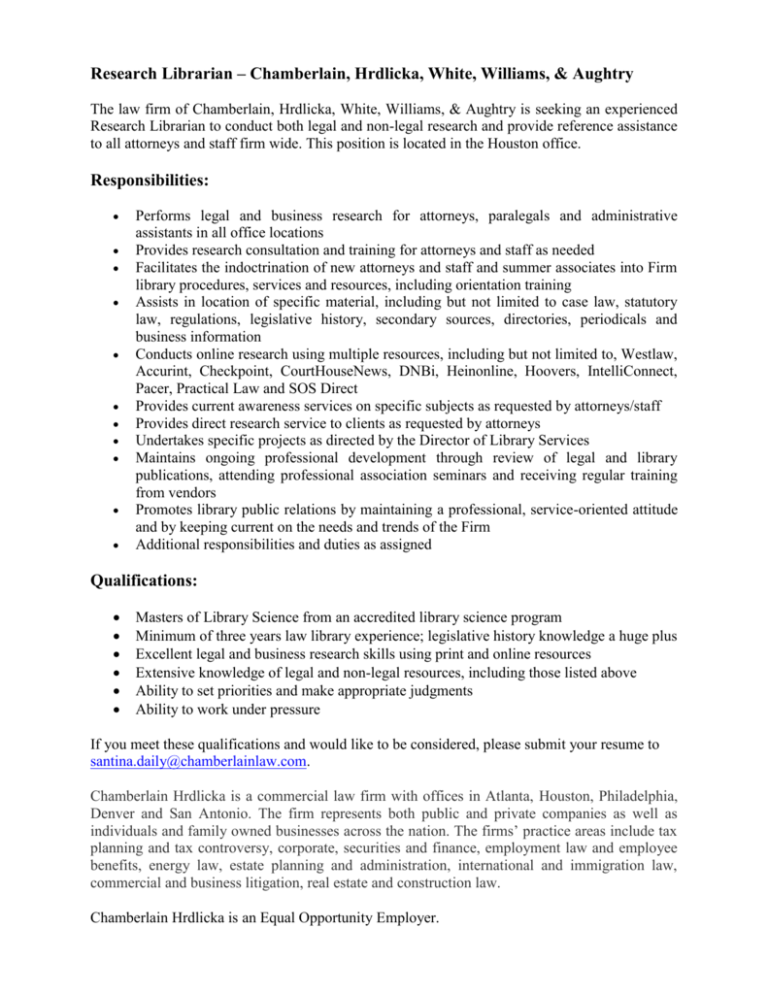 Research Librarian – Chamberlain, Hrdlicka, White, Williams, & Aughtry
The law firm of Chamberlain, Hrdlicka, White, Williams, & Aughtry is seeking an experienced
Research Librarian to conduct both legal and non-legal research and provide reference assistance
to all attorneys and staff firm wide. This position is located in the Houston office.
Responsibilities:











Performs legal and business research for attorneys, paralegals and administrative
assistants in all office locations
Provides research consultation and training for attorneys and staff as needed
Facilitates the indoctrination of new attorneys and staff and summer associates into Firm
library procedures, services and resources, including orientation training
Assists in location of specific material, including but not limited to case law, statutory
law, regulations, legislative history, secondary sources, directories, periodicals and
business information
Conducts online research using multiple resources, including but not limited to, Westlaw,
Accurint, Checkpoint, CourtHouseNews, DNBi, Heinonline, Hoovers, IntelliConnect,
Pacer, Practical Law and SOS Direct
Provides current awareness services on specific subjects as requested by attorneys/staff
Provides direct research service to clients as requested by attorneys
Undertakes specific projects as directed by the Director of Library Services
Maintains ongoing professional development through review of legal and library
publications, attending professional association seminars and receiving regular training
from vendors
Promotes library public relations by maintaining a professional, service-oriented attitude
and by keeping current on the needs and trends of the Firm
Additional responsibilities and duties as assigned
Qualifications:






Masters of Library Science from an accredited library science program
Minimum of three years law library experience; legislative history knowledge a huge plus
Excellent legal and business research skills using print and online resources
Extensive knowledge of legal and non-legal resources, including those listed above
Ability to set priorities and make appropriate judgments
Ability to work under pressure
If you meet these qualifications and would like to be considered, please submit your resume to
santina.daily@chamberlainlaw.com.
Chamberlain Hrdlicka is a commercial law firm with offices in Atlanta, Houston, Philadelphia,
Denver and San Antonio. The firm represents both public and private companies as well as
individuals and family owned businesses across the nation. The firms' practice areas include tax
planning and tax controversy, corporate, securities and finance, employment law and employee
benefits, energy law, estate planning and administration, international and immigration law,
commercial and business litigation, real estate and construction law.
Chamberlain Hrdlicka is an Equal Opportunity Employer.