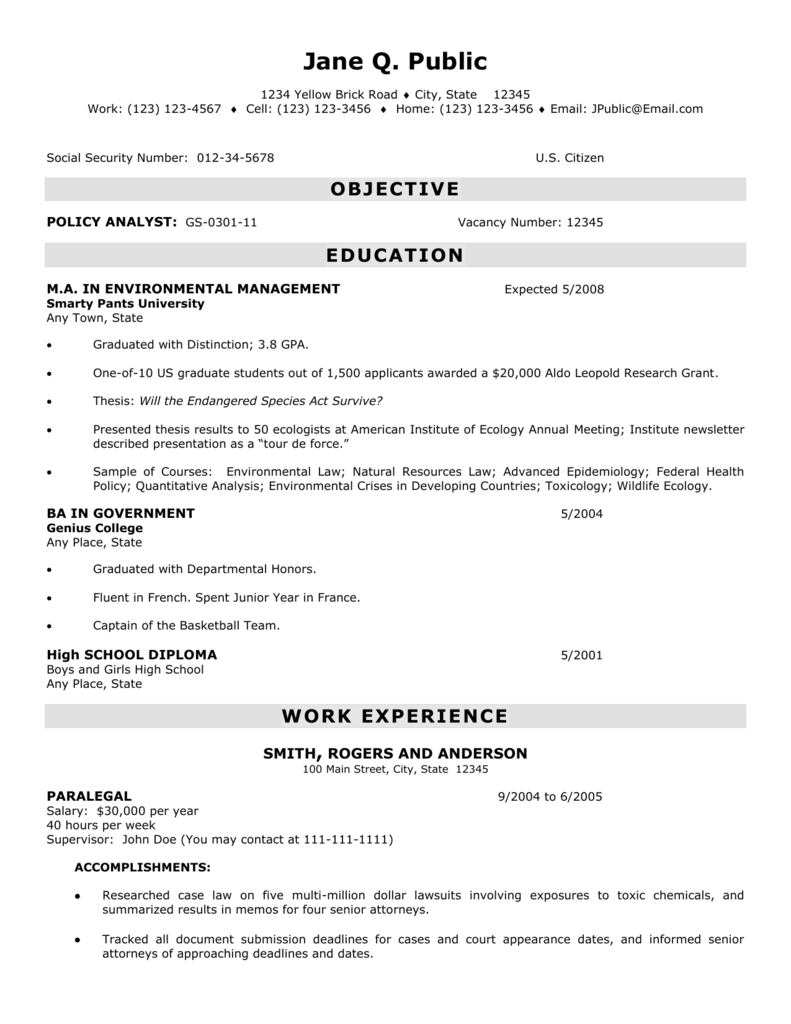 Jane Q. Public
1234 Yellow Brick Road  City, State 12345
Work: (123) 123-4567  Cell: (123) 123-3456  Home: (123) 123-3456  Email: [email protected]
Social Security Number: 012-34-5678
U.S. Citizen
O BJ E C T I V E
POLICY ANALYST: GS-0301-11
Vacancy Number: 12345
E D U C A T I ON
M.A. IN ENVIRONMENTAL MANAGEMENT
Expected 5/2008
Smarty Pants University
Any Town, State

Graduated with Distinction; 3.8 GPA.

One-of-10 US graduate students out of 1,500 applicants awarded a $20,000 Aldo Leopold Research Grant.

Thesis: Will the Endangered Species Act Survive?

Presented thesis results to 50 ecologists at American Institute of Ecology Annual Meeting; Institute newsletter
described presentation as a "tour de force."

Sample of Courses: Environmental Law; Natural Resources Law; Advanced Epidemiology; Federal Health
Policy; Quantitative Analysis; Environmental Crises in Developing Countries; Toxicology; Wildlife Ecology.
BA IN GOVERNMENT
5/2004
Genius College
Any Place, State

Graduated with Departmental Honors.

Fluent in French. Spent Junior Year in France.

Captain of the Basketball Team.
High SCHOOL DIPLOMA
5/2001
Boys and Girls High School
Any Place, State
W OR K E XP E R I E N C E
SMITH, ROGERS AND ANDERSON
100 Main Street, City, State 12345
PARALEGAL
9/2004 to 6/2005
Salary: $30,000 per year
40 hours per week
Supervisor: John Doe (You may contact at 111-111-1111)
ACCOMPLISHMENTS:

Researched case law on five multi-million dollar lawsuits involving exposures to toxic chemicals, and
summarized results in memos for four senior attorneys.

Tracked all document submission deadlines for cases and court appearance dates, and informed senior
attorneys of approaching deadlines and dates.