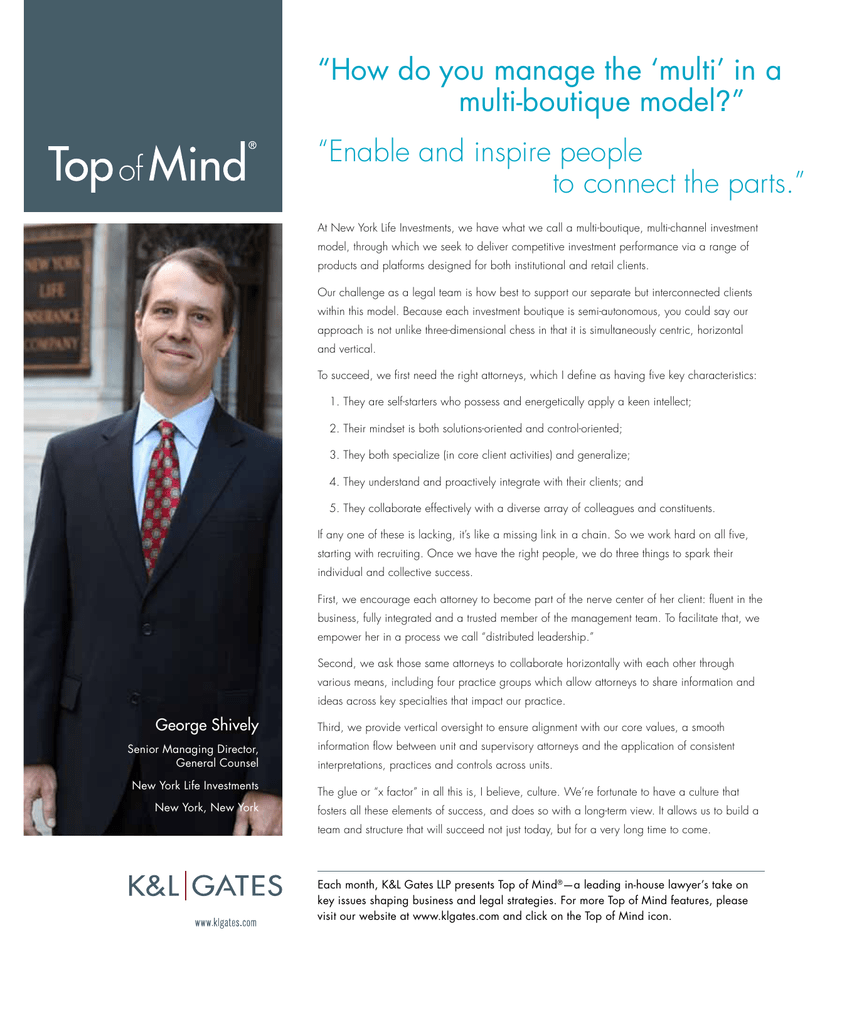 "How do you manage the 'multi' in a multi-boutique model?"
"Enable and inspire people
to connect the parts."
At New York Life Investments, we have what we call a multi-boutique, multi-channel investment
model, through which we seek to deliver competitive investment performance via a range of
products and platforms designed for both institutional and retail clients.
Our challenge as a legal team is how best to support our separate but interconnected clients
within this model. Because each investment boutique is semi-autonomous, you could say our
approach is not unlike three-dimensional chess in that it is simultaneously centric, horizontal
and vertical.
To succeed, we first need the right attorneys, which I define as having five key characteristics:
1. They are self-starters who possess and energetically apply a keen intellect;
2. Their mindset is both solutions-oriented and control-oriented;
3. They both specialize (in core client activities) and generalize;
4. They understand and proactively integrate with their clients; and
5. They collaborate effectively with a diverse array of colleagues and constituents.
If any one of these is lacking, it's like a missing link in a chain. So we work hard on all five,
starting with recruiting. Once we have the right people, we do three things to spark their
individual and collective success.
First, we encourage each attorney to become part of the nerve center of her client: fluent in the
business, fully integrated and a trusted member of the management team. To facilitate that, we
empower her in a process we call "distributed leadership."
Second, we ask those same attorneys to collaborate horizontally with each other through
various means, including four practice groups which allow attorneys to share information and
ideas across key specialties that impact our practice.
George Shively
Senior Managing Director,
General Counsel
New York Life Investments
New York, New York
Third, we provide vertical oversight to ensure alignment with our core values, a smooth
information flow between unit and supervisory attorneys and the application of consistent
interpretations, practices and controls across units.
The glue or "x factor" in all this is, I believe, culture. We're fortunate to have a culture that
fosters all these elements of success, and does so with a long-term view. It allows us to build a
team and structure that will succeed not just today, but for a very long time to come.
Each month, K&L Gates LLP presents Top of Mind®—a leading in-house lawyer's take on
key issues shaping business and legal strategies. For more Top of Mind features, please
visit our website at www.klgates.com and click on the Top of Mind icon.