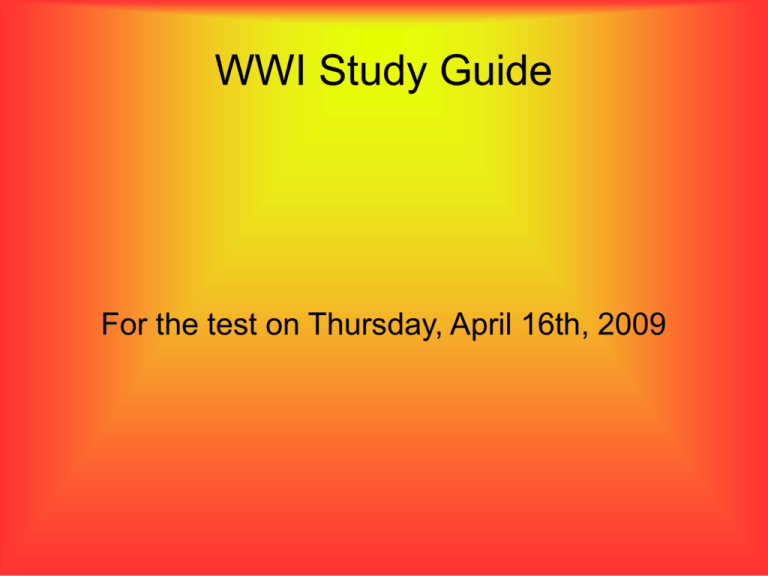 WWI Study Guide
For the test on Thursday, April 16th, 2009
Question #1
What were the countries in the Triple Alliance?
Answer #1
Germany, Austria-Hungary, Italy
Question #2
What were the countries in the Triple Entente?
Answer #2
Russia, France, Great Britain
Question #3
What were the four CAUSES of WWI?
Answer #3
Nationalism, Imperialism, Militarism, Alliances
Question #4
What is Nationalism?
Answer #4
Strong Devotion to one's country
Everyone liked their country the best, therefore
they wanted their country to BE the best
Question #5
What is Imperialism?
Answer #5
Wanting land and power
Question #6
What is Militarism?
Answer #6
Wanting military power
Question #7
What are alliances?
Answer #7
Countries who are allies, or friends, and will stick
up for one another if they are attacked
Question #8
What was the event that triggered the start of
WWI?
Answer #8
The assassination of Francis Ferdinand
Question #9
What happened with Italy once the war began?
Answer #9
Italy joined the Triple Entente (Great Britain,
France, and Russia)
Question #10
What happens to the Ottoman Empire once the
war begins?
Answer #10
The Ottoman Empire joins the Triple Alliance
(Germany and Austria-Hungary)
Question #11
Name three new weapons that were used in WWI.
Answer #11
Possible Answers:
Machine Guns
Tanks
Poison Gas
Airplanes
Trenches
Question #12
What two things made the U.S. get involved with
the war?
Answer #13
1. Germany attacked the Lusitania which was
carrying people and goods to England.
2. Germany told Mexico that they would gain land
back from the U.S. if they joined the Triple
Alliance/ Central Powers
Question #14
What was the treaty that ended WWI?
Answer #14
The Treaty of Versailles
Question #15
Name three provisions from the Treaty of
Versailles.
Answer #15
Possible Answers:
League of Nations created to keep peace
Germany accepts the blame for the war
Germany removes troops from Rhineland
Germany pays reparations to Allies
Trenches
TWO PART QUESTION:
Part 1: take the quiz:
http://www.historyonthenet.com/WW1/trenchquickquiz.htm
Part 2: Look at the diagram on the next slide. You
will need to know how to label these parts.
BONUS QUESTION
Were is the best place to find links, notes, study
guides, homework, and more?
BONUS QUESTION ANSWER
THE PLANTAN HOMEWORK WIKISPACE!!!!!
http://www.plantanhomework.wikispaces.com
Good Luck on the Test!
And thank you for using the Plantan Homework
Wikispace!