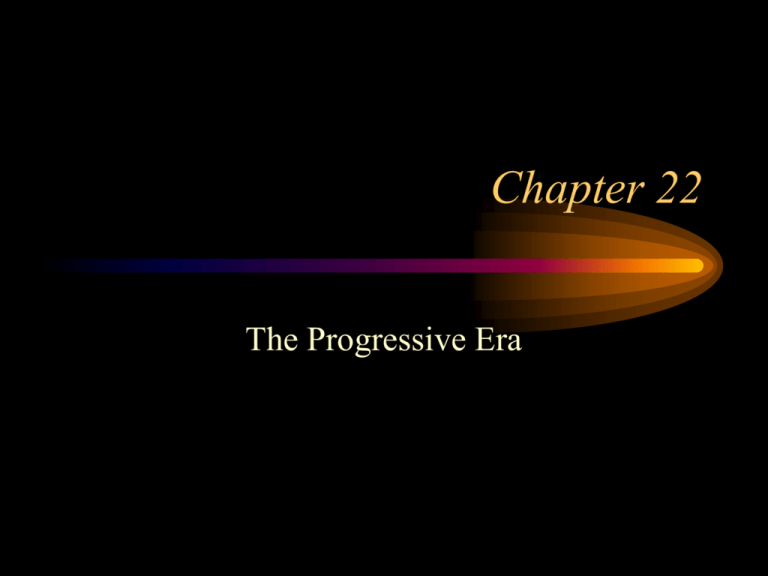 Chapter 22
The Progressive Era
Who were the Progressives?
• New Middle Class of
young professionals
• Apply principles of
professions to problems of
society
• Volunteer organizations
• Never fully united/often
contradictory
• Mainly urban
• Hofstadter's theory:
"status revolution"
Muckrakers
• Henry Demarest Lloyd
and Ida Tarbell,
exposed Standard Oil
• Lincoln Steffens, "The
Shame of the Cities,"
attacked political
machines
The Progressive Mind
• Arouse "conscious of
the people"
• "laissez faire is
obsolete"
• Paternalistic,
oversimplified issues
• Often at war with
themselves
Progressive Artists
• Sloan, Henri, Luks:
"ashcan artists"
• Felt they were "rebels"
• Angry when European
artists like Matisse and
Picasso got all the
glory!
• Henri's Gypsy Girl
"Radical" Progressives
• Eugene Debs and
Socialists
• IWW and Bill
Haywood
• Freud
• "Bohemian thinkers"
like Duncan, Stiglietz,
Dell, O'Neill
Margaret Sanger
• Militant campaigner for
birth control
• Mother's 18 pregnancies
and 11 live births
• Arrested for violating
"postal indecency" laws
• American Birth Control
League (in 1942 becomes
Planned Parenthood)
Writers
• Ezra Pound
• Carl Sandburg
Cities First: Reform!
• Abe Ruef in San Francisco, p.
577
• Toledo Mayor Samuel "Golden
Rule" Jones
• Mayor Tom Johnson
(Cleveland), Seth Low and John
P. Mitchell (New York), Hazen
Pingree (Detroit)
• City manager system starts in
Dayton
• "gas and water socialism"
State Reform: Wisconsin Leads
the Way
• Bob Lafollette and
WISCONSIN IDEA
• Direct primary, limit
campaign contributions
• Commissions and
agencies
• Oregon experiments with
initiative and referendum
State Social Legislation
• Role of 14th
Amendment in
striking down
progressive laws?
• Lochner v. NY,
Hammer v. Dagenhart,
Adkins v. Children's
Hospital
• 1911 Triangle
Shirtwaist Fire disaster
Consumer's League
• "investigate, agitate,
legislate"
• Louis Brandeis and
"Brandeis Brief,"
based on evidence!
Women's Suffrage
• Failures of 14th and
15th Amendment
• American Women's
Suffrage Association
• National Women's
Suffrage Association
– E. C. Stanton, S. B.
Anthony
• "Victorian ideals"
National American Women's
Suffrage Association
• Stanton and Anthony,
later Carrie Chapman
Catt
• More radical
Congressional Union
– Alice Paul, Alva
Belmont
– Pickets White house
Political Reform
• 16th Amendment
• 17th Amendment
• Reforms in House of
Reps
– "Czar" Tom Reed
TR: "Cowboy in the White
House"
• His background
• Alarmed conservatives!
• ICC, Newlands Act, Dept.
of Commerce and Bureau
of Corps, Elkins RR Act
• Needed EFFECTIVE
regulation—not afraid to
DO IT!
Roosevelt takes on Big Business
• Northern Securities:
JP Morgan tries to
stop him!
• 1902 Coal Strike: he
organizes mediation
• Evolution of Modern
Presidency!