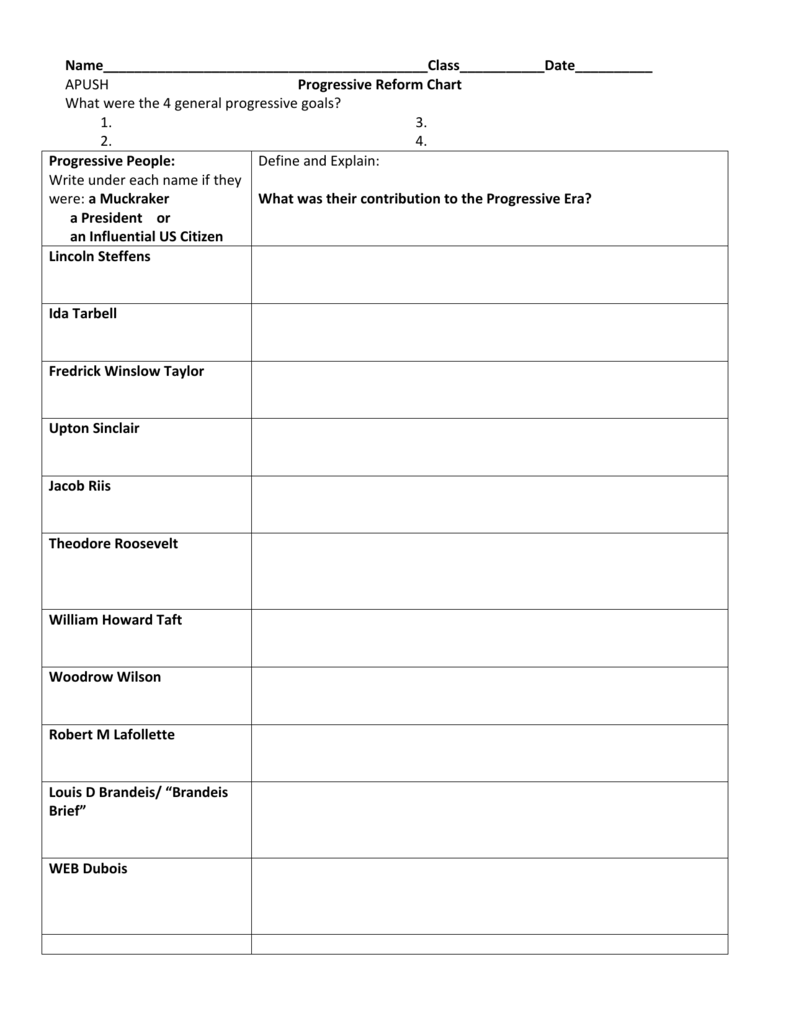 Name__________________________________________Class___________Date__________
APUSH
Progressive Reform Chart
What were the 4 general progressive goals?
1.
3.
2.
4.
Progressive People:
Define and Explain:
Write under each name if they
were: a Muckraker
What was their contribution to the Progressive Era?
a President or
an Influential US Citizen
Lincoln Steffens
Ida Tarbell
Fredrick Winslow Taylor
Upton Sinclair
Jacob Riis
Theodore Roosevelt
William Howard Taft
Woodrow Wilson
Robert M Lafollette
Louis D Brandeis/ "Brandeis
Brief"
WEB Dubois
Progressive Laws/Events:
Write under each term if it
was:
(1) A cause for a movement
or
(2) an effect of the movement
Industrial Workers of the
World
Women's Suffrage Movement
16th Amendment
17th Amendment
18th Amendment
19th Amendment
Initiative
Referendum
Recall
Australian Ballot
Triangle Shirtwaist Factory
Fire
Women's Christian
Temperance Union
YMCA/Salvation Army
Define and Explain:
How did this event or law relate the reform efforts of the Progressive
Era?