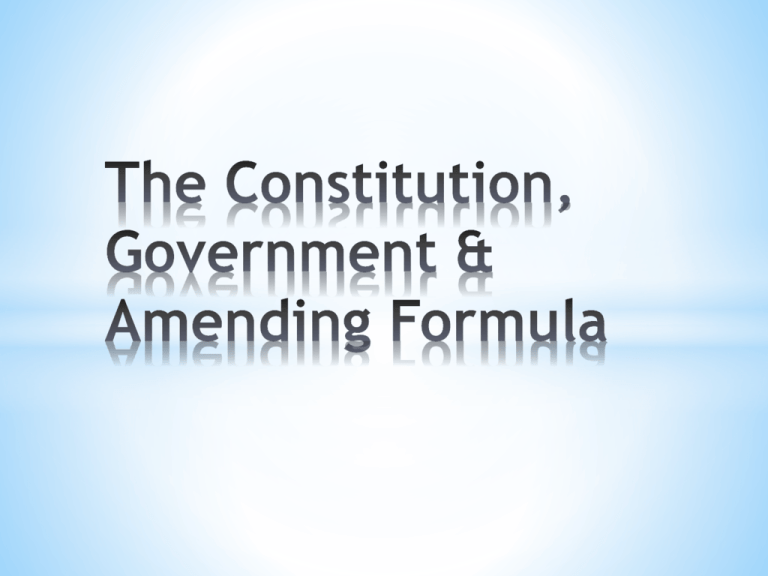 * The Constitution 1867 outlines the structure of
Canada and the balance of power between the
various governments
*
Federal
Provincial
Municipal
Military
Currency
Immigration
Education
Health Care
Labour & Unions
Police
Garbage
Transit
Executive
Branch
• Queen
• Governor
General
• Prime
Minister
• Cabinet
• Civil
Service
Legislative
Judiciary
Branch Federal Government
• Governor
General
• Senate
• House of
Commons
• Supreme
Court
• Court of
Appeal
• Superior
Court
• Provincial
Court
*
* Sets Policy
* Present budgets
* Proposes Legislation
* Implements laws passed by the legislature
* Makes Laws
*
*
* An independent third party in legal disputes to
clarify laws.
* Appointed by governments but free from
influence.
* The Charter of Rights is entrenched in the
Canadian Constitution
* The Constitution is very difficult to change or
amend… As it should be.
*
*Approval of the House of
Commons
*Approval of the Senate
*Approval of two-thirds of
provinces representing 50
percent of population
*The territories are not part of
the formula
*If an amendment only affects the Federal
Parliament then only the Federal Parliament
needs to approve of the change
Eg. If the retirement
age of Senators was
suggested only the
Federal Parliament
would need to approve.
*If an amendment has an impact on only one
province then the Feds and that province
need to agree to the change.
*Eg. In 1998 Newfoundland changed the
structure of its education system.