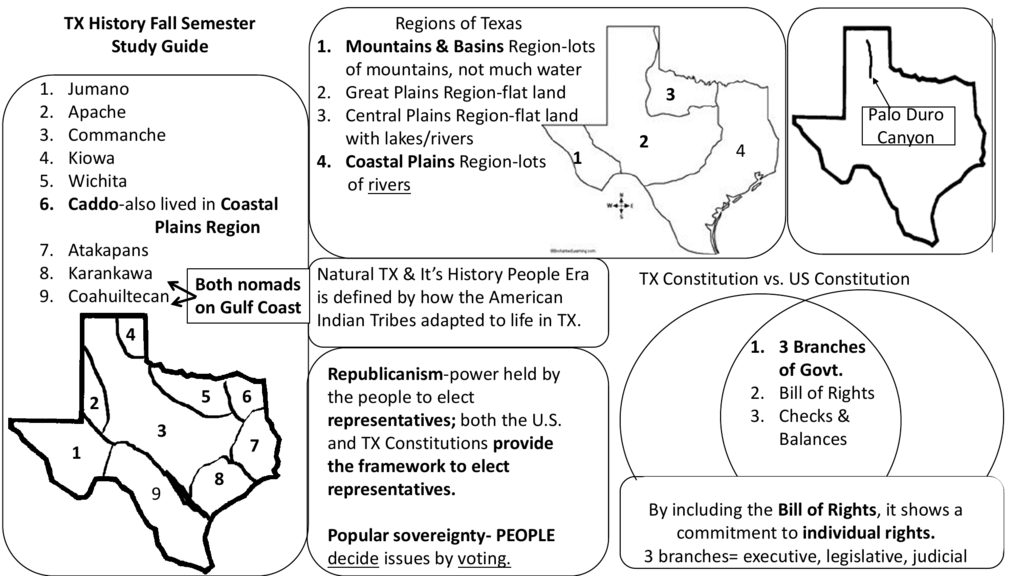 TX History Fall Semester
Study Guide
1.
2.
3.
4.
5.
6.
Jumano
Apache
Commanche
Kiowa
Wichita
Caddo-also lived in Coastal
Plains Region
7. Atakapans
8. Karankawa
Both nomads
9. Coahuiltecan
on Gulf Coast
4
6
5
2
3
7
1
9
8
1.
2.
3.
4.
Regions of Texas
Mountains & Basins Region-lots
of mountains, not much water
Great Plains Region-flat land
Central Plains Region-flat land
with lakes/rivers
Coastal Plains Region-lots 1
of rivers
Natural TX & It's History People Era
is defined by how the American
Indian Tribes adapted to life in TX.
Republicanism-power held by
the people to elect
representatives; both the U.S.
and TX Constitutions provide
the framework to elect
representatives.
Popular sovereignty- PEOPLE
decide issues by voting.
3
2
4
Palo Duro
Canyon
TX Constitution vs. US Constitution
1. 3 Branches
of Govt.
2. Bill of Rights
3. Checks &
Balances
By including the Bill of Rights, it shows a
commitment to individual rights.
3 branches= executive, legislative, judicial
In 1718 Spanish
The best way to
colonists founded the
determine this is a
mission map is the
city of San Antonio.
Indian quarters & the
A characteristic of
church.
Spanish-Colonial Era in
The economic
TX would be that
activities that best
missions were built to
supported the missions confirm SPANISH claims
in central TX based on to the land in TX
the geography &
environment would be Law of April 6, 1830
was to stop immigration
ranching.
Mtn.
Basin
Coastal
Plains
into TX from U.S.
Geographically speaking, the east TX has
more rivers than west TX.
A major change in TX
society during Mexican
National Era would be the
establishment of Anglo
societies. Prior to this the
people in TX were Mexican
or Indian.
Ex. Stephen F. Austin
establishes first large
Anglo Colony in TX (1821)
1820-Moses Austin received
the first empresario contract;
1821-Mexico gained
Independence from Spain
1824-Mexican Constitution
was drafted;
1825-empresario contracts
were given out.
1836- Washington on the
Brazos- delegates meet to
est. an independent gov't.
1519-Pineda mapped the TX coastline; 1532-Cabeza de Vaca reported on TX;
1685-LaSalle established a French settlement in Ft. St. Louis
U.S. President Const. of
Polk decided to 1824
admit TX to the (combined
TX and
U.S. based on Cohuila)=
his belief in
political
Manifest
tensions
(disagreement)
Destiny.
Letter from the Alamo written by William Travis was Why come to TX? CHEAP
to inform others that reinforcements were needed. Farm Land!
George
Childress was
primary author
of the TX
Declaration of
Independence.
Santa Fe
Expedition was
to establish a
western
boundary of
Texas
Major goals of
Houston's
Presidency was
to lower the
debt from the
Revolution.