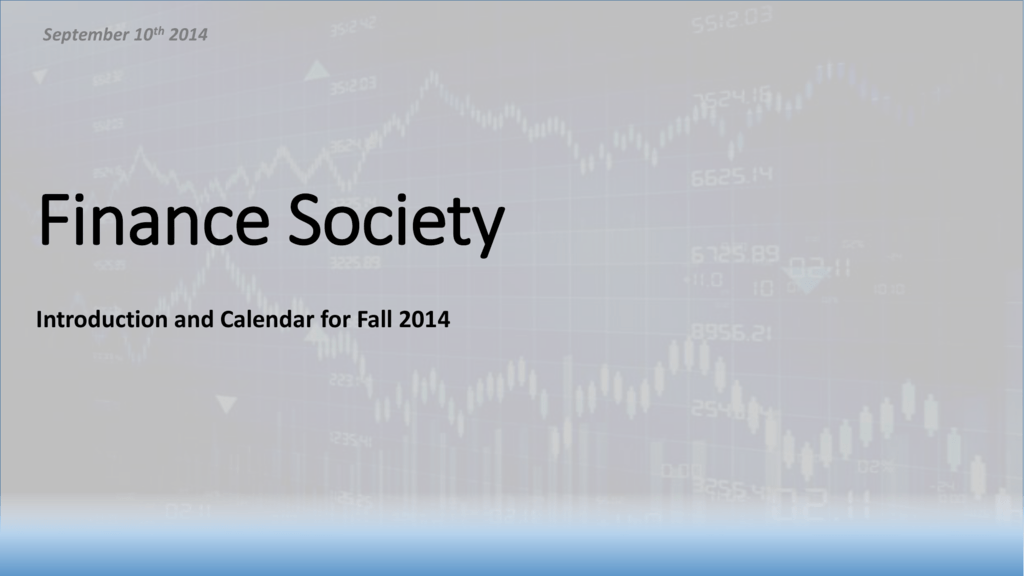 September 10th 2014
Finance Society
Introduction and Calendar for Fall 2014
E-Board
Alexander Thalassinos
Marc Schuman
Co-President
(SMF)
Co-President
Bridget O'Malley
VP of Marketing
Sam Gudeon
Christina Groccia
CFO
(SMF)
VP of Member Relations
Kelly McCourt
Brian Kavanagh
Sam Waring
Brendan Kavanagh
VP of Operations
Co-VP of External
Relations
Director of Current Event
Discussions
Co-VP of External
Relations
(SMF)
Yawei Tang
Shannon Hurley
Sean Phelan
Lisa Mueller
Marketing Committee
Marketing Committee
Finance Committee
Underclassmen
Representative
Where does Finance Society Fit in the School of Business?
• Finance Society is the bridge that connects
your academic life with your professional life
Classes
• Put yourself ahead of the competition by
being a more "polished" candidate
• Gain a better understanding of how your
classes translate into work related skills
• Draw upon past experiences to better market
yourself to future employers
• Surround yourself with like-minded individuals
passionate about going into finance related
careers
Past
Experiences
Finance
Society
Career
Interviews
About Finance Society
• Finance Society is one of the premier student-run
organizations at the University of Connecticut. Since its
inception in 2003, the Society has been at the forefront
of assisting in the professional, educational, and social
development of students interested in finance.
• Our organization is an Academic Society; therefore our
meetings will be required that you wear Business Casual
attire to facilitate a professional environment
• There are three types of meetings: employer
presentations, current event discussions, and selected
events
• Meetings will take place every Wednesday or every other
Wednesday at 6:30 pm in the School of Business room
211
• Dues - $20 due to the 4th floor School of Business,
outside the Finance Department
Benefits of Joining
• Direct link to employers for internships and full-time
jobs opportunities through employer presentations
• Exposure to finance topics not discussed, or not
thoroughly discussed in class, and how to use them
for your career search
• Access to member-only events designed to enhance
key skills needed to ace the interview for an
internship or job in the finance field
• Develop a better sense of professionalism to set
yourself apart from the competition
• Participate in current event discussions to increase
knowledge about the markets
• Network with numerous employers, UCONN alum
from various finance industries, as well as an
experienced E-Board to increase knowledge about
the industry
Resume
•
•
•
•
•
•
•
•
•
•
•
Current Event Discussions
• Discussion of important news events that drive the
market to build a better understanding of the
economy
• Learn underlying trends in the market and the
significance of these developments
• Tackle difficult technical interview questions using
knowledge from topics discussed in meetings
• Gain exposure to the stock market, bond market,
emerging markets, and more in an environment
geared to learning
Dow vs. UST 2013 YTD
15700
2.70
15200
2.50
2.30
14700
2.10
14200
1.90
13700
1.70
13200
Jan-13
1.50
Feb-13
Mar-13
Apr-13
DOW
May-13
10 yr UST
Jun-13
Jul-13
Aug-13
Financial Modeling – Pillars of Wall Street
• Understand how to build a fully integrated model
using the latest and greatest Excel shortcuts
• Tackle the most up-to-date qualitative and technical
interview questions
• Increase your Microsoft Excel efficiency
• Master the key financial valuation methodologies,
including a detailed breakdown of the DCF model
• Day 1: Intro to Financial Statements
 Basic keyboard shortcuts, key modeling
formulas, financial statement construction,
and more
• Day 2: Financial Statements Analysis
 Analysis of Financial Statements
Source: AMT
Bloomberg Aptitude Test
• September 22, 2014
• Bloomberg L.P. is a financial data analytics and media
company with HQ in New York City that provides
financial software tools, data services and news through
the Bloomberg Professional Service (The Terminal) to
companies within the finance sector around the world
• The BAT aids employers in identifying and screening
students who wish to pursue a career in business and
finance. Test takers should have a general
understanding of and familiarity with current events in
business, finance, and economics. However, we are not
assessing knowledge: we are assessing a person's
aptitude to be successful in these fields, regardless of
background.
• The Bloomberg Institute Talent Search is the tool that
employers are using to find talented candidates for
entry level full time and internship roles in finance. To
date 1 in 5 Test Takers has been contacted.
Source: Bloomberg
Connect with us!
• Email: [email protected]
• Twitter: @UconnFS
• Facebook:
https://www.facebook.com/groups/2714076662121
46/
• Website: http://www.business.uconn.edu/users/fs/
Advice
What is Finance?
• The way in which money is used
and handled
• The system that includes the
circulation of money, the
granting of credit, the making of
investments, and the provision
of banking facilities
Understanding Finance and the Capital Markets
Investors
Investment Banks
Companies/Governments
What is Alibaba (阿里巴巴)?
What is Taobao (淘宝)?
Financial Overview
Chinese E-Commerce Market
Versus US Counterparts
Alibaba IPO: Overview
Investors
Investment Banks
Company
Alibaba: IPO Overview
• According to F-1:
• Raise up to $24 billion
• Would value firm at $163 billion
• Will sell 320.1 million American
depositary shares between $60
and $66 per share
Alibaba IPO: Ownership Structure
Thoughts/Opinions for the future? Buy or avoid?
Questions?