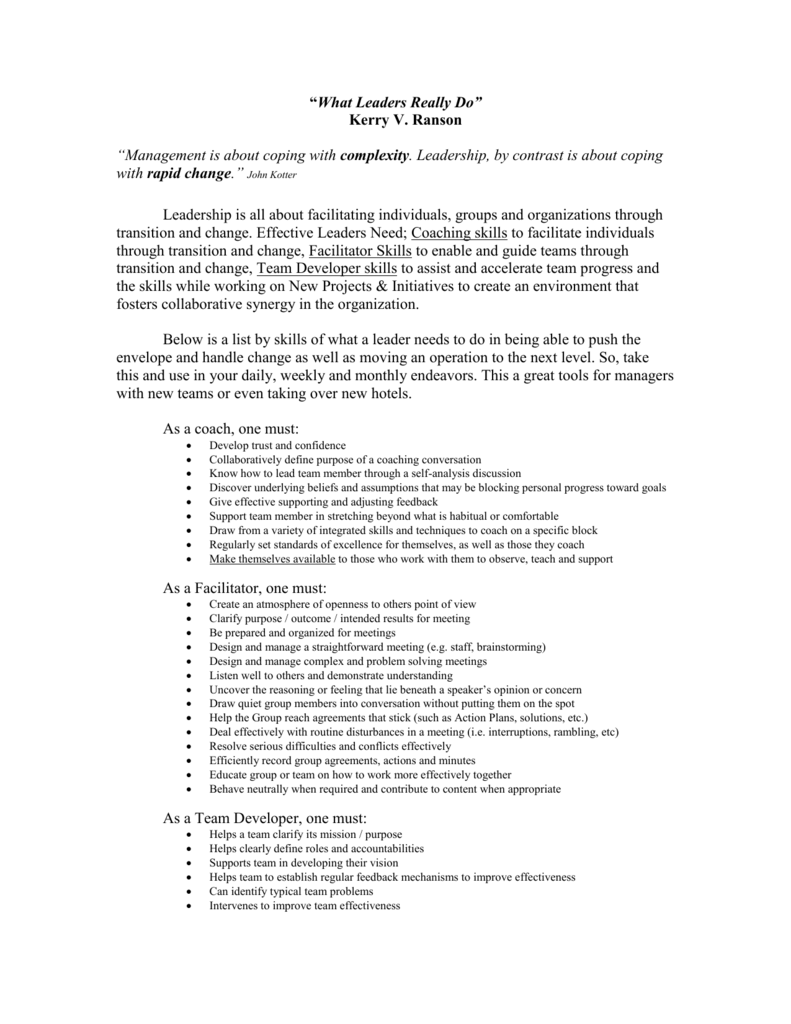 "What Leaders Really Do"
Kerry V. Ranson
"Management is about coping with complexity. Leadership, by contrast is about coping
with rapid change." John Kotter
Leadership is all about facilitating individuals, groups and organizations through
transition and change. Effective Leaders Need; Coaching skills to facilitate individuals
through transition and change, Facilitator Skills to enable and guide teams through
transition and change, Team Developer skills to assist and accelerate team progress and
the skills while working on New Projects & Initiatives to create an environment that
fosters collaborative synergy in the organization.
Below is a list by skills of what a leader needs to do in being able to push the
envelope and handle change as well as moving an operation to the next level. So, take
this and use in your daily, weekly and monthly endeavors. This a great tools for managers
with new teams or even taking over new hotels.
As a coach, one must:









Develop trust and confidence
Collaboratively define purpose of a coaching conversation
Know how to lead team member through a self-analysis discussion
Discover underlying beliefs and assumptions that may be blocking personal progress toward goals
Give effective supporting and adjusting feedback
Support team member in stretching beyond what is habitual or comfortable
Draw from a variety of integrated skills and techniques to coach on a specific block
Regularly set standards of excellence for themselves, as well as those they coach
Make themselves available to those who work with them to observe, teach and support
As a Facilitator, one must:














Create an atmosphere of openness to others point of view
Clarify purpose / outcome / intended results for meeting
Be prepared and organized for meetings
Design and manage a straightforward meeting (e.g. staff, brainstorming)
Design and manage complex and problem solving meetings
Listen well to others and demonstrate understanding
Uncover the reasoning or feeling that lie beneath a speaker's opinion or concern
Draw quiet group members into conversation without putting them on the spot
Help the Group reach agreements that stick (such as Action Plans, solutions, etc.)
Deal effectively with routine disturbances in a meeting (i.e. interruptions, rambling, etc)
Resolve serious difficulties and conflicts effectively
Efficiently record group agreements, actions and minutes
Educate group or team on how to work more effectively together
Behave neutrally when required and contribute to content when appropriate
As a Team Developer, one must:






Helps a team clarify its mission / purpose
Helps clearly define roles and accountabilities
Supports team in developing their vision
Helps team to establish regular feedback mechanisms to improve effectiveness
Can identify typical team problems
Intervenes to improve team effectiveness
Working on New Projects or Initiatives:








Take initiative to learn new skills
Be open to learning from others
Willing to take RISKS; stretch beyond what is easy and comfortable
Actively seeks feedback from others on performance
Willing to ask for help from others
Admit when you don't understand or have knowledge in an area
Follow through on development practices
Communicate openly about challenges, difficulties and areas for growth
So, get out there and lead and keep this little cheat sheet close to you because you
never know when you will get side tracked or lose your way. Follow the 4 step
process and lead your team to its pinnacle.