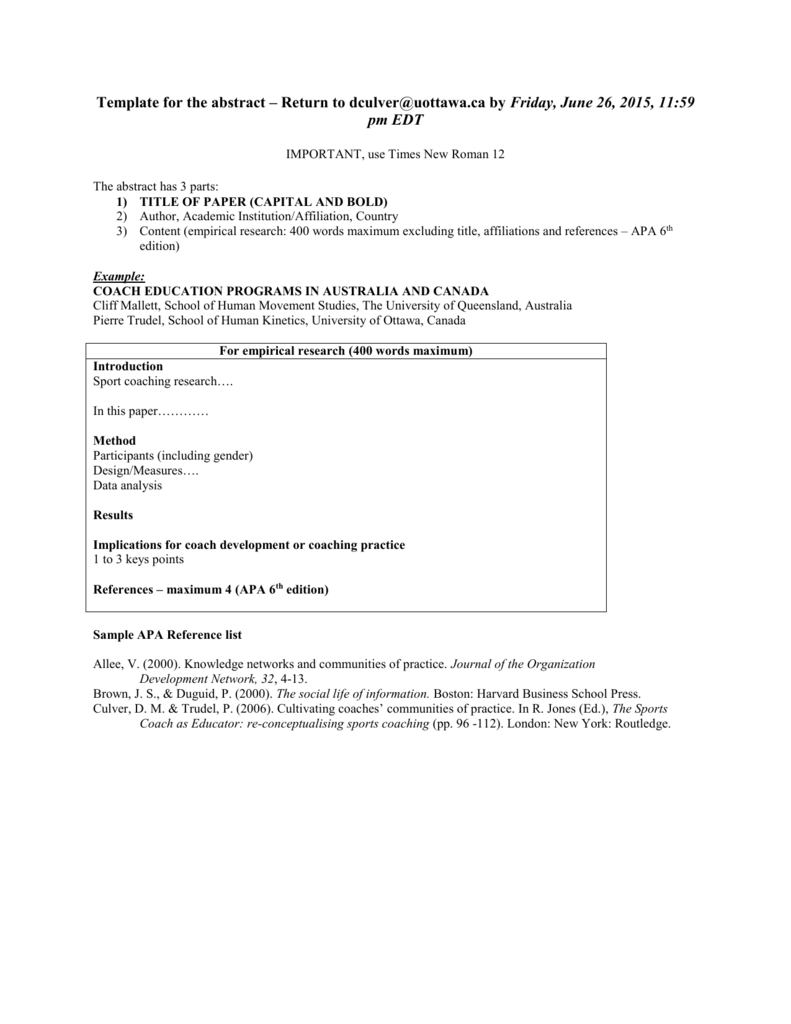 Template for the abstract – Return to [email protected] by Friday, June 26, 2015, 11:59
pm EDT
IMPORTANT, use Times New Roman 12
The abstract has 3 parts:
1) TITLE OF PAPER (CAPITAL AND BOLD)
2) Author, Academic Institution/Affiliation, Country
3) Content (empirical research: 400 words maximum excluding title, affiliations and references – APA 6th
edition)
Example:
COACH EDUCATION PROGRAMS IN AUSTRALIA AND CANADA
Cliff Mallett, School of Human Movement Studies, The University of Queensland, Australia
Pierre Trudel, School of Human Kinetics, University of Ottawa, Canada
For empirical research (400 words maximum)
Introduction
Sport coaching research….
In this paper…………
Method
Participants (including gender)
Design/Measures….
Data analysis
Results
Implications for coach development or coaching practice
1 to 3 keys points
References – maximum 4 (APA 6th edition)
Sample APA Reference list
Allee, V. (2000). Knowledge networks and communities of practice. Journal of the Organization
Development Network, 32, 4-13.
Brown, J. S., & Duguid, P. (2000). The social life of information. Boston: Harvard Business School Press.
Culver, D. M. & Trudel, P. (2006). Cultivating coaches' communities of practice. In R. Jones (Ed.), The Sports
Coach as Educator: re-conceptualising sports coaching (pp. 96 -112). London: New York: Routledge.