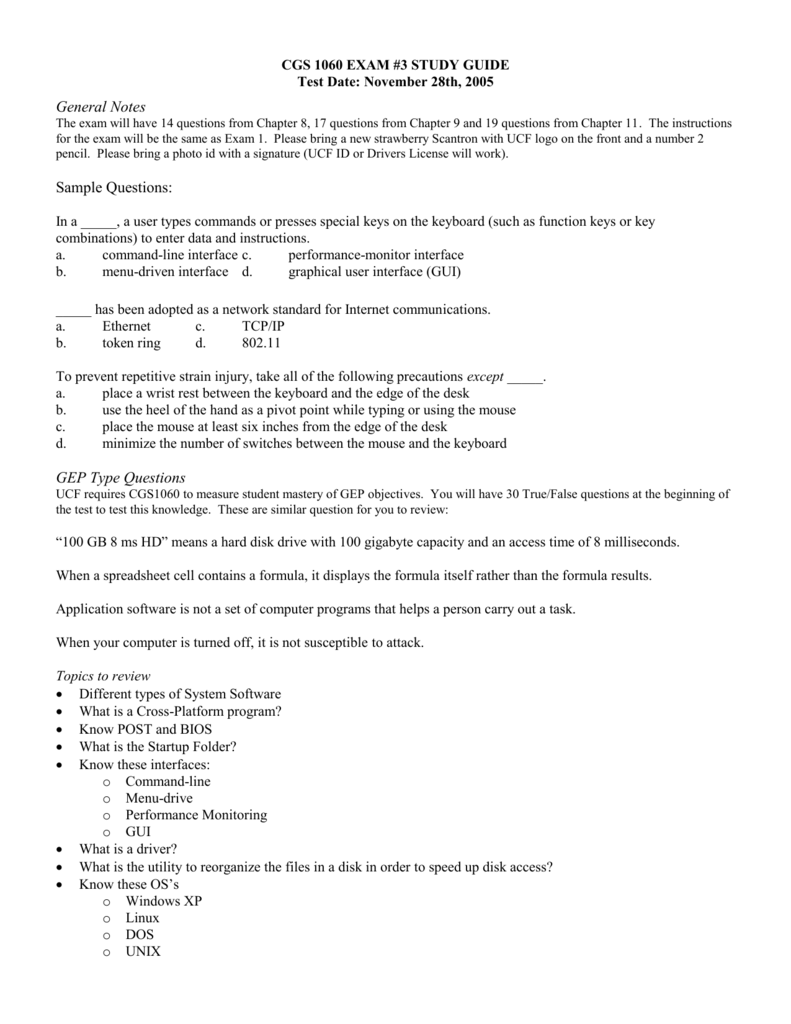 CGS 1060 EXAM #3 STUDY GUIDE
Test Date: November 28th, 2005
General Notes
The exam will have 14 questions from Chapter 8, 17 questions from Chapter 9 and 19 questions from Chapter 11. The instructions
for the exam will be the same as Exam 1. Please bring a new strawberry Scantron with UCF logo on the front and a number 2
pencil. Please bring a photo id with a signature (UCF ID or Drivers License will work).
Sample Questions:
In a _____, a user types commands or presses special keys on the keyboard (such as function keys or key
combinations) to enter data and instructions.
a.
command-line interface c.
performance-monitor interface
b.
menu-driven interface d.
graphical user interface (GUI)
_____ has been adopted as a network standard for Internet communications.
a.
Ethernet
c.
TCP/IP
b.
token ring
d.
802.11
To prevent repetitive strain injury, take all of the following precautions except _____.
a.
place a wrist rest between the keyboard and the edge of the desk
b.
use the heel of the hand as a pivot point while typing or using the mouse
c.
place the mouse at least six inches from the edge of the desk
d.
minimize the number of switches between the mouse and the keyboard
GEP Type Questions
UCF requires CGS1060 to measure student mastery of GEP objectives. You will have 30 True/False questions at the beginning of
the test to test this knowledge. These are similar question for you to review:
"100 GB 8 ms HD" means a hard disk drive with 100 gigabyte capacity and an access time of 8 milliseconds.
When a spreadsheet cell contains a formula, it displays the formula itself rather than the formula results.
Application software is not a set of computer programs that helps a person carry out a task.
When your computer is turned off, it is not susceptible to attack.
Topics to review
 Different types of System Software
 What is a Cross-Platform program?
 Know POST and BIOS
 What is the Startup Folder?
 Know these interfaces:
o Command-line
o Menu-drive
o Performance Monitoring
o GUI
 What is a driver?
 What is the utility to reorganize the files in a disk in order to speed up disk access?
 Know these OS's
o Windows XP
o Linux
o DOS
o UNIX

























How to recognize a compressed file
Know the difference between spyware, adware, spam, and a pop-up ad
Know LAN, MAN, WAN, VAN
Each computer or device on a network is a node.
Know what a Network TOPOLOGY is
Know these servers:
o File
o Print
o Database
o Network
Know these networks
o Star
o Ring
o Bus
A hub is the central device that provides a common connection point for nodes.
What is a packet?
Know the Wi-Fi standard.
What are the advantages of Fiber Optic cable over wire?
What is cybercrime?
Know what Viruses, Worms, Trojan horses do and how they get onto your computer.
What is a Macro virus?
Know these terms:
o Quarantine
o Firewall
o Payload
o Honeypot
How do you make your password harder to hack? What does adding just one character do to your password?
What are examples of biometric devices?
What is Hardware theft?
What dies a single-user license agreement permit users to do?
What is a VPN? What is SSL?
What is a UPS? What does it connect between?
What is a cookie? A session cookie?
What is a full backup?
What is Ergonomics?
What are symptoms of computer addiction?