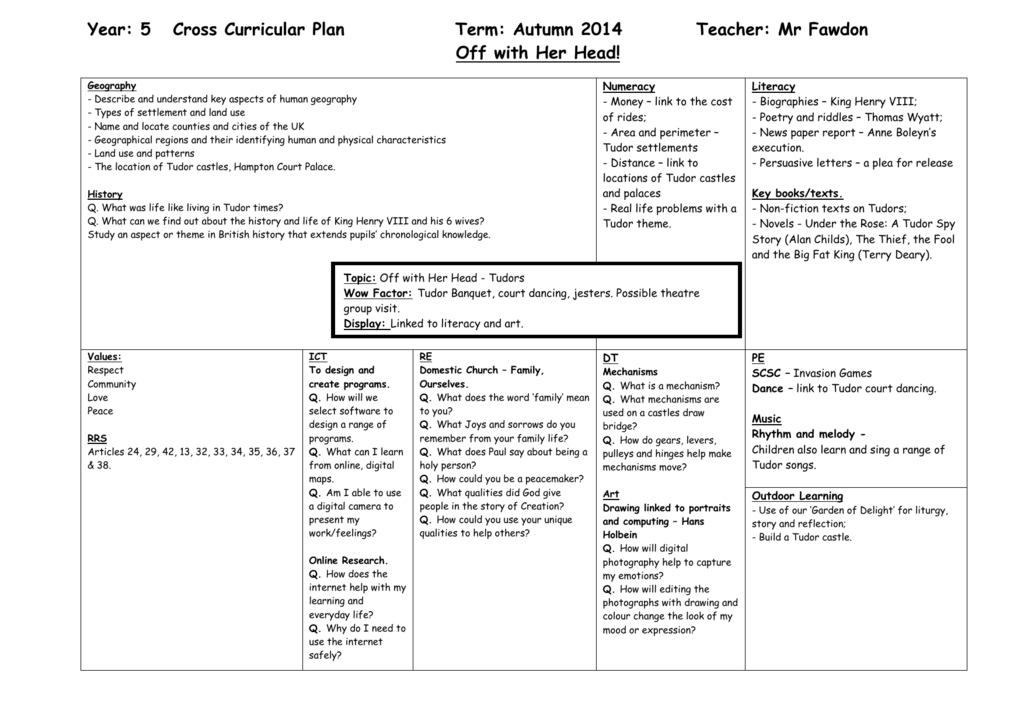 Year: 5
Cross Curricular Plan
Term: Autumn 2014
Off with Her Head!
Geography
- Describe and understand key aspects of human geography
- Types of settlement and land use
- Name and locate counties and cities of the UK
- Geographical regions and their identifying human and physical characteristics
- Land use and patterns
- The location of Tudor castles, Hampton Court Palace.
History
Q. What was life like living in Tudor times?
Q. What can we find out about the history and life of King Henry VIII and his 6 wives?
Study an aspect or theme in British history that extends pupils' chronological knowledge.
Teacher: Mr Fawdon
Numeracy
- Money – link to the cost
of rides;
- Area and perimeter –
Tudor settlements
- Distance – link to
locations of Tudor castles
and palaces
- Real life problems with a
Tudor theme.
Literacy
- Biographies – King Henry VIII;
- Poetry and riddles – Thomas Wyatt;
- News paper report – Anne Boleyn's
execution.
- Persuasive letters – a plea for release
Key books/texts.
- Non-fiction texts on Tudors;
- Novels - Under the Rose: A Tudor Spy
Story (Alan Childs), The Thief, the Fool
and the Big Fat King (Terry Deary).
Topic: Off with Her Head - Tudors
Wow Factor: Tudor Banquet, court dancing, jesters. Possible theatre
group visit.
Display: Linked to literacy and art.
Values:
Respect
Community
Love
Peace
RRS
Articles 24, 29, 42, 13, 32, 33, 34, 35, 36, 37
& 38.
ICT
To design and
create programs.
Q. How will we
select software to
design a range of
programs.
Q. What can I learn
from online, digital
maps.
Q. Am I able to use
a digital camera to
present my
work/feelings?
Online Research.
Q. How does the
internet help with my
learning and
everyday life?
Q. Why do I need to
use the internet
safely?
RE
Domestic Church – Family,
Ourselves.
Q. What does the word 'family' mean
to you?
Q. What Joys and sorrows do you
remember from your family life?
Q. What does Paul say about being a
holy person?
Q. How could you be a peacemaker?
Q. What qualities did God give
people in the story of Creation?
Q. How could you use your unique
qualities to help others?
DT
Mechanisms
Q. What is a mechanism?
Q. What mechanisms are
used on a castles draw
bridge?
Q. How do gears, levers,
pulleys and hinges help make
mechanisms move?
Art
Drawing linked to portraits
and computing – Hans
Holbein
Q. How will digital
photography help to capture
my emotions?
Q. How will editing the
photographs with drawing and
colour change the look of my
mood or expression?
PE
SCSC – Invasion Games
Dance – link to Tudor court dancing.
Music
Rhythm and melody Children also learn and sing a range of
Tudor songs.
Outdoor Learning
- Use of our 'Garden of Delight' for liturgy,
story and reflection;
- Build a Tudor castle.