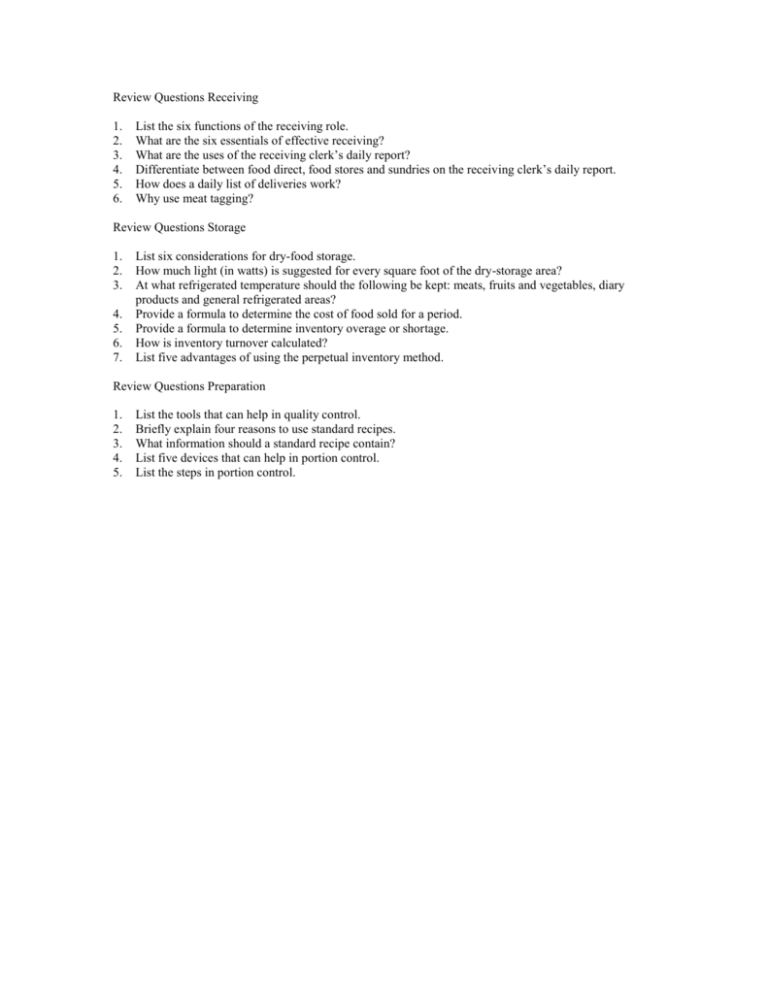 Review Questions Receiving
1.
2.
3.
4.
5.
6.
List the six functions of the receiving role.
What are the six essentials of effective receiving?
What are the uses of the receiving clerk's daily report?
Differentiate between food direct, food stores and sundries on the receiving clerk's daily report.
How does a daily list of deliveries work?
Why use meat tagging?
Review Questions Storage
1.
2.
3.
4.
5.
6.
7.
List six considerations for dry-food storage.
How much light (in watts) is suggested for every square foot of the dry-storage area?
At what refrigerated temperature should the following be kept: meats, fruits and vegetables, diary
products and general refrigerated areas?
Provide a formula to determine the cost of food sold for a period.
Provide a formula to determine inventory overage or shortage.
How is inventory turnover calculated?
List five advantages of using the perpetual inventory method.
Review Questions Preparation
1.
2.
3.
4.
5.
List the tools that can help in quality control.
Briefly explain four reasons to use standard recipes.
What information should a standard recipe contain?
List five devices that can help in portion control.
List the steps in portion control.