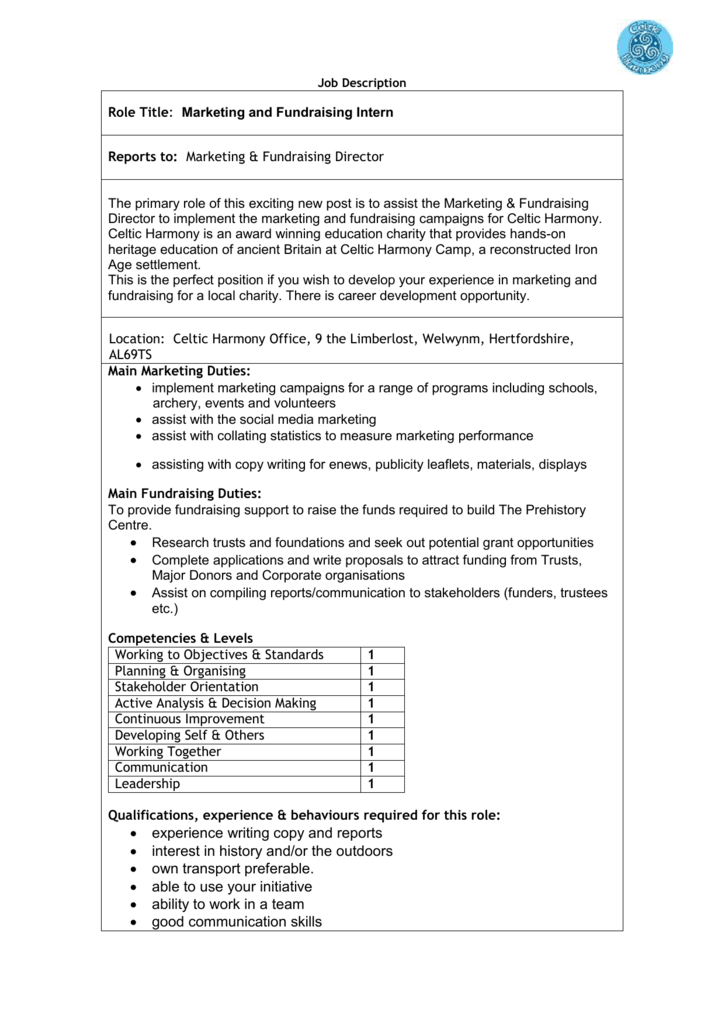 Job Description
Role Title: Marketing and Fundraising Intern
Reports to: Marketing & Fundraising Director
The primary role of this exciting new post is to assist the Marketing & Fundraising
Director to implement the marketing and fundraising campaigns for Celtic Harmony.
Celtic Harmony is an award winning education charity that provides hands-on
heritage education of ancient Britain at Celtic Harmony Camp, a reconstructed Iron
Age settlement.
This is the perfect position if you wish to develop your experience in marketing and
fundraising for a local charity. There is career development opportunity.
Location: Celtic Harmony Office, 9 the Limberlost, Welwynm, Hertfordshire,
AL69TS
Main Marketing Duties:
 implement marketing campaigns for a range of programs including schools,
archery, events and volunteers
 assist with the social media marketing
 assist with collating statistics to measure marketing performance
 assisting with copy writing for enews, publicity leaflets, materials, displays
Main Fundraising Duties:
To provide fundraising support to raise the funds required to build The Prehistory
Centre.
 Research trusts and foundations and seek out potential grant opportunities
 Complete applications and write proposals to attract funding from Trusts,
Major Donors and Corporate organisations
 Assist on compiling reports/communication to stakeholders (funders, trustees
etc.)
Competencies & Levels
Working to Objectives & Standards
Planning & Organising
Stakeholder Orientation
Active Analysis & Decision Making
Continuous Improvement
Developing Self & Others
Working Together
Communication
Leadership
1
1
1
1
1
1
1
1
1
Qualifications, experience & behaviours required for this role:






experience writing copy and reports
interest in history and/or the outdoors
own transport preferable.
able to use your initiative
ability to work in a team
good communication skills

adaptable
This role profile is not exhaustive; it will be subject to periodic review and may be
amended to meet the changing needs of the business. The post holder will be expected to
participate in this process and we would aim to reach agreement to the changes.