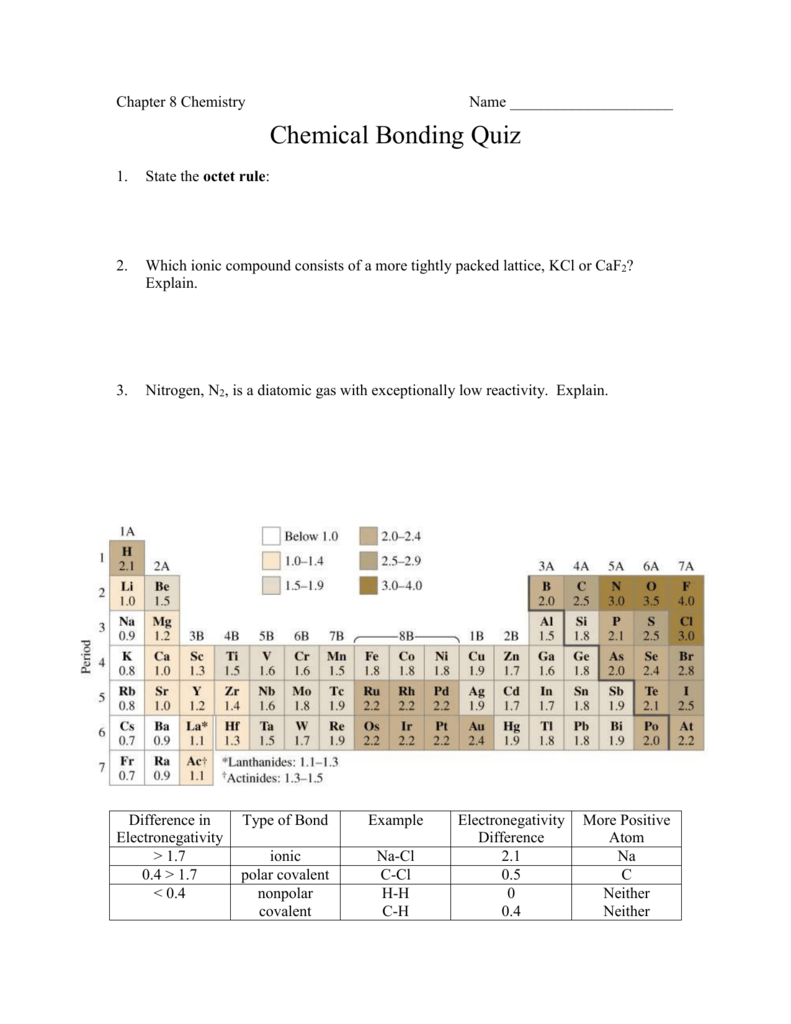 Chapter 8 Chemistry
Name _____________________
Chemical Bonding Quiz
1.
State the octet rule:
2.
Which ionic compound consists of a more tightly packed lattice, KCl or CaF2?
Explain.
3.
Nitrogen, N2, is a diatomic gas with exceptionally low reactivity. Explain.
Difference in
Electronegativity
> 1.7
0.4 > 1.7
< 0.4
Type of Bond
Example
ionic
polar covalent
nonpolar
covalent
Na-Cl
C-Cl
H-H
C-H
Electronegativity
Difference
2.1
0.5
0
0.4
More Positive
Atom
Na
C
Neither
Neither
4.
Use the electronegativity data provided to identify the type of bonds below as either
ionic, polar covalent, or nonpolar covalent:
A. O-H
B. Cl-Cl
C. Na-F
D. N-H
E. Ca-O
5.
A. Draw Lewis symbols for atoms of C, N, O, and F
B. Draw Lewis structures for molecules of methane, CH4, ammonia, NH3, water,
H2O, and hydrogen fluoride, HF.
methane
ammonia
water
hydrogen fluoride
6.
Draw a possible Lewis structure for the carbonate ion, CO3-2, and determine the
formal charge on each atom in the ion. (Remember the brackets around the ion.)
7.
A. Three equivalent resonance structures can be drawn for a molecule of sulfur
trioxide, SO3. Draw them, please.
B. Draw the Lewis structure for the sulfite ion, SO3-2, right.
C. Which is predicted to have the shorter sulfur-oxygen bonds? SO3 or SO3-2?
This project is funded by a grant awarded under the President's Community Based Job Training Grant as implemented by
the U.S. Department of Labor's Employment and Training Administration (CB-15-162-06-60). NCC is an equal
opportunity employer and does not discriminate on the following basis:

against any individual in the United States, on the basis of race, color, religion, sex, national origin, age
disability, political affiliation or belief; and

against any beneficiary of programs financially assisted under Title I of the Workforce Investment Act of 1998
(WIA), on the basis of the beneficiary's citizenship/status as a lawfully admitted immigrant authorized to work in
the United States, or his or her participation in any WIA Title I-financially assisted program or activity.
This product was funded by a grant awarded under the President's High Growth Job Training Initiative, as implemented by
the U.S. Department of Labor's Employment & Training Administration. The information contained in this product was
created by a grantee organization and does not necessarily reflect the official position of the U.S. Department of Labor.
All references to non-governmental companies or organizations, their services, products, or resources are offered for
informational purposes and should not be construed as an endorsement by the Department of Labor. This product is
copyrighted by the institution that created it and is intended for individual organizational, non-commercial use only.