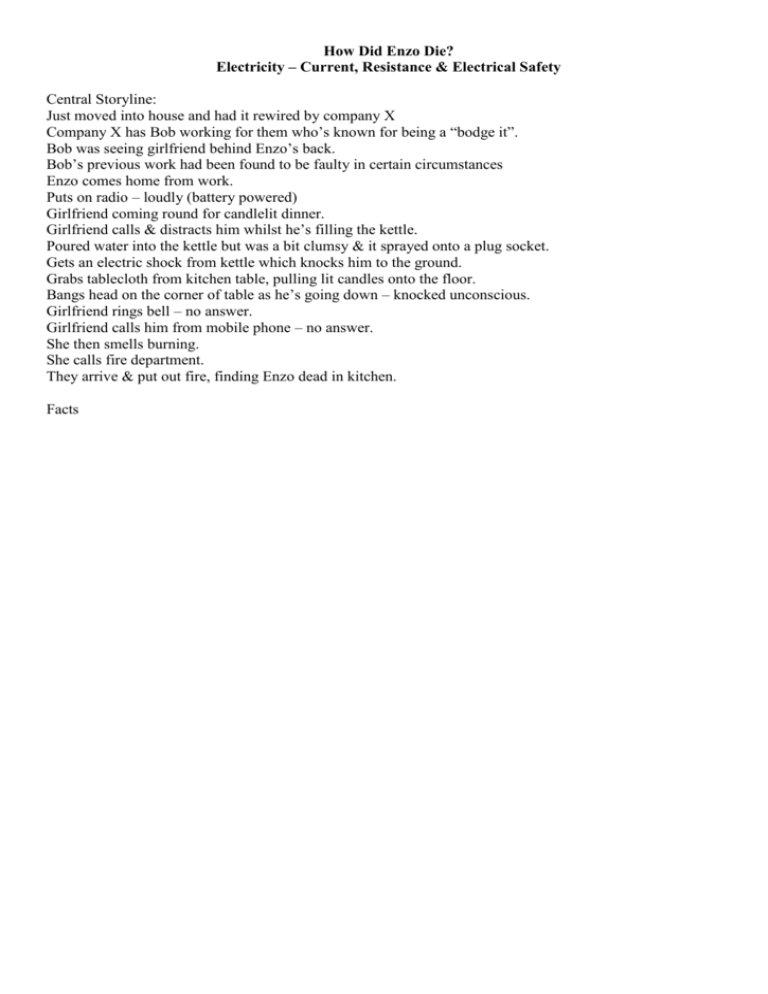 How Did Enzo Die?
Electricity – Current, Resistance & Electrical Safety
Central Storyline:
Just moved into house and had it rewired by company X
Company X has Bob working for them who's known for being a "bodge it".
Bob was seeing girlfriend behind Enzo's back.
Bob's previous work had been found to be faulty in certain circumstances
Enzo comes home from work.
Puts on radio – loudly (battery powered)
Girlfriend coming round for candlelit dinner.
Girlfriend calls & distracts him whilst he's filling the kettle.
Poured water into the kettle but was a bit clumsy & it sprayed onto a plug socket.
Gets an electric shock from kettle which knocks him to the ground.
Grabs tablecloth from kitchen table, pulling lit candles onto the floor.
Bangs head on the corner of table as he's going down – knocked unconscious.
Girlfriend rings bell – no answer.
Girlfriend calls him from mobile phone – no answer.
She then smells burning.
She calls fire department.
They arrive & put out fire, finding Enzo dead in kitchen.
Facts
1. Before moving in,
Enzo had the wiring in
his flat checked and
altered to make it
safe by Buzzco.
2. The battery was
missing
from
the
smoke alarm in Enzo's
kitchen.
3. Susan says that 4. Enzo's body was
she called Enzo to badly charred and had
apologise and that a fractured skull.
Enzo was going to
cook a meal for them.
5. The fire services 6. A broken window 7. Susan & Enzo had
put out a large was found in the been seen arguing
kitchen fire in the kitchen.
with each other at
flat.
lunchtime that day.
9. An iron nail was
found across the ring
mains fuse terminals
in
the
electricity
supply box for the
flat.
13. High resistances
can heat up greatly if
a large current passes
through them.
10. Enzo's stainless
steel kettle had been
playing up for a few
weeks.
8. After being fired,
Bob started up his own
business
as
an
electrician.
11. Susan & Bob had 12. Enzo lives on his
been seen together in own in a flat bought by
a pub the previous himself just last year.
night.
14. Low resistances 15 A battery powered 16. Metals are good
allow large currents radio
was
found conductors of electric
to flow through them. switched on & still current.
working in the lounge.
17. Regulations state 18. Enzo was found 19. Susan was Enzo's 20. Smashed crockery
that all metal cased dead in kitchen by girlfriend.
& a candlestick found
appliances / pipework the fire services.
on the kitchen floor.
should have earth
wires attached.
21. Forensic evidence
suggests that the
fire started from the
centre of the kitchen
where a wooden table
had been located.
22. Phone logs from 23. Mains electricity 24. Neighbours had
Susan's mobile phone is 240V.
heard unfamiliar loud
provider show she
voices coming from
called
Enzo
just
Enzo's flat shortly
before
and
after
before the fire.
arriving at his flat.
25. Electric current is 26. Bob had worked 27. Bob and Susan 28. An earth wire
measured in Amperes for Buzzco (a local were
old
school provides a safe path
(A)
electrical
company) friends.
for electric current to
from which he'd been
flow.
fired four months
ago.