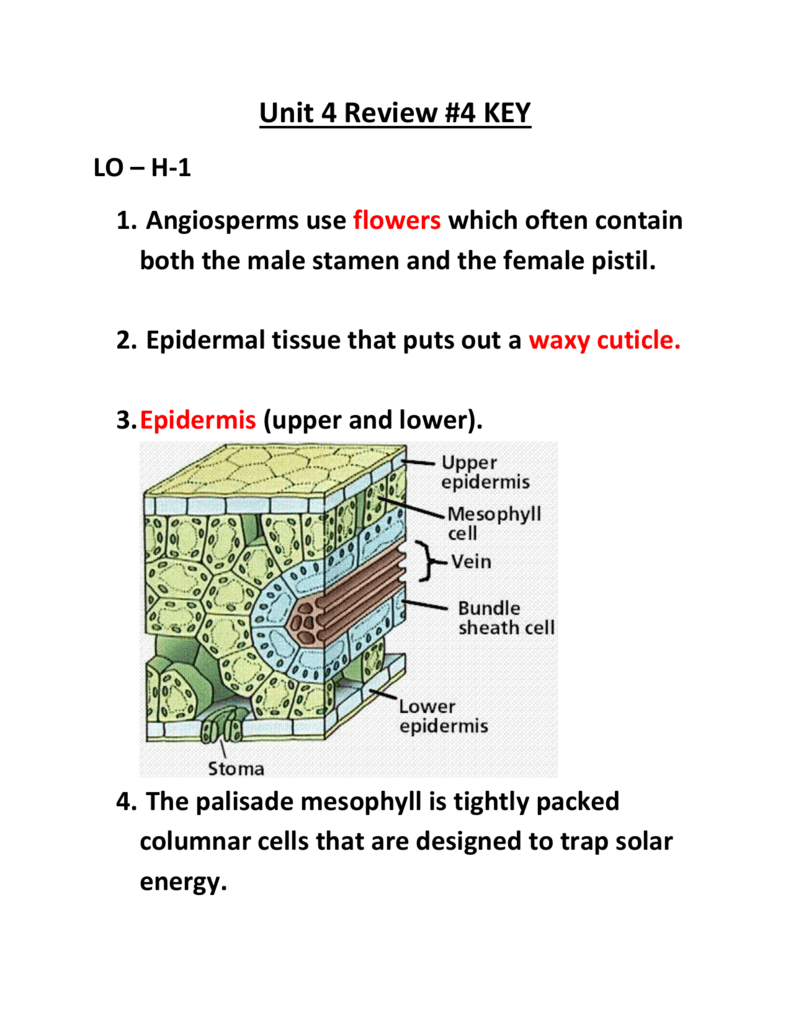 Unit 4 Review #4 KEY
LO – H-1
1. Angiosperms use flowers which often contain
both the male stamen and the female pistil.
2. Epidermal tissue that puts out a waxy cuticle.
3. Epidermis (upper and lower).
4. The palisade mesophyll is tightly packed
columnar cells that are designed to trap solar
energy.
5. These cells would be packed with
CHLOROPLASTS.
6. Guard cells are responsible for opening and
closing the stomata. To regulate water loss
while allowing gas diffusion.
7. Stomata will be closed during the night time
and during the extreme heat of the day. They
open when they photosynthesize.
8. Guard cells open their stoma by drawing
water into themselves. This occurs because as
they photosynthesize they fill up with sugars.
This high sugar concentration draws water in
to swell up the guard cells. As they swell they
bulge outward to open up the stoma.
9. The root cap is responsible for protecting the
tip of the root, lubricating a pathway and by
releasing Carbonic Acid to help create a
pathway for the root.
10. In the Zone of Elongation, cells grow in
size.
11.
The Zone of Maturation/Differentiation.
12. Roots work hard to pump minerals from
the soil into their cortex cells. These minerals
set up a concentration gradient that then
draws water in from one cell to the next,
driving it all the way to the Xylem.
13. Water cohesion = Water molecules
sticking to each other.
- Water adhesion = Water sticking to other
substances.
14. Pollen grains form on the ANTHER of the
stamen.
15. Petals, nectar and pollen all attract
pollinators.
16. Pollination is the process of moving pollen
from the male anther over to the female
stigma.
17. As the pollen tube grows, two sperm nuclei
migrate down the tube.
18.
Haploid EGG CELL Zygote  EMBRYO
19.
Diploid POLAR NUCLEUS  ENDOSPERM
20.
DOUBLE FERTILIZATION
21.
A Seed includes : A) SEED COAT
B) Embryo
22.
C) Endosperm
The OVARY
23. A complete flower has both female and
male reproductive organs in the same flower.
An incomplete flower has only male or female
parts in one flower.
24. The advantages of incomplete flowers is
that more variation will occur as better genetic
blending is required between two different
plants.
25. The big disadvantage with incomplete
flowers is that they must have cross pollination,
so if no other member of the same species is in
that vicinity, they will not be able to sexually
reproduce, therefore no seeds!
26. Angiosperms are mostly used for crops and
foods and feeding to livestock. They are also
used for hardwood furniture and flooring.
LO H-2 Flower Parts
LO – H2
1. Angiosperms hold and protect their seeds,
Gymnosperms leave their seeds
naked/exposed. Use flowers not cones.
Angiosperms have Vessel Elements to
strengthen and form a stronger Xylem
(hardwood). Many Angiosperms use fruit for
seed dispersal.
LO – H-3
1.
A cotyledon is the first embryonic seed leaf
in a seed. It supplies food for developing
seedling
2. Monocots have one cotyledon
- Dicots have two
3. The veins in the leaves of monocots run
parallel to each other.
4. MONO – SSPORRT - RR = Ringed pattern in the
root of a monocot.
- In a dicot, the xylem forms a star or "X'
with the phloem packed around.
5. THREE.
6. FOUR or FIVE
7. They form a ring in Dicots, while they are
Scattered in the Stem of a Monocot. SSPORRT
8. Monocots include grasses, wheats, barley, rye,
onion, corn, tulips, daffodils, garlic, lilies etc.
9. Dicots include tomato, pea plants, cherry trees,
apple, pear etc.