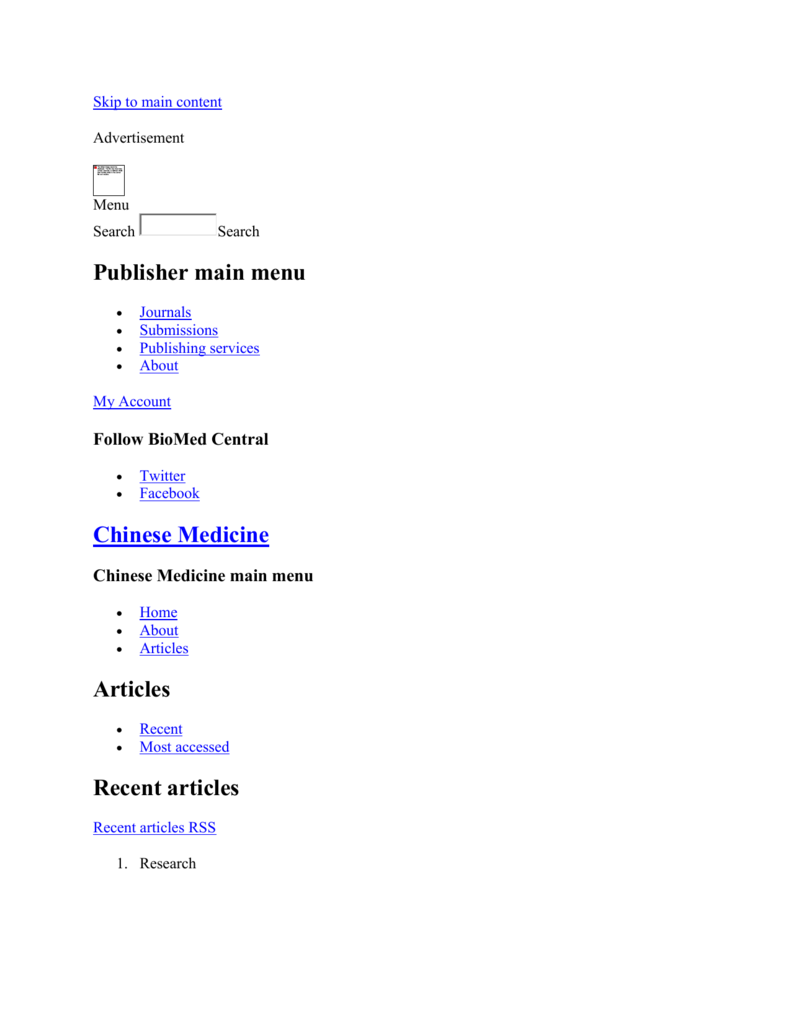 Skip to main content
Advertisement
Menu
Search
Search
Publisher main menu




Journals
Submissions
Publishing services
About
My Account
Follow BioMed Central


Twitter
Facebook
Chinese Medicine
Chinese Medicine main menu



Home
About
Articles
Articles


Recent
Most accessed
Recent articles
Recent articles RSS
1. Research
Inhibition of IKK-β by epidioxysterols from the flowers of Calotropis
gigantea (Niu jiao gua)
Supawadee Parhira, Guo-Yuan Zhu, Ting Li, Liang Liu, Li-Ping Bai and Zhi-Hong Jiang
Published on: 2 March 2016
2. Research
Selection and validation of reference genes for normalization of
quantitative real-time reverse transcription PCR analysis in Poria cocos
(Schw.) Wolf (Fuling)
Xin Zhang, Zhi-Chao Xu, Jiang Xu, Ai-Jia Ji, Hong-Mei Luo, Jing-Yuan Song, Chao
Sun, Yuan-Lei Hu and Shi-Lin Chen
Published on: 2 March 2016
3. Research
Radix Puerariae lobatae (Gegen) suppresses the anticoagulation effect of
warfarin: a pharmacokinetic and pharmacodynamics study
Beikang Ge, Zhen Zhang and Zhong Zuo
Published on: 27 February 2016
4. Review
Chinese medicines in the treatment of experimental diabetic nephropathy
Jing-Yi Liu, Xiao-Xin Chen, Sydney Chi-Wai Tang, Stephen Cho-Wing Sze, Yi-Bin
Feng, Kai-Fai Lee and Kalin Yan-Bo Zhang
Published on: 24 February 2016
5. Research
A novel coumarin, (+)-3′-angeloxyloxy-4′-keto-3′,4′-dihydroseselin,
isolated from Bupleurum malconense (Chaihu) inhibited NF-κB activity
Huai-Xue Mu, Cheng-Yuan Lin, Lin-Fang Huang, Da-Jian Yang, Ai-Ping Lu, Quan-Bin
Han and Zhao-Xiang Bian
Published on: 13 February 2016
View all articles
Most accessed articles
Most accessed articles RSS
1. Research
Eriocaulon buergerianum extract protects PC12 cells and neurons in
zebrafish against 6-hydroxydopamine-induced damage
Meiwei Wang, Zaijun Zhang, Lorita Chi-Veng Cheang, Zhixiu Lin and Simon MingYuen Lee
Published on: 28 April 2011
2. Research
Protective effects of acacetin isolated from Ziziphora clinopodioides Lam.
(Xintahua) on neonatal rat cardiomyocytes
Wei-Jun Yang, Chong Liu, Zheng-Yi Gu, Xing-Yue Zhang, Bo Cheng, Yan Mao and
Gui-Peng Xue
Published on: 17 December 2014
3. Review
Beneficial effects of green tea: A literature review
Sabu M Chacko, Priya T Thambi, Ramadasan Kuttan and Ikuo Nishigaki
Published on: 6 April 2010
4. Research
Differential effects of selective frankincense (Ru Xiang) essential oil versus
non-selective sandalwood (Tan Xiang) essential oil on cultured bladder
cancer cells: a microarray and bioinformatics study
Mikhail G Dozmorov, Qing Yang, Weijuan Wu, Jonathan Wren, Mahmoud M Suhail,
Cole L Woolley, D Gary Young, Kar-Ming Fung and Hsueh-Kung Lin
Published on: 2 July 2014
5. Review
Anti-cancer natural products isolated from chinese medicinal herbs
Wen Tan, Jinjian Lu, Mingqing Huang, Yingbo Li, Meiwan Chen, Guosheng Wu, Jian
Gong, Zhangfeng Zhong, Zengtao Xu, Yuanye Dang, Jiajie Guo, Xiuping Chen and
Yitao Wang
Published on: 22 July 2011
View all articles
Call for papers
Chinese Medicine welcomes submissions to its Thematic Series on a wide range of topics. Please
see the call for papers page for more details.
Aims and scope
Chinese Medicine is an open access, online journal publishing evidence-based, scientifically
justified, and ethical research into all aspects of Chinese medicine.
Areas of interest include recent advances in herbal medicine, clinical nutrition, clinical diagnosis,
acupuncture, pharmaceutics, biomedical sciences, epidemiology, education, informatics,
sociology, and psychology that are relevant and significant to Chinese medicine. Examples of
research approaches include biomedical experimentation, high-throughput technology, clinical
trials, systematic reviews, meta-analysis, sampled surveys, simulation, data curation, statistics,
omics, translational medicine, and integrative methodologies.
Chinese Medicine is a credible channel to communicate unbiased scientific data, information,
and knowledge in Chinese medicine among researchers, clinicians, academics, and students in
Chinese medicine and other scientific disciplines of medicine.
Society information
The International Society for Chinese Medicine (ISCM) is an independent and non-profit
academic organization mainly funded by the Macao Foundation.
Since its establishment in 2004, it has been striving to gather international expertise, through
international, interdisciplinary and inter-institutional collaborations, to promote the
modernization and internationalization of Chinese medicine. ISCM endeavors to further expand
and gather broad international expertise for the advancement of Chinese medicine.
As an organization based in Macao, it aims to foster an international platform for the
development of Chinese medicine.
Society affiliations
Chinese Medicine is the official journal of the International Society for Chinese Medicine. The
editorial office is based in Macao and sponsored by the Macao Foundation and University of
Macau.
Submit a manuscript
Impact Factor: 1.490




Submission Guidelines
Editorial Board
Sign up to article alerts
Contact us
Associated Societies



ISSN:
1749-8546
Advertisement






Contact us
Jobs
Manage manuscripts
Sign up for article alerts
Manage article alerts
Leave feedback


Press center
Read more on our blogs



Policies
Licensing
Terms and conditions



Privacy statement
Accessibility
Cookies
Follow BioMed Central







Twitter
Facebook
Google Plus
YouTube
LinkedIn
Reddit
Weibo
© 2016 BioMed Central Ltd unless otherwise stated. Part of Springer Science+Business Media.
By continuing to use this website, you agree to our Terms and Conditions, Privacy statement and
Cookies policy.