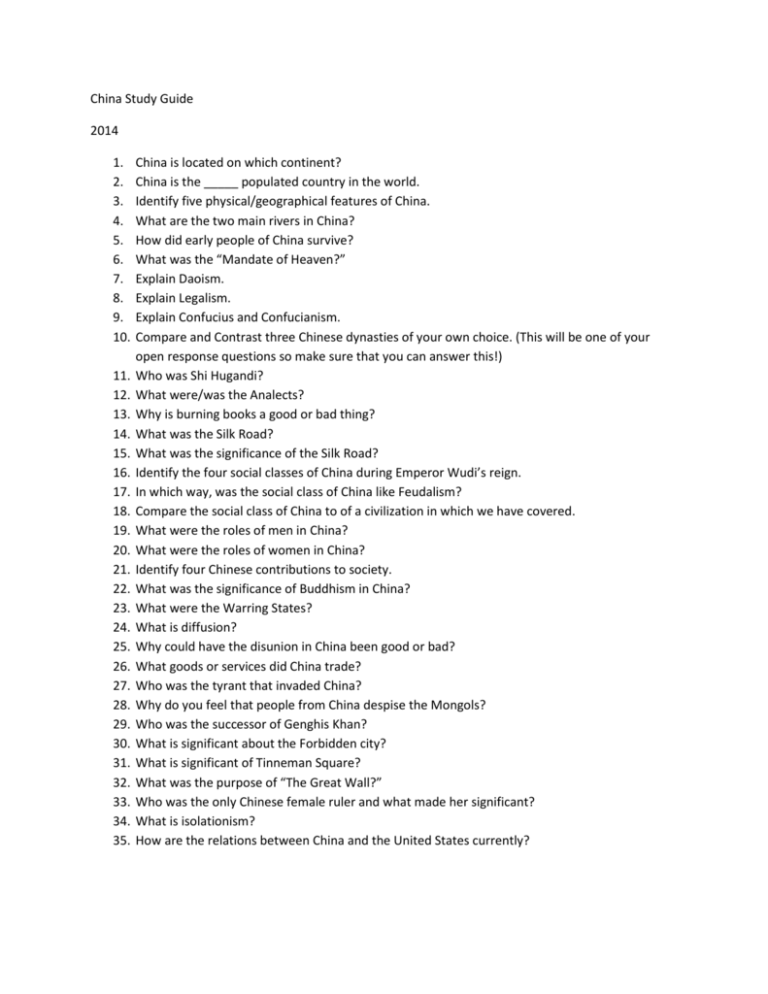 China Study Guide
2014
1.
2.
3.
4.
5.
6.
7.
8.
9.
10.
11.
12.
13.
14.
15.
16.
17.
18.
19.
20.
21.
22.
23.
24.
25.
26.
27.
28.
29.
30.
31.
32.
33.
34.
35.
China is located on which continent?
China is the _____ populated country in the world.
Identify five physical/geographical features of China.
What are the two main rivers in China?
How did early people of China survive?
What was the "Mandate of Heaven?"
Explain Daoism.
Explain Legalism.
Explain Confucius and Confucianism.
Compare and Contrast three Chinese dynasties of your own choice. (This will be one of your
open response questions so make sure that you can answer this!)
Who was Shi Hugandi?
What were/was the Analects?
Why is burning books a good or bad thing?
What was the Silk Road?
What was the significance of the Silk Road?
Identify the four social classes of China during Emperor Wudi's reign.
In which way, was the social class of China like Feudalism?
Compare the social class of China to of a civilization in which we have covered.
What were the roles of men in China?
What were the roles of women in China?
Identify four Chinese contributions to society.
What was the significance of Buddhism in China?
What were the Warring States?
What is diffusion?
Why could have the disunion in China been good or bad?
What goods or services did China trade?
Who was the tyrant that invaded China?
Why do you feel that people from China despise the Mongols?
Who was the successor of Genghis Khan?
What is significant about the Forbidden city?
What is significant of Tinneman Square?
What was the purpose of "The Great Wall?"
Who was the only Chinese female ruler and what made her significant?
What is isolationism?
How are the relations between China and the United States currently?