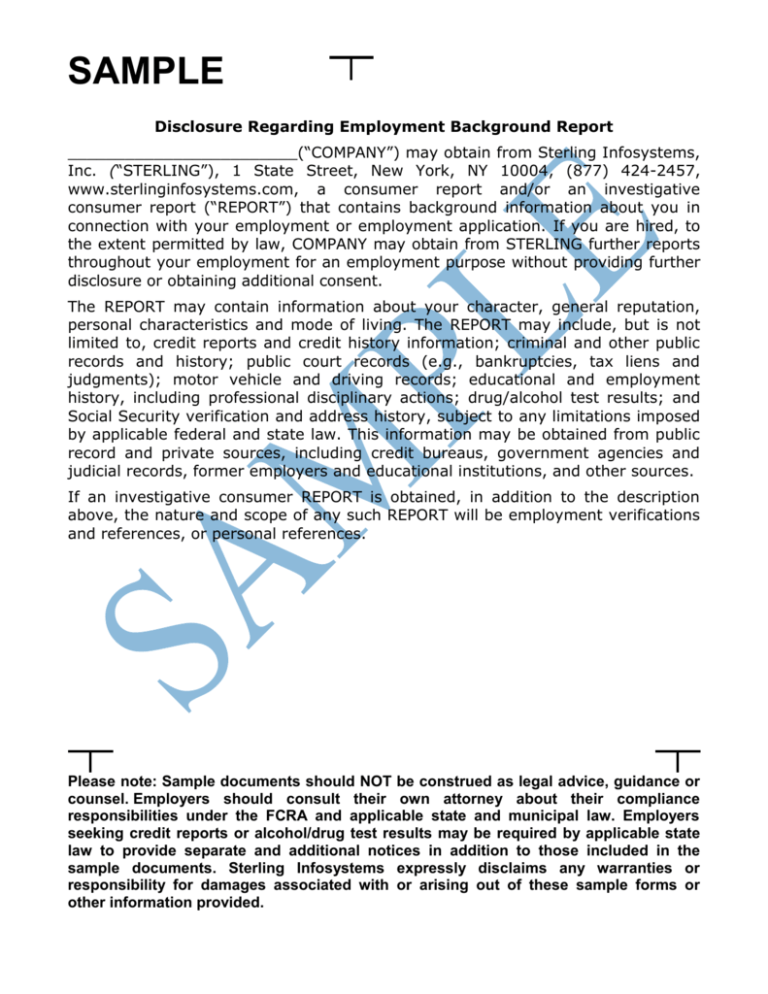 SAMPLE
Disclosure Regarding Employment Background Report
________________________("COMPANY") may obtain from Sterling Infosystems,
Inc. ("STERLING"), 1 State Street, New York, NY 10004, (877) 424-2457,
www.sterlinginfosystems.com, a consumer report and/or an investigative
consumer report ("REPORT") that contains background information about you in
connection with your employment or employment application. If you are hired, to
the extent permitted by law, COMPANY may obtain from STERLING further reports
throughout your employment for an employment purpose without providing further
disclosure or obtaining additional consent.
The REPORT may contain information about your character, general reputation,
personal characteristics and mode of living. The REPORT may include, but is not
limited to, credit reports and credit history information; criminal and other public
records and history; public court records (e.g., bankruptcies, tax liens and
judgments); motor vehicle and driving records; educational and employment
history, including professional disciplinary actions; drug/alcohol test results; and
Social Security verification and address history, subject to any limitations imposed
by applicable federal and state law. This information may be obtained from public
record and private sources, including credit bureaus, government agencies and
judicial records, former employers and educational institutions, and other sources.
If an investigative consumer REPORT is obtained, in addition to the description
above, the nature and scope of any such REPORT will be employment verifications
and references, or personal references.
Please note: Sample documents should NOT be construed as legal advice, guidance or
counsel. Employers should consult their own attorney about their compliance
responsibilities under the FCRA and applicable state and municipal law. Employers
seeking credit reports or alcohol/drug test results may be required by applicable state
law to provide separate and additional notices in addition to those included in the
sample documents. Sterling Infosystems expressly disclaims any warranties or
responsibility for damages associated with or arising out of these sample forms or
other information provided.