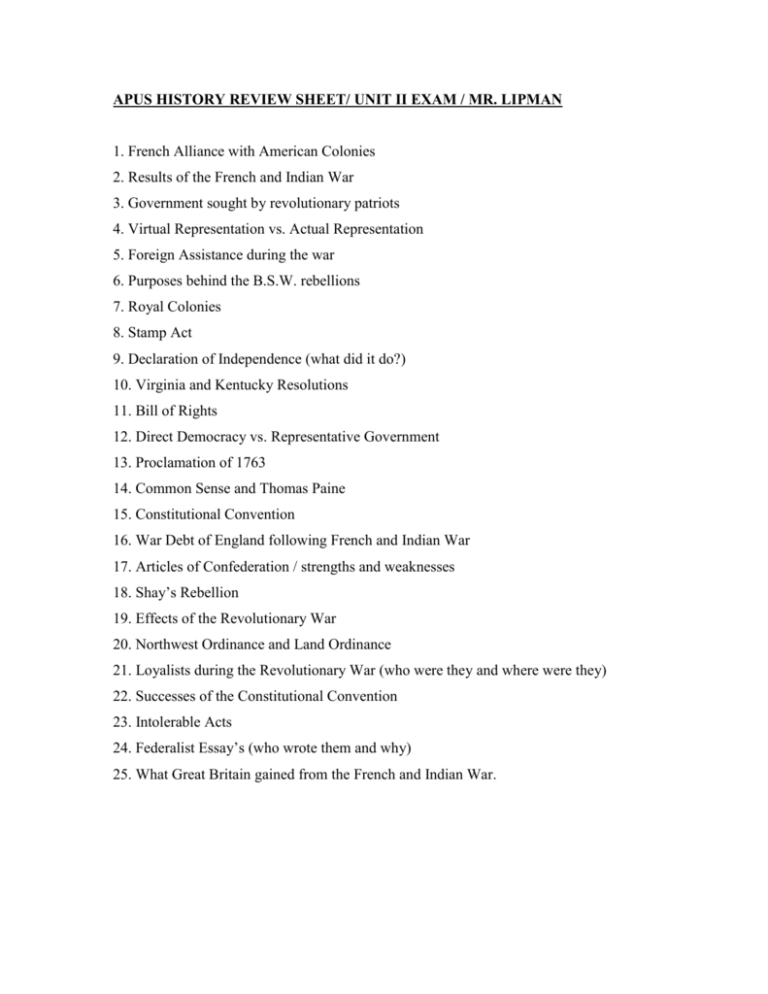 APUS HISTORY REVIEW SHEET/ UNIT II EXAM / MR. LIPMAN
1. French Alliance with American Colonies
2. Results of the French and Indian War
3. Government sought by revolutionary patriots
4. Virtual Representation vs. Actual Representation
5. Foreign Assistance during the war
6. Purposes behind the B.S.W. rebellions
7. Royal Colonies
8. Stamp Act
9. Declaration of Independence (what did it do?)
10. Virginia and Kentucky Resolutions
11. Bill of Rights
12. Direct Democracy vs. Representative Government
13. Proclamation of 1763
14. Common Sense and Thomas Paine
15. Constitutional Convention
16. War Debt of England following French and Indian War
17. Articles of Confederation / strengths and weaknesses
18. Shay's Rebellion
19. Effects of the Revolutionary War
20. Northwest Ordinance and Land Ordinance
21. Loyalists during the Revolutionary War (who were they and where were they)
22. Successes of the Constitutional Convention
23. Intolerable Acts
24. Federalist Essay's (who wrote them and why)
25. What Great Britain gained from the French and Indian War.