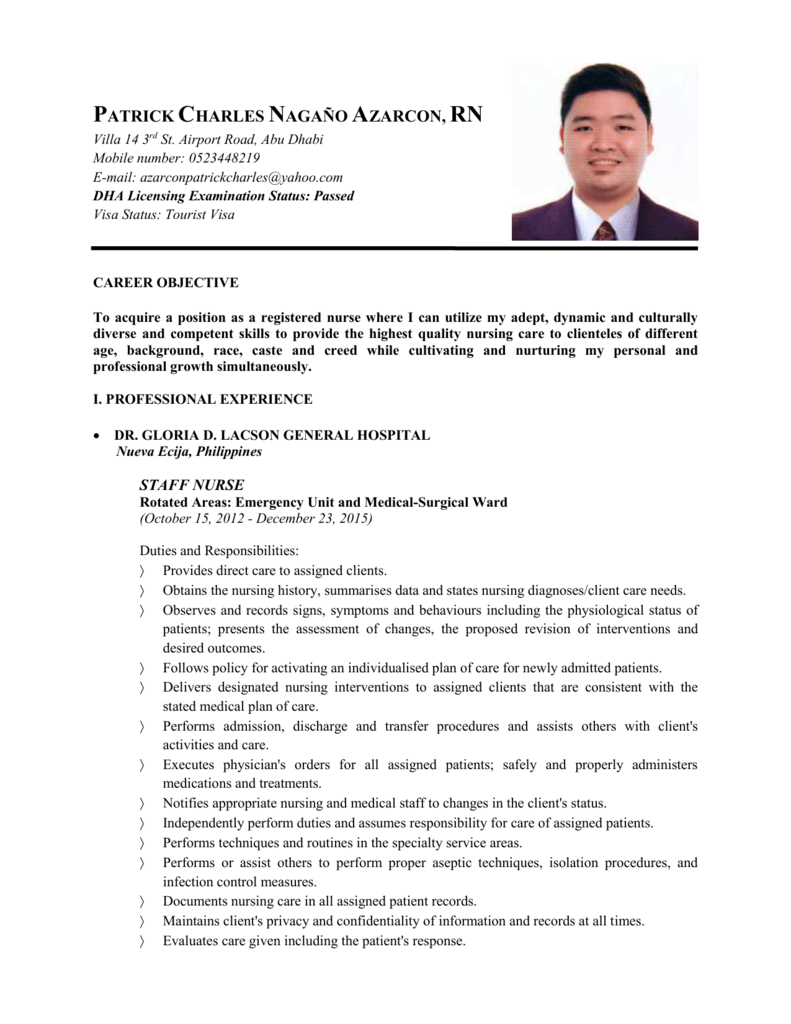 PATRICK CHARLES NAGAÑO AZARCON, RN
Villa 14 3rd St. Airport Road, Abu Dhabi
Mobile number: 0523448219
E-mail: [email protected]
DHA Licensing Examination Status: Passed
Visa Status: Tourist Visa
CAREER OBJECTIVE
To acquire a position as a registered nurse where I can utilize my adept, dynamic and culturally
diverse and competent skills to provide the highest quality nursing care to clienteles of different
age, background, race, caste and creed while cultivating and nurturing my personal and
professional growth simultaneously.
I. PROFESSIONAL EXPERIENCE

DR. GLORIA D. LACSON GENERAL HOSPITAL
Nueva Ecija, Philippines
STAFF NURSE
Rotated Areas: Emergency Unit and Medical-Surgical Ward
(October 15, 2012 - December 23, 2015)
Duties and Responsibilities:
 Provides direct care to assigned clients.
 Obtains the nursing history, summarises data and states nursing diagnoses/client care needs.
 Observes and records signs, symptoms and behaviours including the physiological status of
patients; presents the assessment of changes, the proposed revision of interventions and
desired outcomes.
 Follows policy for activating an individualised plan of care for newly admitted patients.
 Delivers designated nursing interventions to assigned clients that are consistent with the
stated medical plan of care.
 Performs admission, discharge and transfer procedures and assists others with client's
activities and care.
 Executes physician's orders for all assigned patients; safely and properly administers
medications and treatments.
 Notifies appropriate nursing and medical staff to changes in the client's status.
 Independently perform duties and assumes responsibility for care of assigned patients.
 Performs techniques and routines in the specialty service areas.
 Performs or assist others to perform proper aseptic techniques, isolation procedures, and
infection control measures.
 Documents nursing care in all assigned patient records.
 Maintains client's privacy and confidentiality of information and records at all times.
 Evaluates care given including the patient's response.

Ensures endorsement accordingly for proper and established continuity of care.
II. AMASSMENT OF TRAININGS, HONORS AND ACTIVITIES





Basic Life Support – CPR and AED
American Safety & Health Institute Training Program
Regular Intravenous Therapy Training Program
Accredited by Association of Nursing Service
Administrators of the Philippines (ANSAP)
Challenges for the Filipino Nurses:
Exploring Avenues for Professional and
Economic Advancement
Ethics in the Workplace: Its Implications
to Organizational Relations and
Nurse Entrepreneurship Seminar
Excellent Academic Performance
Top 1 in Class Ranking
July 1, 2015
November 2012
February 2012
September 2011
Academic Year 2009-2010
III. SKILLS AND PROFICIENCIES
Client Relations: Effective interpersonal communicator, client and service-oriented, and detail and goalfocused. Able to establish rapport with a variety of clienteles and maintains a calm, professional manner
throughout critical incidents.
Management and Leadership Skills: Organizes workload and efficient in problem-solving, may work
independently and gels with the team very well, willingness to work on a flexible schedule. Highlymotivated, reliable and committed to professional standards.
Technical Skills: Proficient in Microsoft Office applications and various applications, adept with
Windows operating system. Extensive knowledge of medical equipments, pharmaceuticals and
terminologies.
IV. EDUCATIONAL ATTAINMENT
Bachelor of Science in Nursing (2008-2012)
Wesleyan University – Philippines
Cabanatuan City, Philippines
V. PERSONAL DATA
Age
Sex
Date of Birth
Place of Birth
Height
Citizenship
Civil Status
Religion
:
:
:
:
:
:
:
:
24 years old
Male
November 14, 1991
San Leonardo, Nueva Ecija, Philippines
5'9''
Filipino
Single
Roman Catholic
VI. PROFESSIONAL EXAMINATIONS
Dubai Health Authority
PASSED: Prometric Licensing Examination for Registered Nurses (September 2015)
Ateneo Professional Schools, H.V. Dela Costa St. Salcedo Village, Makati City, Metro Manila
Professional Regulation Commission
PASSED: Nurse Licensure Examination (July 2012)
Sumacab Este, Cabanatuan City, Nueva Ecija
VII. CHARACTER REFERENCES
Character references available upon request.
I HEREBY CERTIFY THAT ALL THE ABOVE INFORMATION IS TRUE AND CORRECT.