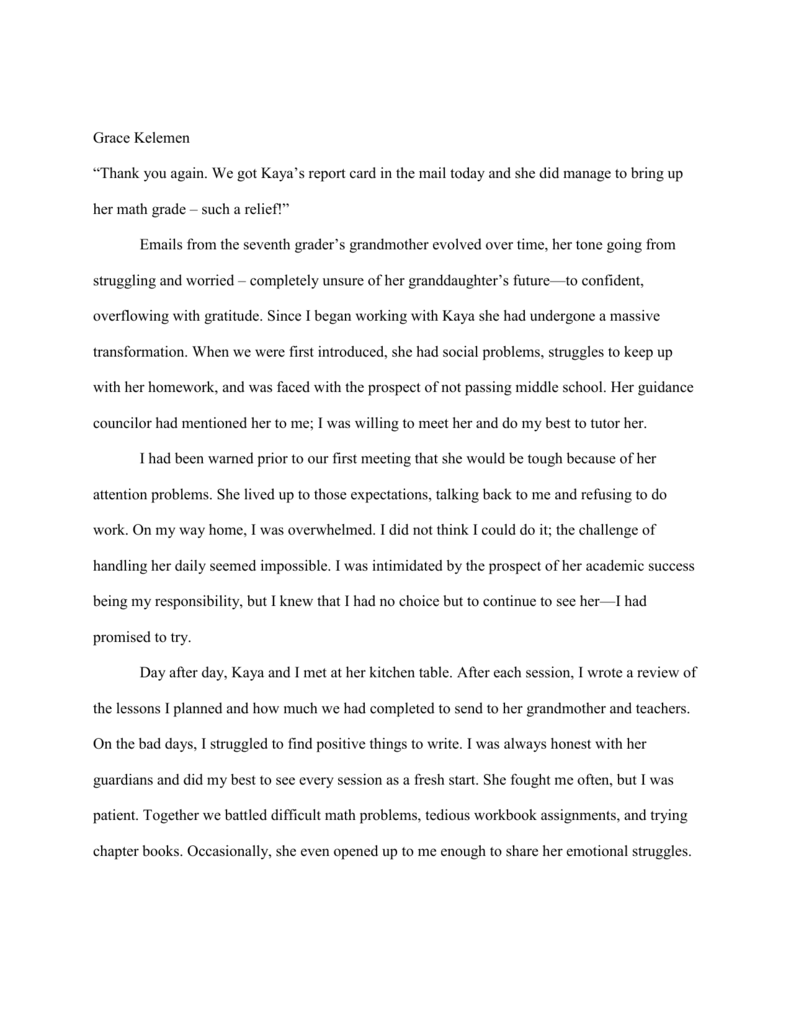 Grace Kelemen
"Thank you again. We got Kaya's report card in the mail today and she did manage to bring up
her math grade – such a relief!"
Emails from the seventh grader's grandmother evolved over time, her tone going from
struggling and worried – completely unsure of her granddaughter's future—to confident,
overflowing with gratitude. Since I began working with Kaya she had undergone a massive
transformation. When we were first introduced, she had social problems, struggles to keep up
with her homework, and was faced with the prospect of not passing middle school. Her guidance
councilor had mentioned her to me; I was willing to meet her and do my best to tutor her.
I had been warned prior to our first meeting that she would be tough because of her
attention problems. She lived up to those expectations, talking back to me and refusing to do
work. On my way home, I was overwhelmed. I did not think I could do it; the challenge of
handling her daily seemed impossible. I was intimidated by the prospect of her academic success
being my responsibility, but I knew that I had no choice but to continue to see her—I had
promised to try.
Day after day, Kaya and I met at her kitchen table. After each session, I wrote a review of
the lessons I planned and how much we had completed to send to her grandmother and teachers.
On the bad days, I struggled to find positive things to write. I was always honest with her
guardians and did my best to see every session as a fresh start. She fought me often, but I was
patient. Together we battled difficult math problems, tedious workbook assignments, and trying
chapter books. Occasionally, she even opened up to me enough to share her emotional struggles.
I counseled her through confrontations with mean girls. We talked about her home life and the
bullying she endured. I listened, always doing my best to extend a helping hand and an open ear.
My experience as a tutor and mentor has proven to me what an important role my
character plays. Because I was faithful to her, we developed the relationship we share today and
she was able to overcome her issues in school. As a result of the consistency and routine we
formed, academics became much easier for Kaya; success was predictable. I learned humility,
forgiveness, and perseverance from my time with her. Because I respected the commitment I
made, I was able to make a huge difference for her by helping her to turn her life around.
Inspired by my experience, my sister now talks about being a teacher herself.
I am most proud of the fact that my integrity had an impact on another young person, and
I believe that my story is an inspiring example of the power of character. Often, the best displays
of character offer no tangible reward and are made worthwhile by the satisfaction gained by
making a positive change.