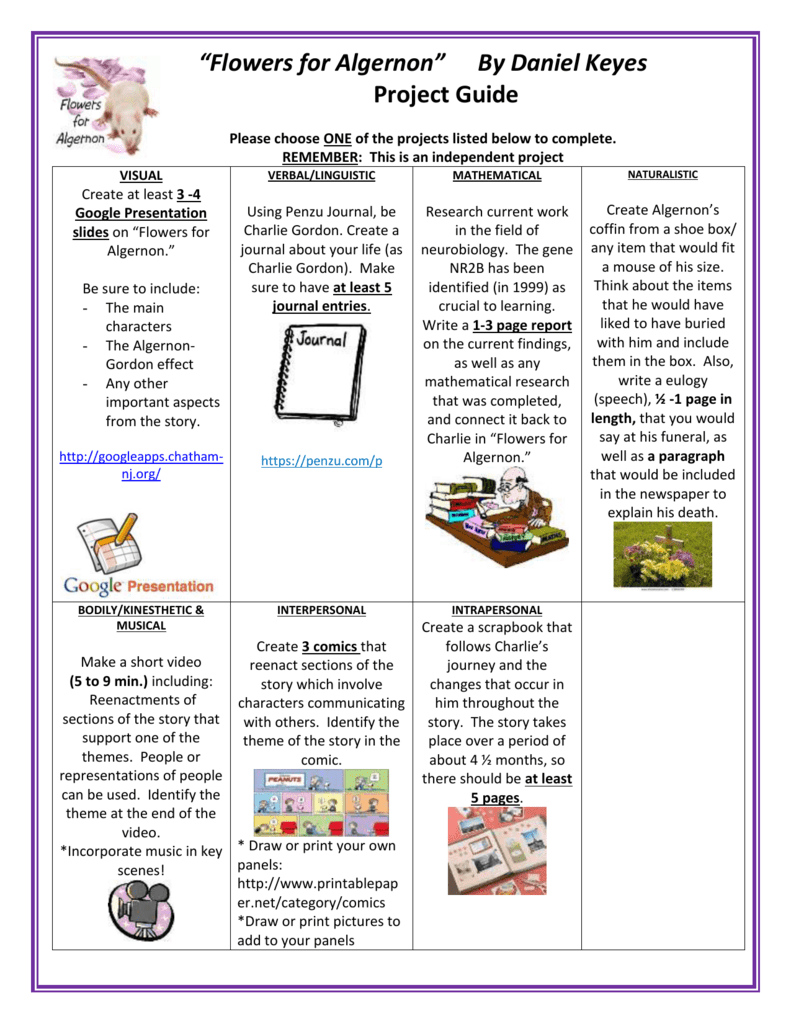 "Flowers for Algernon" By Daniel Keyes
Project Guide
Please choose ONE of the projects listed below to complete.
REMEMBER: This is an independent project
VISUAL
Create at least 3 -4
Google Presentation
slides on "Flowers for
Algernon."
VERBAL/LINGUISTIC
MATHEMATICAL
NATURALISTIC
Using Penzu Journal, be
Charlie Gordon. Create a
journal about your life (as
Charlie Gordon). Make
sure to have at least 5
journal entries.
Create Algernon's
coffin from a shoe box/
any item that would fit
a mouse of his size.
Think about the items
that he would have
liked to have buried
with him and include
them in the box. Also,
write a eulogy
(speech), ½ -1 page in
length, that you would
say at his funeral, as
well as a paragraph
that would be included
in the newspaper to
explain his death.
http://googleapps.chathamnj.org/
https://penzu.com/p
Research current work
in the field of
neurobiology. The gene
NR2B has been
identified (in 1999) as
crucial to learning.
Write a 1-3 page report
on the current findings,
as well as any
mathematical research
that was completed,
and connect it back to
Charlie in "Flowers for
Algernon."
BODILY/KINESTHETIC &
MUSICAL
INTERPERSONAL
INTRAPERSONAL
Be sure to include:
- The main
characters
- The AlgernonGordon effect
- Any other
important aspects
from the story.
Create 3 comics that
Make a short video
reenact sections of the
(5 to 9 min.) including:
story which involve
Reenactments of
characters communicating
sections of the story that
with others. Identify the
support one of the
theme of the story in the
themes. People or
comic.
representations of people
can be used. Identify the
theme at the end of the
video.
*Incorporate music in key * Draw or print your own
panels:
scenes!
http://www.printablepap
er.net/category/comics
*Draw or print pictures to
add to your panels
Create a scrapbook that
follows Charlie's
journey and the
changes that occur in
him throughout the
story. The story takes
place over a period of
about 4 ½ months, so
there should be at least
5 pages.