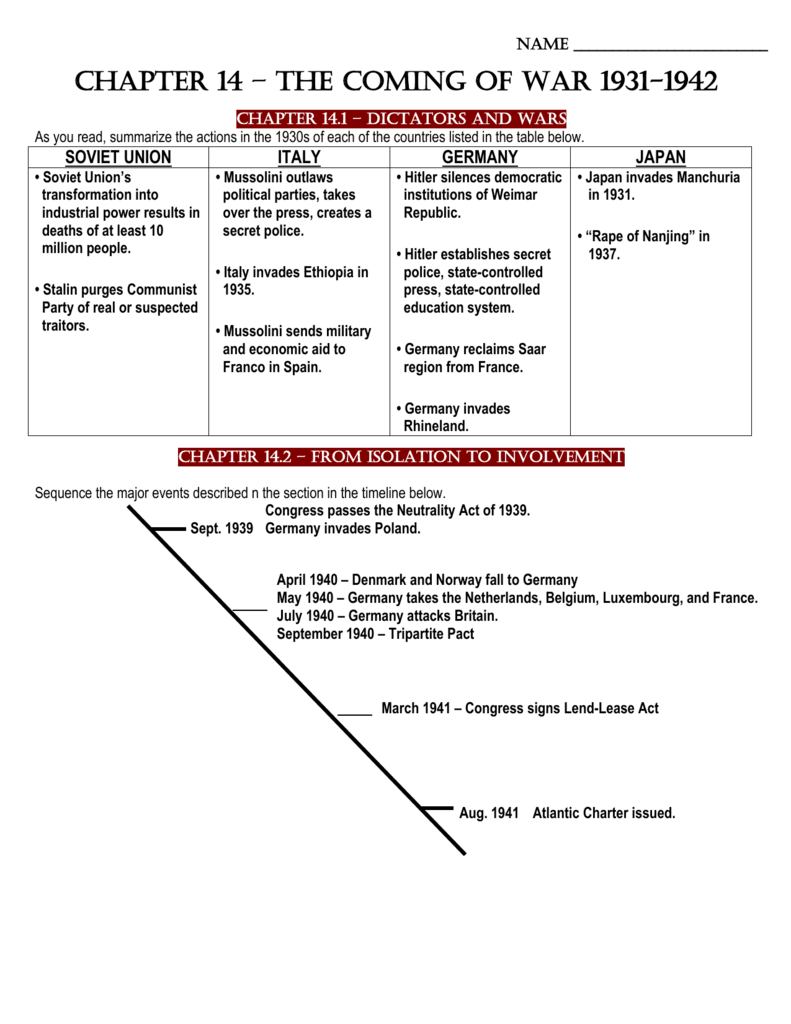 Name _________________________
Chapter 14 – THE COMING OF WAR 1931-1942
Chapter 14.1 – DICTATORS AND WARS
As you read, summarize the actions in the 1930s of each of the countries listed in the table below.
SOVIET UNION
ITALY
• Soviet Union's
transformation into
industrial power results in
deaths of at least 10
million people.
• Stalin purges Communist
Party of real or suspected
traitors.
• Mussolini outlaws
political parties, takes
over the press, creates a
secret police.
• Italy invades Ethiopia in
1935.
• Mussolini sends military
and economic aid to
Franco in Spain.
GERMANY
JAPAN
• Hitler silences democratic
institutions of Weimar
Republic.
• Japan invades Manchuria
in 1931.
• Hitler establishes secret
police, state-controlled
press, state-controlled
education system.
• "Rape of Nanjing" in
1937.
• Germany reclaims Saar
region from France.
• Germany invades
Rhineland.
Chapter 14.2 – FROM ISOLATION TO INVOLVEMENT
Sequence the major events described n the section in the timeline below.
Congress passes the Neutrality Act of 1939.
Sept. 1939 Germany invades Poland.
April 1940 – Denmark and Norway fall to Germany
May 1940 – Germany takes the Netherlands, Belgium, Luxembourg, and France.
July 1940 – Germany attacks Britain.
September 1940 – Tripartite Pact
March 1941 – Congress signs Lend-Lease Act
Aug. 1941 Atlantic Charter issued.
Chapter 14.3 – AMERICA ENTERS THE WAR
As you read, record the causes and effects of the attack on Pearl Harbor, as well as details about the attack itself.
CAUSES
ATTACK ON
PEARL HARBOR
EFFECTS
• Japan resents threats to its
authority.
• Surprise attack by 360 Japanese
planes.
• U.S. fleet not operational for 6
months.
• Japan relies on trade with U.S. for
natural resources.
• Nearly 2,500 Americans were killed.
• Americans committed to fight.
• U.S. stops trade in military supplies. • U.S. fleet damaged buy not
destroyed.
• Japan keeps expanding.
• U.S. declares war on Japan.
• Germany and Italy declare war on
U.S.
• Negotiations fail.
Sequence the fighting that followed Pearl Harbor in a table below.
EARLY WAR IN THE PACIFIC
MAY 1942
MAY 1942
MAY 1942
SUMMER 1942
The Philippines fall to the Japanese.
Bataan Death March
Battle of Coral Sea
Southeast Asia and western Pacific under Japanese control.