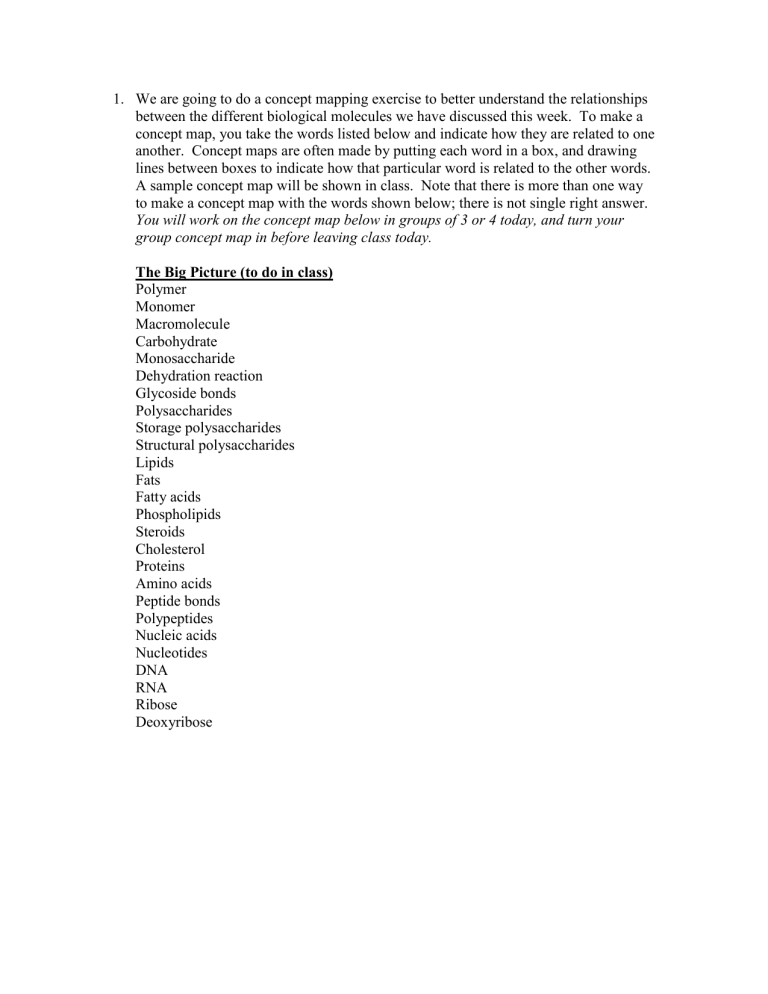 1.
We are going to do a concept mapping exercise to better understand the relationships between the different biological molecules we have discussed this week. To make a concept map, you take the words listed below and indicate how they are related to one another. Concept maps are often made by putting each word in a box, and drawing lines between boxes to indicate how that particular word is related to the other words.
A sample concept map will be shown in class. Note that there is more than one way to make a concept map with the words shown below; there is not single right answer.
You will work on the concept map below in groups of 3 or 4 today, and turn your group concept map in before leaving class today.
The Big Picture (to do in class)
Polymer
Monomer
Macromolecule
Carbohydrate
Monosaccharide
Dehydration reaction
Glycoside bonds
Polysaccharides
Storage polysaccharides
Structural polysaccharides
Lipids
Fats
Fatty acids
Phospholipids
Steroids
Cholesterol
Proteins
Amino acids
Peptide bonds
Polypeptides
Nucleic acids
Nucleotides
DNA
RNA
Ribose
Deoxyribose
If you find the concept maps to be useful, here are some more that you can do (one for each of the four classes of macromolecules):
Carbohydrates
Glucose
Fructose
Sucrose
Carbohydrate
Monosaccharide
Disaccharide
Dehydration reaction
Glycoside bonds
Polysaccharides
Storage polysaccharides
Structural polysaccharides
Starch
Amylose
Amylopectin
Glycogen
Chitin
Cellulose
Proteins
Proteins
Polypeptides
Protein conformation
Primary structure
Secondary structure
Tertiary structure
Quaternary structure

helix

pleated sheet
Disulfide bridges
Fats
Lipids
Fats
Glycerol
Fatty acids
Oils
Saturated fatty acids
Unsaturated fatty acids
Phospholipids
Steroids
Cholesterol
Estrogen
Testosterone
Nucleic Acids
Nucleic acids
Nucleotides
Nucleosides
Nitrogenous base
DNA
RNA
Double helix
Purine
Pyrimidine
Ribose
Deoxyribose