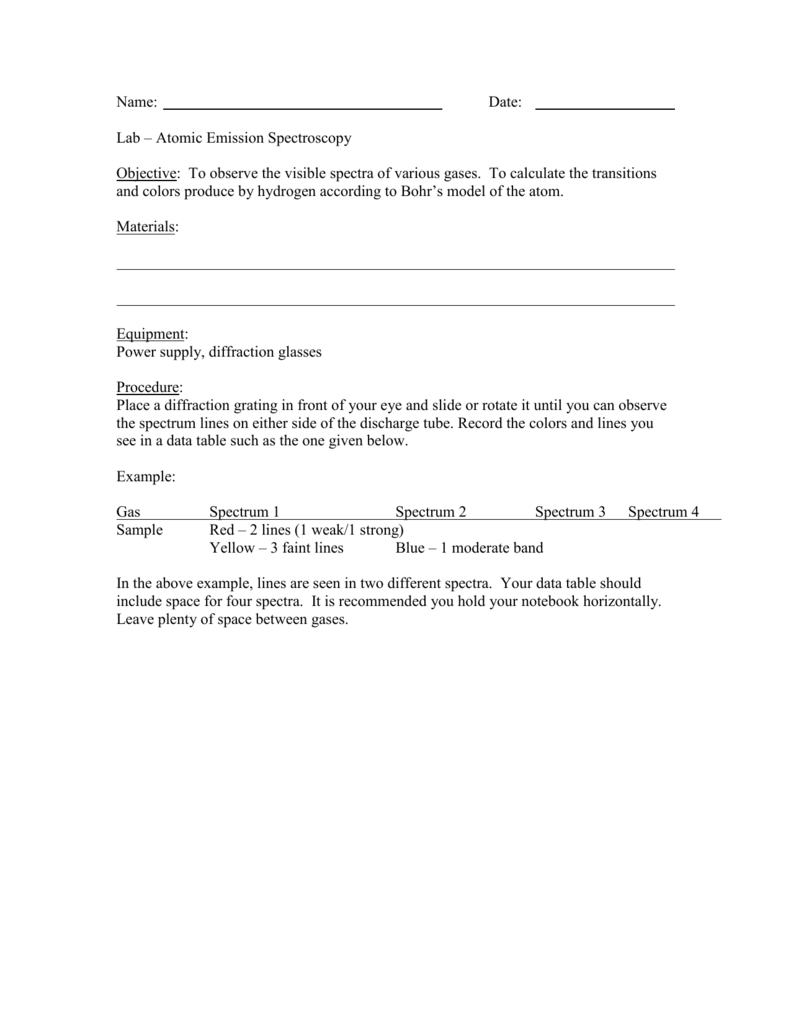 Name:
Date:
Lab – Atomic Emission Spectroscopy
Objective: To observe the visible spectra of various gases. To calculate the transitions
and colors produce by hydrogen according to Bohr's model of the atom.
Materials:
Equipment:
Power supply, diffraction glasses
Procedure:
Place a diffraction grating in front of your eye and slide or rotate it until you can observe
the spectrum lines on either side of the discharge tube. Record the colors and lines you
see in a data table such as the one given below.
Example:
Gas
Sample
Spectrum 1
Spectrum 2
Spectrum 3
Red – 2 lines (1 weak/1 strong)
Yellow – 3 faint lines
Blue – 1 moderate band
Spectrum 4
In the above example, lines are seen in two different spectra. Your data table should
include space for four spectra. It is recommended you hold your notebook horizontally.
Leave plenty of space between gases.
Analysis/Calculations:
 1
1 
 R  2  2  to determine the wavelength of the light produced
n


 f ni 
by each transition in a hydrogen atom (there are 21 total). R is the Rydberg
constant. The variable ni represents the initial energy level (the level the electron
started on), and nf is the final energy level (the level the electron falls to). Please
remember to show all work. Remember that once you simplify the equation you will
1
find , not . Give your answers in nanometers.
1. Use the equation
1

2. Use the electromagnetic spectrum to match the color seen with its corresponding
transition. For each series, give the category of emr (e.g. ultraviolet) to which it
belongs.
E
3. If R   , calculate E (the energy needed to remove an electron from an atom) for
ch
hydrogen.
4. Label each group of transitions on your diagram. They are named after the people
who studied them.