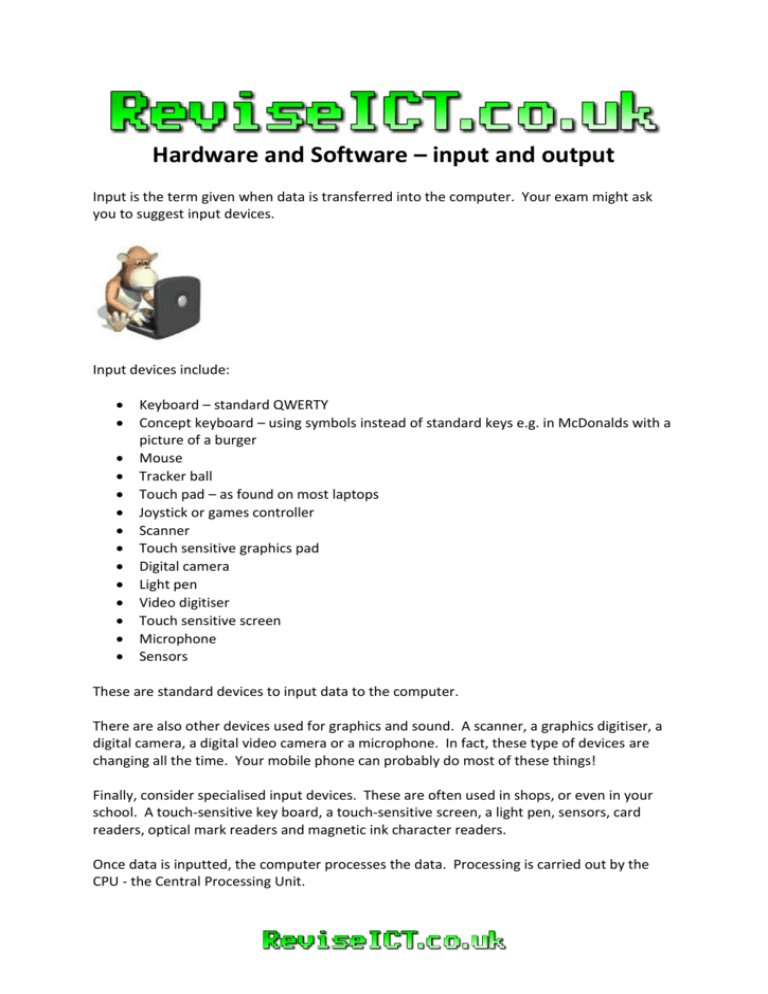 Hardware and Software – input and output
Input is the term given when data is transferred into the computer. Your exam might ask
you to suggest input devices.
Input devices include:














Keyboard – standard QWERTY
Concept keyboard – using symbols instead of standard keys e.g. in McDonalds with a
picture of a burger
Mouse
Tracker ball
Touch pad – as found on most laptops
Joystick or games controller
Scanner
Touch sensitive graphics pad
Digital camera
Light pen
Video digitiser
Touch sensitive screen
Microphone
Sensors
These are standard devices to input data to the computer.
There are also other devices used for graphics and sound. A scanner, a graphics digitiser, a
digital camera, a digital video camera or a microphone. In fact, these type of devices are
changing all the time. Your mobile phone can probably do most of these things!
Finally, consider specialised input devices. These are often used in shops, or even in your
school. A touch-sensitive key board, a touch-sensitive screen, a light pen, sensors, card
readers, optical mark readers and magnetic ink character readers.
Once data is inputted, the computer processes the data. Processing is carried out by the
CPU - the Central Processing Unit.
Output is the term given for the results of processing.
A computer inputs data, processes it and then outputs information. It is very important to
be clear about the difference between input and output.
Your exam might ask you to suggest output devices.
Output devices include:









Dot matrix printer – cheap and nasty impact printer
Ink-jet printer – cost less than laser, but better quality than dot-matrix
Laser printer – high quality but expensive
VDU (Visual Display Unit) or Monitor – LCD (Liquid Crystal Display) and CRT (Cathod
Ray Tube). LCD now much more common
Plotter – specialist printer for large printouts such as architect blueprints
Speakers – sound output devices
Actuator – control physical movement
Projector – as used in offices and schools
Plasma screen
In an office, home or school there are many output devices. Examples of these are the
computer monitor (including the older CRT screens and now the more common LCD
displays), an ink jet printer, a laser printer, a colour laser printer, or even a dot-matrix
printer.
You've also got speakers, headphones, projectors, plasma screens, plotters, motors and
switches. Not sure about a plotter? This is an output device that is a specialist printer used
for maps and architectural designs such as blue prints. Think of it as a massive printer.