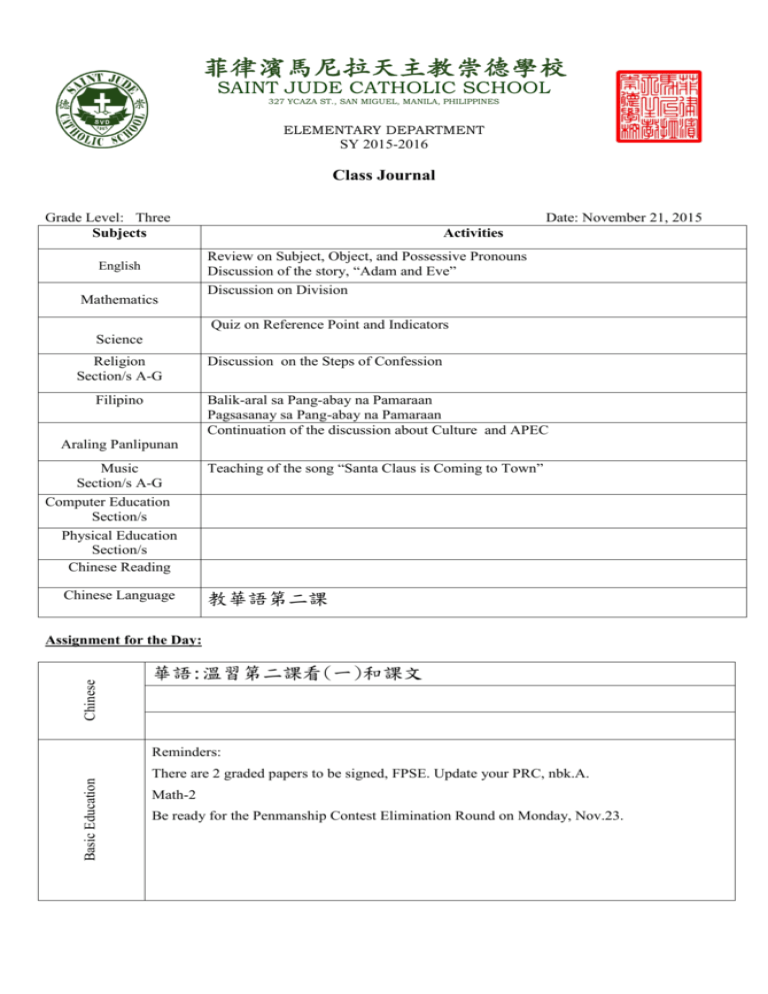 SAINT JUDE CATHOLIC SCHOOL
327 YCAZA ST., SAN MIGUEL, MANILA, PHILIPPINES
ELEMENTARY DEPARTMENT
SY 2015-2016
Class Journal
Grade Level: Three
Subjects
English
Mathematics
Date: November 21, 2015
Activities
Review on Subject, Object, and Possessive Pronouns
Discussion of the story, "Adam and Eve"
Discussion on Division
Quiz on Reference Point and Indicators
Science
Religion
Section/s A-G
Filipino
Discussion on the Steps of Confession
Balik-aral sa Pang-abay na Pamaraan
Pagsasanay sa Pang-abay na Pamaraan
Continuation of the discussion about Culture and APEC
Araling Panlipunan
Music
Section/s A-G
Computer Education
Section/s
Physical Education
Section/s
Chinese Reading
Chinese Language
Teaching of the song "Santa Claus is Coming to Town"
教華語第二課
Chinese
Assignment for the Day:
華語:溫習第二課看(一)和課文
Basic Education
Reminders:
There are 2 graded papers to be signed, FPSE. Update your PRC, nbk.A.
Math-2
Be ready for the Penmanship Contest Elimination Round on Monday, Nov.23.