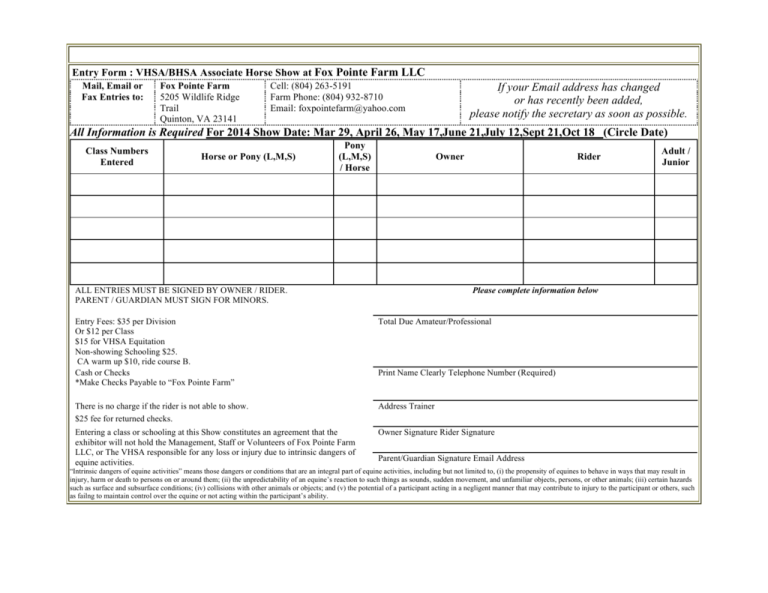 Entry Form : VHSA/BHSA Associate Horse Show at Fox Pointe Farm LLC
Mail, Email or
Fax Entries to:
Fox Pointe Farm
5205 Wildlife Ridge
Trail
Quinton, VA 23141
If your Email address has changed
or has recently been added,
please notify the secretary as soon as possible.
Cell: (804) 263-5191
Farm Phone: (804) 932-8710
Email: foxpointefarm@yahoo.com
All Information is Required For 2014 Show Date: Mar 29, April 26, May 17,June 21,July 12,Sept 21,Oct 18 (Circle Date)
Class Numbers
Entered
Horse or Pony (L,M,S)
Pony
(L,M,S)
/ Horse
Owner
ALL ENTRIES MUST BE SIGNED BY OWNER / RIDER.
PARENT / GUARDIAN MUST SIGN FOR MINORS.
Rider
Adult /
Junior
Please complete information below
Entry Fees: $35 per Division
Or $12 per Class
$15 for VHSA Equitation
Non-showing Schooling $25.
CA warm up $10, ride course B.
Cash or Checks
*Make Checks Payable to "Fox Pointe Farm"
Total Due Amateur/Professional
There is no charge if the rider is not able to show.
$25 fee for returned checks.
Address Trainer
Entering a class or schooling at this Show constitutes an agreement that the
exhibitor will not hold the Management, Staff or Volunteers of Fox Pointe Farm
LLC, or The VHSA responsible for any loss or injury due to intrinsic dangers of
equine activities.
Owner Signature Rider Signature
Print Name Clearly Telephone Number (Required)
Parent/Guardian Signature Email Address
"Intrinsic dangers of equine activities" means those dangers or conditions that are an integral part of equine activities, including but not limited to, (i) the propensity of equines to behave in ways that may result in
injury, harm or death to persons on or around them; (ii) the unpredictability of an equine's reaction to such things as sounds, sudden movement, and unfamiliar objects, persons, or other animals; (iii) certain hazards
such as surface and subsurface conditions; (iv) collisions with other animals or objects; and (v) the potential of a participant acting in a negligent manner that may contribute to injury to the participant or others, such
as failng to maintain control over the equine or not acting within the participant's ability.